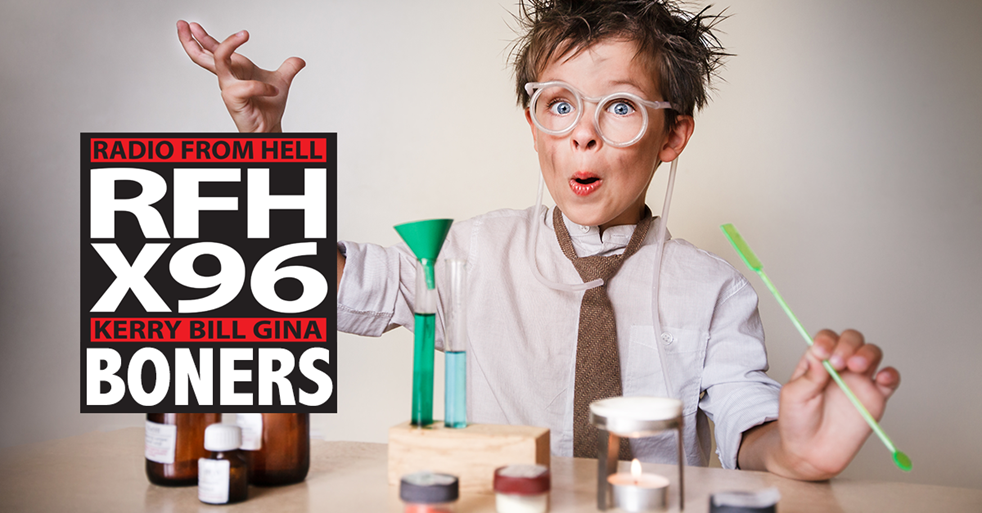 BONER ROUND ONE
Boner Candidate #1: MEN DON'T WEAR PURSES
HOT SPRINGS, Ark.—An Arkansas man is hoping for a policy change at a local casino after he says he was discriminated against at the door. Jordan Kirk says a security guard and supervisor at Oaklawn Casino told him he needed to take his bag back to the car before coming inside, despite multiple women carrying similar bags. Kirk says when he asked them why, he was told it's because "men don't wear purses." "It is a double standard. If you're going to allow it for one person, you've got to allow it for everybody," said Kirk. Kirk says he and his husband were waiting in line to get in the casino Friday night when the argument with security began. "I was like well she is taking her purse inside and the lady behind us was like 'do I need to take my bag to the car?' and he was like 'no, purses are allowed.'" Kirk recalled.
Boner Candidate #2: CAPTAIN COOKIES HIGH C ADVENTURE RIDE SHOULD BE A PLACE OF PEACE
A man reportedly punched a 17-year-old worker in the face at the Sesame Place theme park in Pennsylvania after the employee told him masks were required on the premises. The suspect is still wanted for Sunday's assault at the theme park located about 30 minutes outside Philadelphia in Langhorne, WCAU reported, citing police. The man, believed to be between the ages of 20 and 30, was with a woman when the teen worker let him know about the park's mask policy. Later in the day, the man ran into the teen again at the Captain Cookie's High C's Adventure ride and socked him in the face, police said. The teen required surgery on Monday to injuries he sustained to his jaw, the report said. The worker also sustained tooth damage from the blow. The suspect and the woman fled the park in a car that was registered in New York.
Boner Candidate #3: YOU'RE MAKING ME DO THIS SON.
Abandoning the cuffs, the officer tells the boy to put his hands in front of him as they escort him to the police car parked outside. "You understand this is very serious, okay? I hate that you put me in this position and that I have to do this, okay?" a second officer says. The boy's 2018 arrest for allegedly hitting a teacher in his Key West, Fla., school, received renewed attention on Monday when body-camera footage of the incident posted by attorney Ben Crump went viral on Twitter. The two-minute clip has racked up more than 2 million views as of early Tuesday. "Unbelievable!!" Crump tweeted. "@KWPOLICE used 'scared straight' tactics on 8yo boy with special needs."
BONER ROUND TWO
Boner Candidate #1: WE CAN'T MAKE YOU WEAR A MASK, BUT NO PJS FOR CLASS.
An Illinois school district's dress code for students choosing to learn remotely amid the coronavirus pandemic doesn't necessarily want students lounging in their PJs for class. Under an updated handbook from Springfield Public Schools, students who participate in online classes for the 2020-2021 school year will be subject to the district's current dress code — which prohibits pajama pants. The new changes, which also forbids hoods, sunglasses and bandanas, has upset some parents, many of whom believe the no-pajama dress code is a little too strict.
Boner Candidate #2: TRUMP 2020 SHOULD NEVER BE MEANT AS A JOKE BECAUSE IT IS….NO JOKE.
SALT LAKE CITY (KUTV) — On the night of their lives, newlywed couple Brayden and Macy Beardall woke up the day after the wedding to find a swastika scratched into the side of their car in Salt Lake City, Utah.
The couple was married on Saturday in Sandy, and as per tradition, their vehicle was decorated with balloons, marker paint, and other wedding gag decorations. One of the groomsmen wrote "Trump 2020" on the driver's side window as a joke, Macy Beardall explained. Newlywed's car vandalized after groomsman jokingly writes Trump 2020 with marker paint. (Photos: Beardall family) "It was all a big joke. They also put a baby on board sticker on the car, we're clearly not pregnant."
Boner Candidate #3: AND IN THE MEAN TIME THE BAD GUY GETS AWAY
SANTA CLARITA, CA — Within the span of just a few terrifying moments, three Black teens in Santa Clarita went from being the victims of an armed robber to the crosshairs of several Los Angeles Sheriff's Department deputies Friday. The tense incident was captured on video, and sheriff's officials on Monday confirmed an investigation is underway into the circumstances that led deputies to point their guns at the teens, eventually handcuffing at least one of them. The incident occurred Friday about 5 p.m. in the 19200 block of Soledad Canyon Road, near Whites Canyon Road, according to Deputy Juanita Navarro-Suarez of the Los Angeles County Sheriff's Department.
Download X96's App