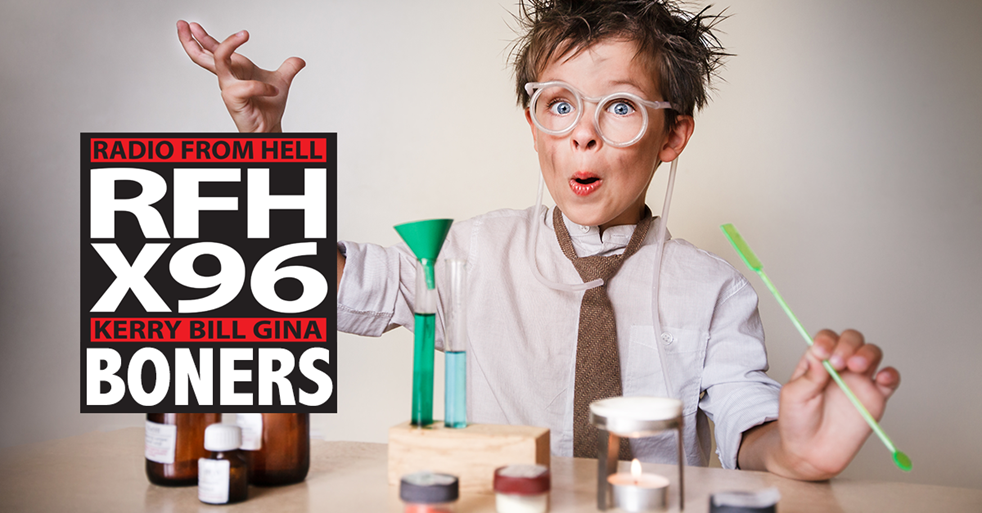 Round One
Boner Candidate #1: EVERYONE NEEDS A EMOTIONAL SUPPORT ANIMAL
State regulators publicly reprimanded a mental health counselor after finding she wrote a letter recommending an emotional support animal for someone who didn't need one. The counselor who practices in Salt Lake City, JeNae Sue MacFarlane, was also ordered to take additional classes. The letters are often sold online, and they allow someone to take an animal on a plane or to live in a rental property for free. The person who bought the letter for $149 online turned out to be a legal firm working on behalf of the airlines. In a letter to the Utah Department of Commerce Division of Occupational and Professional Licensing, the purchaser called the bogus letters a "category of fraud and theft that is growing at an epidemic rate, victimizing airlines and physical endangering the traveling public." In a two-minute call with MacFarlane, neither mental health nor disabilities were discussed, according to the purchaser of the letter. A mental health expert hired by the state found MacFarlane did a "flawed assessment," essentially giving special privileges to a pet.
Boner Candidate #2: YOU GET 'EM TOUGH GUY
Conor McGregor uncorked a shot to the head of an elderly man in an Irish bar in a dispute over whiskey — Conor's whiskey — and TMZ Sports got this video showing the violence. The absurd attack went down at The Marble Arch Pub in Dublin on April 6. Conor walked in and lined up cups for bar patrons … looking to buy a round of his Proper Twelve for everyone. The problems started when the guy opted out. Conor placed a cup in front of him not once, but twice … and he still refused. Unclear if words were exchanged between them, but after Conor downed a shot with the other drinkers, he unexpectedly threw his notorious left fist and decked the old man who rejected the shot. Two people immediately grabbed McGregor and pulled him out of the bar. The violence was reported to cops, who announced back in April they'd opened an investigation. It's unclear if that's still active, but there are no reports Conor was ever charged — even though cops have reportedly seen this video. Perhaps most odd of all … the poor, old pub patron who got socked didn't even get knocked off his stool. People are just tougher in Ireland, apparently.     
Read More
Boner Candidate #3: YOU KNOW WHERE WE CAME FROM? IOWA CONGRESSMAN STEVE KING DOES
Representative Steve King of Iowa, a Republican whose history of making racist and divisive remarks led him to be stripped of his committee assignments earlier this year, questioned Wednesday if there would "be any population of the world left" if it were not for rape and incest. His comment drew swift condemnation from top House Republicans and at least one called for him to resign.
Mr. King, who represents a deeply conservative district in northwest Iowa, made the remarks to the Westside Conservative Club in Urbandale, Iowa, as he explained his opposition to exceptions for rape and incest in anti-abortion legislation. "It's not the baby's fault," Mr. King said, according to a video of the comments published by The Des Moines Register, which first reported the story.
"What if we went back through all the family trees and just pulled those people out that were products of rape or incest? Would there be any population of the world left if we did that? Considering all the wars and all the rapes and pillages that's taken place, and whatever happened to culture after society, I know that I can't certify that I'm not a product of that. And I'd like to think every one of the lives of us are as precious as any other life."     
Read More
Round Two
Boner Candidate #1: AH, WHAT'S A LITTLE LEAD?
A growing crisis over lead contamination in drinking water gripped Newark on Wednesday as tens of thousands of residents were told to drink only bottled water, the culmination of years of neglect that has pushed New Jersey's largest city to the forefront of an environmental problem afflicting urban areas across the nation. Urgent new warnings from federal environmental officials about contamination in drinking water from aging lead pipes spread anxiety and fear across much of Newark, but the municipal government's makeshift efforts to set up distribution centers to hand out bottled water were hampered by confusion and frustration. State and local officials said they were making free water available to 15,000 of the city's 95,000 households, and hundreds of people waited in long lines in the summer heat to pick up cases of water. But officials had to halt the distribution temporarily after discovering that some of the water exceeded its best-by date.
The intensifying worry about the safety of Newark's drinking water has raised comparisons to Flint, Mich, where dangerous levels of lead led to criminal indictments against state and local officials and forced residents to rely on bottled water.     
Read More
Boner Candidate #2: LET ME CLARIFY MY RIDICULOUS POSITION
Atlanta United manager Frank de Boer issued a statement to The Atlanta Journal-Constitution on Wednesday to clarify controversial comments he made in a recently published article in which he twice described equal pay for men's and women's athletes as "ridiculous." The story was published on Tuesday by The Guardian. Though de Boer did say that female athletes should be paid what they deserve based upon the revenue their sports produce, he said the idea as of now "was ridiculous" because of his perceived revenue discrepancies. In his statement Wednesday, issued through the team, de Boer said: "I'd like to clarify my comments in yesterday's Guardian story. When taken in its full context, my position is that I wholly respect and support the women's game and am encouraged and excited by its growth both internationally and here in the U.S. I do believe when it comes to the economics of the game, as popularity keeps increasing it will lead to increased revenue and higher salaries in the women's game, which is fantastic and what we all want to see. I am proud to be a part of a club that embraces equality, and I apologize for any distraction this has become for our team and organization." Atlanta United plays for the Campeones Cup against Club America at Mercedes-Benz Stadium Wednesday night.     
Read More
Boner Candidate #3: THAT'S MR. THIEF TO YOU.
A suspect who used a stolen debit card to purchase a cell phone, beer, and cigarettes signed the sales receipts as "Thief," according to a Pennsylvania court filing.
Police report that the male suspect swiped the card from a woman who gave him a ride home from a bar last week. The debit card, cops say, was inside a purse in the center console of the woman's vehicle. The victim, Joei Thompson, noticed the purse was missing the following day and filed a report with police in Butler, a Pittsburgh suburb. But Thompson's debit card had already been used to purchase a $200 iPhone 6S at a MetroPCS store and a case of beer and pack of cigarettes from Butler Beer and Tobacco. When cops examined the sales receipts for the two transactions, they discovered that the purchaser signed his name as "Thief." The suspect used the surname "Latimore" during the iPhone purchase, which prompted Butler police to check a database that yielded the name Marc Latimore, who "matched the description" given by Thompson "as to the male she gave a ride to." Latimore, records show, has a rap sheet that includes convictions for disorderly conduct; marijuana possession; reckless endangerment; possession of drug paraphernalia; public drunkenness; and making terroristic threats.     
Read More
Download X96's App