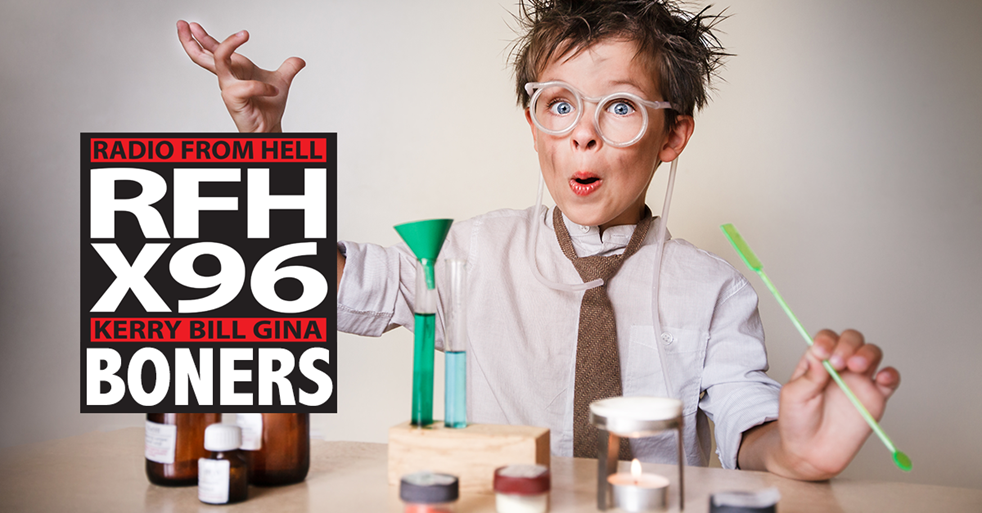 Round One
Boner Candidate #1: REMEMBER, SOMETIMES YOU EAT THE BEAR, BUT SOMETIMES THE BEAR EATS YOU.
Donald Trump Jr. has been awarded a non-resident permit to hunt grizzly bears in northwestern Alaska. On Friday, President Donald Trump's eldest son, 42, was granted one of 27 permits to hunt grizzlies in Alaska's Seward Peninsula, which are given out by the state on a periodic basis and chosen via lottery, according to Reuters. Typically, there are "thousands of applications," this time around, there were not, Eddie Grasser, the wildlife conservation director for the Alaska Department of Fish and Game, told Reuters. 23 of the spots went unclaimed, according to Grasser, who added that Don Jr. will have to pay a non-resident tag fee of $1,000 and buy a $160 non-resident license.
Boner Candidate #2: AT LEAST GIVE ME A WARNING BEFORE YOU GO SWINGING THAT AROUND.
For the past several years, Amanda Soares has made the trip from Clermont down to Tampa to enjoy the Bay Area Renaissance Festival. She was excited to have her son and parents tag along for this year's festivities. "You feel like you just jumped into another world and that's what's fun," said Soares.  "You expect to see the costumes, of course…all the food; you're in another world and the shows are always awesome," said Steve Treague, Soares' father. It's not hard to get lost in the festival's magical atmosphere. However, the cheers coming from a nearby stage that caused Soares and her family to stop in disbelief. "As I'm filming, they're cheering and cheering, this one came around, swirled around, danced, then he bent over and lifted up his kilt and there's his backside saying hello. Everyone's cheering and cheering and shaking and then you're seeing other body parts shaking around from underneath there," said Treague. The show is part of the 'Men in Kilts' competition. It's advertised on Facebook with a description explaining to guests that they're in for a treat. However, this is far from the show Soares and her son were expecting to see. "I'm there with my 13-year-old son, and he's a little older, but still super embarrassing," Soares explained. "He gave me a look like 'Whoa, what is happening on the stage over there.'" Despite the crowd's cheers, some people can be seen shielding their eyes or turning away. Soares and her father said they were given no warning.
Boner Candidate #3: WHERE DO WE WEALTHY FAMOUS MEN GO FOR JUSTICE?
Bill Cosby lent his support to rapist Harvey Weinstein on Monday, asking 'where do wealthy and famous men find fairness' before blasting the #MeToo movement as racist. The shamed comedian, 82, instructed his spokesman to issue a public statement, calling disgraced movie producer Weinstein's conviction 'a very sad day'. Weinstein was convicted by a New York jury of sexually assaulting former production assistant Mimi Haleyi in his apartment in 2006 and raping aspiring actress Jessica Mann in a hotel room in 2013. It was the most high-profile sex assault conviction in the United States since Cosby was found guilty in 2018 of drugging and sexually assaulting a woman 15 years prior. Cosby's spokesman, Andrew Wyatt, posted a statement to Instagram arguing 'there was no way Mr. Weinstein was going to receive a fair and impartial trial'. Wyatt said Cosby was outraged over Weinstein's conviction and called him repeatedly about it on Monday.
[polldaddy poll=10511022]
Round Two
Boner Candidate #1: AN 11 YEAR OLD WITH AN ASSAULT RIFLE MAKES ME FEEL SAFE.
An 11-year-old girl showed up with her loaded AR-15 assault rifle before Idaho lawmakers at a committee hearing on Monday in support of a proposed gun law, and to show she was the type of person who could handle a firearm responsibly. Bailey Nielsen, accompanied by her grandfather, appeared before state lawmakers in Boise for a hearing on the proposed law. If approved, the law would allow visitors to the state, who can legally possess firearms, to carry concealed handguns within city limits. Baiely, who was silent in her appearance before the committee, had the rifle slung over her right shoulder. She let her grandfather speak on her behalf, who explained that she had been trained to properly handle a weapon since she was a young child. 'People live in fear, terrified of that which they do not understand. She's been shooting since she was 5 years old. She got her first deer with this weapon at 9. She carries it responsibly. She knows how not to put her finger on the trigger. We live in fear in a society that is fed fear on a daily basis,' Charles Nielsen told the committee.
Boner Candidate #2: HOW ABOUT YOU JUST MOVE THE DAMN BUS.
An Italian man suffering from frostbite and four other tourists were rescued in the Alaska wilderness after visiting an abandoned bus that has become a lure for adventurers since it was featured in the "Into the Wild" book and movie. Alaska State Troopers say the five Italians were rescued Saturday from a camp they set up after visiting the dilapidated bus on the Stampede Trail near the interior town of Healy. The hikers were found 13 miles from the trailhead, Trooper spokesman Tim DeSpain said. He didn't know how far they were from the bus. One of the hikers had frostbite to his feet and was transported to Fairbanks for treatment, DeSpain said. The hiker's injuries are not considered life-threatening. The other four hikers were picked up by friends in Healy. Rescuers were alerted by the hikers with a satellite-based emergency device that notified the International Emergency Response Coordination Center of a medical emergency, troopers said. That international group then notified rescuers, who reached the site by snowmobile, DeSpain said. The rescue was the latest episode involving the bus, first made famous by Jon Krakauer's book published in 1996 and then by Sean Penn's 2007 film of the same name. Both fueled a lingering mystique about a young idealist, Christopher McCandless, who met his death from starvation in the bus, which is about 10 miles north of the entrance to Denali National Park and Preserve.Over the years, some hikers have been rescued and others have died while trying to retrace McCandless' last steps.
Boner Candidate #3: IT WAS THE POTATO WEDGES
A couple of truck thieves would have gotten away if not for an order of potato wedges, police said. A Dodge Ram pickup truck was stolen in February, KIMA reported. The truck was later found and returned to its owner. While cleaning and inspecting the vehicle, the owner found a receipt for an order of potato wedges from Walmart. The date on the receipt was the same day the truck had been stolen. Investigators tracked down security footage at the Walmart location. Video showed a man and woman parking the stolen truck and buying potato wedges inside the store, KIMA reported. Police recognized the suspects as Elizabeth Paradis, 24, and Erin Bradley Dunleavy from a prior arrest for burglary, KIMA reported. Dunleavy, 25, was arrested and charged with possession of a stolen vehicle.
[polldaddy poll=10511023]