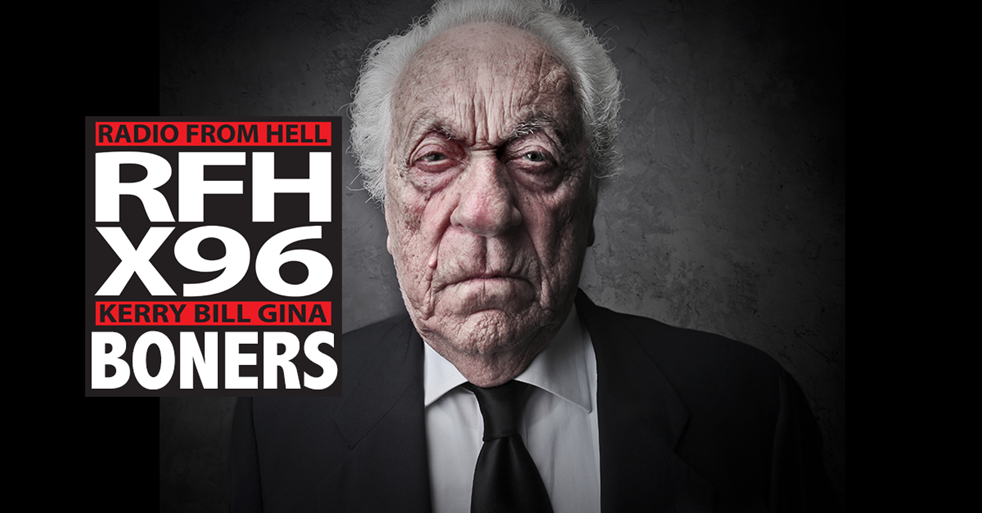 ROUND ONE
Boner Candidate #1: A JIMMY JOHN'S LYNCHING
A bunch of idiots working at a Jimmy John's sandwich shop in Georgia are out of a job after a handful of them made a noose out of their grub … and then "hanged" one of their own. This went down in the city of Woodstock, where at least four JJ employees working on the 4th of July apparently thought it'd be funny to do a mock lynching with their supplies. They fashioned a noose out of dough they use to bake bread — and proceeded to try it out. One white worker slips the noose over around his neck while another holds the long end up … as if to show the guy hanging. Two others are filming this … and everyone's having a laugh about it. The whole thing is gross to watch — especially how funny they think it is. You know who didn't find it amusing? Jimmy John's themselves — because the corporate headquarters responded to the video … and says all of these fools have been fired.
Boner Candidate #2: THIS IS THE "SHEEP MENTALITY"THAT FOLLOWS THE BLACK LIVES MATTER MOVEMENT
A Bountiful High School alumna wants to start a conversation about the school's mascot being changed from "Braves." Mallory Rogers and her friend MyKala have been emailing local Davis School District board members, Bountiful High School administration and Bountiful City leaders. "I'm an alumnus of Bountiful High School and the mascot there is the Braves, so I saw that and it made me take a step back and take stock," said Rogers as she reflected on her traditions as a student at BHS — where she says students wore face-paint and headdresses at most athletic events. "Ultimately, it's not my place … to speak on behalf of native people, and I'm not trying to. I'm coming from a place where I'm a Bountiful High alumnus who is becoming uncomfortable with the racial implications and ramifications of having native American imagery as a mascot." Aside from a handful of emails and a newly started change.org petition, the pair have been trying to get the conversation starting with the right people to make the decision. "I got a response from the superintendent, I got a response from the president of the school board, and I got a response from the assistant principal from Bountiful High School, and all of those responses are exactly what you would expect," said Rogers.
Boner Candidate #3: HE'S ALREADY MAD AT US.
Fox News broadcast a segment on Sunday about Ghislane Maxwell, the 58-year-old British socialite who was arrested by the FBI in New Hampshire last week and charged with the sex trafficking of children in the 1990s. Maxwell was a close friend of deceased pedophile Jeffrey Epstein and Fox aired a photo of Maxwell that should look familiar to anyone who followed reports of Epstein's abuse of teenage girls. But there was one thing missing from the image that Fox put on screen: President Donald Trump. The original photo, which is available online from Getty Images, shows Donald Trump, his then-girlfriend Melania (now the First Lady), Jeffrey Epstein, and Ghislane Maxwell. The photo was taken at Trump's Mar-a-Lago club in Palm Beach, Florida on February 12, 2000. Twitter users were the first to spot the strange edit by Fox News. The news clip from Sunday, which is available on YouTube, shows the selective editing by Fox News to delete President Trump from the photo. Why would Fox edit the image to exclude President Trump? One guess might be that the conservative cable network doesn't want to draw the ire of the president, who is known to spend countless hours each day watching TV, according to people like former National Security Advisor John Bolton.
ROUND TWO
Boner Candidate #1: HEY TUCKER, WALK A MILE IN MY LEGS
On Tucker Carlson Tonight Monday, Fox News host Tucker Carlson attacked Democratic senator out of Illinois, Tammy Duckworth, a possible pick for Joe Biden's running mate and veteran who lost both legs in Iraq in 2004 when the helicopter she was piloting was struck by a rocket propelled grenade. Over the weekend, Duckworth said in an interview with CNN that "we should listen to the argument" from those who believe monuments to George Washington should be taken down because he owned slaves. So Carlson took some shots at Duckworth and, despite her years of service and the sacrifices she's made for this country, he accused her of hating the United States. "You're not supposed to criticize Tammy Duckworth in any way because she once served in the military. Most people just ignore her. But when Duckworth does speak in public, you're reminded what a deeply silly and unimpressive person she is," Carlson said, adding, "It's long been considered out of bounds to question a person's patriotism. It's a very strong charge and we try not ever to make it. But in the face of all of this, the conclusion can't be avoided. These people actually hate America. There's no longer a question about that." Duckworth, a Purple Heart recipient who retired a lieutenant colonel in 2014 after 23 years of service, hit back at Carlson in a tweet.
Boner Candidate #2: THEY MAY HAVE CONFUSED IT WITH A WORM
A German man's bachelor party in the Austrian Alps ended with a snake bite on the tongue and a trip to a hospital. The Austria Press Agency reported Monday that the local Red Cross said the 38-year-old was dared to touch with his tongue a baby viper on the floor of an Alpine hut at Neuberg im Muerztal in southeastern Austria. The snake bit him and his tongue swelled up. Mountain rescuers and a doctor were called to the scene on Saturday evening, and he was taken to a hospital. The Red Cross said the partygoers may have confused the young snake with a worm.
Boner Candidate #3: WHAT WOULD YOU ALL DO?
A northern Illinois auto museum says it has no plans to stop displaying a Dodge Charger from the "Dukes of Hazzard" television show with the Confederate flag painted atop the vehicle. The flag is increasingly viewed as a symbol of racism. NASCAR has banned it and it's being removed from the Mississippi state flag. However, the Volo Auto Museum says the famed "General Lee" from the first season of the TV show isn't going anywhere. Museum director Brian Grams tells the Northwest Herald that he would not remove it any more than he would remove Nazi memorabilia from the museum's military exhibit. Grams calls the vehicle "a piece of history."
Download X96's App