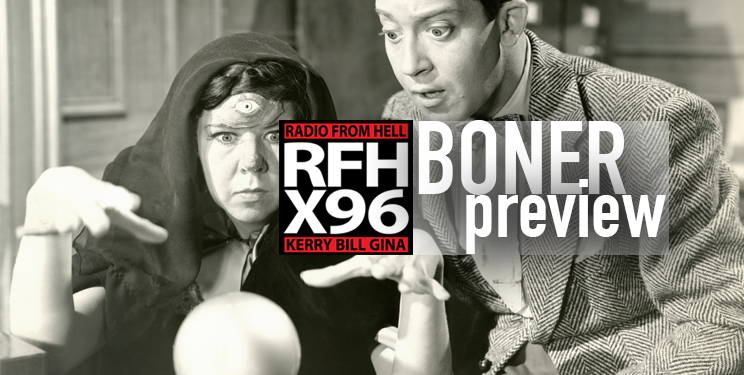 Round One
Boner Candidate #1: YOUR FAMILY IS A DISGUSTING MESS.
A UK family has been called out online for leaving a "disgusting mess" for restaurant staff to clean up, according to the Sun. The messy diners were shamed on Facebook for leaving food, sauce packets, napkins, menus and upturned cups all over the booth, chair and floor of the Colchester restaurant in Essex last week. An anonymous person shared a photo of the mess on the Facebook group Spotted: Colchester. "I don't care who you are, how often you get to go out to eat, how many kids you've got or how bad your day has been," they wrote. "It is NOT okay to go out to dinner and walk away from your table – leaving it in a state like this for somebody else to clear up. "This is what happened in Harvester Colchester tonight. The poor young girl left with this disgusting mess didn't know where to start." Harvester is a restaurant chain with over 200 outlets throughout the UK.     Read More
Boner Candidate #2: LICK THE SHRINE
Iran has been accused of failing to clamp down on coronavirus contamination after alarming videos of worshippers licking a shrine emerged online.  Clips shared on social media show people licking the doors and burial mound inside the Fatima Masumeh shrine in Qom, defying token advice by the health ministry. Worshippers in the videos brazenly state they 'don't care what happens', even if they catch or spread the infection which has killed at least 54 in the country. Iran's hardline clerical establishment has refused to shut down Qom despite the holy city suffering the brunt of the outbreak and pilgrims spreading the virus across the Middle East. The country is battling medical shortages which are worsened by U.S. sanctions, with masks and testing kits in short supply. There are also fears that Iran is covering up the true scale of the crisis, with official figures showing a suspiciously high death rate – suggesting there may be far more infections than the regime is willing to admit.       Read More
Boner Candidate #3: THERE IS NO WAY. YOU ARE A CREEP.
I'm just going to say it: Nudes are fucking awesome. Swapping naked pics is not only a great way to build sexual anticipation, but it can make your tedious workday a lot more exciting (as long as your screen isn't visible to any coworkers). There's nothing like a hot pic from someone you're crushing on to help you fill out those TPS reports. But initiating the swapping of nudes can seem daunting. For starters, how do you go about asking for nudes without coming off as a creep? "HI, YOU ARE HOT, PLEASE SEND A NAKED PICTURE" is probably one of the least attractive things a partner will ever hear. You have to be thoughtful about sending nudes, too. As with any sexual activity, consent is a must—and depending on how your partner receives it, an unsolicited dick pic could even be illegal.     Read More
Round Two
Boner Candidate #1: HE IS UNABLE TO EXPRESS CONTRITION
Nicole and Jimmy LaCugna both grew up with a strong Catholic faith. Each attended religious education as children, married in a Catholic church and sent their first son, Nicholas, through a faith-based pre-K program. So when their second son, 8-year-old Anthony, reached second grade last fall, he was on track to receive his first Holy Communion in April. But just days ago, the couple learned Anthony would not be allowed to receive the sacrament at St. Aloysius in Jackson, New Jersey, the church the family has attended for years. The reason given by the church: He has autism and is unable to express the contrition the church requires before receiving Communion. "That is discrimination," Nicole LaCugna said during an interview. "This should not affect his religion. It is absurd." Contacted by the Asbury Park Press, the Rev. John Bambrick, pastor of St Aloysius, said the church had reviewed the situation and determined that a person's disability did not necessarily preclude them from receiving a sacrament. He did not reverse the decision regarding the LaCugna's son, but indicated it could be revisited.     Read More
Boner Candidate #2: ONE PICTURE MAY MAKE THE WHOLE CLASS GAY
A Texas art teacher who was placed on administrative leave after talking about "her future wife" in class hopes her settlement with a school district will change the lives of other LGBTQ people. Stacy Bailey, who was on paid leave, reached a $100,000 settlement with the Mansfield Independent School District last week, her attorney said. The district near Fort Worth agreed to remove the eight-month leave from her record, as well as offer mandatory training on LGBTQ issues to human resources and counseling staff in its schools. The two-time teacher of the year was giving a welcome back to school presentation in August 2017 to her class when she showed a photo of her and her then-fiancee dressed as characters from the movie "Finding Nemo," according to court documents obtained by CNN. A parent complained to the school, saying that Bailey was "promoting the homosexual agenda," according to court documents. "That's one of the biggest reasons that I did stand up, because I thought if I would have stayed silent or I would have resigned that this would have just happened to someone else after me," Bailey said Tuesday at a press conference, according to CNN affiliate KTVT.     Read More
Boner Candidate #3: I GOT A RUBBER CHICKEN AND I'M NOT AFRAID TO USE IT.
RCMP are hoping to identify a man who allegedly used a rubber chicken to help him steal from a Tim Hortons in southern Alberta earlier this month. Police allege the man placed a rubber chicken over a donation box sitting on the front counter and used the prop to conceal the box as he left the business. The incident, which happened at the Tim Hortons in Airdrie on Feb. 11, was captured on camera. On Thursday, RCMP released a picture of the suspect, who they described as wearing a blue sweater or jacket, wearing a balaclava and "holding a rubber chicken." It's unknown how much money was in the donation box. Anyone with information on the suspect's identity is asked to call Airdrie RCMP at 403-945-7200 or to contact Crime Stoppers anonymously.     Read More
Download X96's App