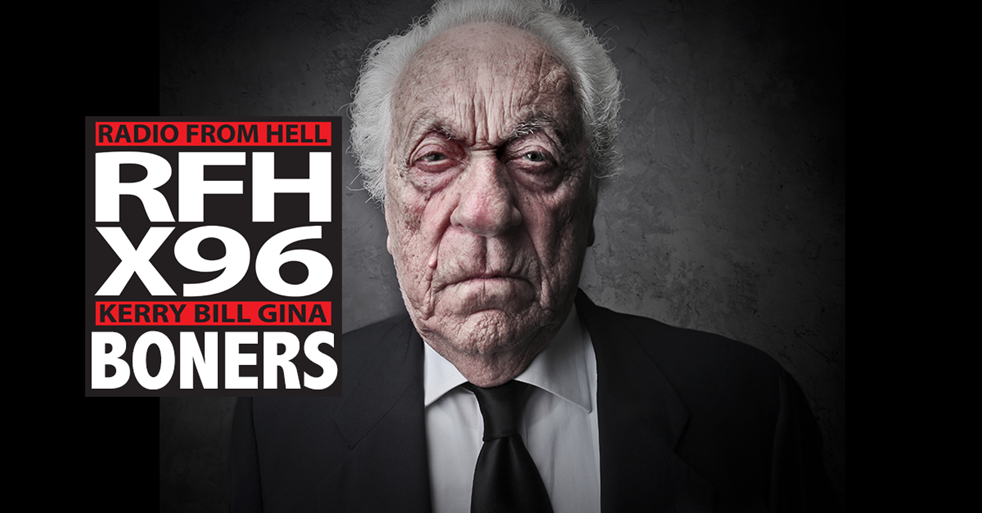 Boner Candidate #1: THIS SORT OF THING IS EXTREMELY RARE
Australian authorities described the collapse of the massive sign as "extremely rare."
Dramatic footage has captured the moment an overhead freeway sign in Australia toppled over, crushing a car and injuring the woman driving it. Dashcam video obtained by the Nine Network shows the 16- by 13-foot metal sign collapsing on Melbourne's Tullamarine Freeway on Tuesday, local time. The 53-year-old driver was in a stable condition and recovering in the hospital after suffering neck and hand injuries, the Australian Broadcasting Corp. reported. Authorities have described the collapse as "extremely rare," with the delivery director of Major Road Projects Victoria, Graeme Chambers, telling a local radio station that a "detailed and thorough investigation" was being carried out.
Boner Candidate #2: I TRIED RUNNING AWAY MAN.
Porter police arrested a Michigan City man over the weekend on three misdemeanors related to drunken driving after he allegedly rolled his car and told police he tried running away from the crash but couldn't because he was too drunk and injured, a report said. Porter police were called around 10:04 p.m. Friday to the area of South Mineral Springs Road and Wood Street for a report of a rollover crash, according to a report. Police said they found a car in the woods, west of the intersection, and Kyler Payne, 22, lying on the ground near the train tracks just north of the woods where the car was located. Payne was bleeding from his head and face but was coherent and speaking, police said. Payne allegedly told police he had approximately 14 drinks throughout the day and that after crashing his car, he was able to kick out the windshield and exit it. He reportedly told police the crash occurred because he was driving around 100 mph and did not realize the intersection was so close.
Boner Candidate #3: DOORBELL LICKER
Police are trying to track down a man who spent three hours licking a doorbell at a California home. "I thought I'd seen it all, but this takes the cake," neighbor Francisco Javier Estrada told
KION
. Surveillance cameras caught Roberto Daniel Arroyo in the act. The Dungans said they were not home at the time, but their children were inside the house sleeping. Police said a newly installed surveillance system helped them investigate the case. "We were pleasantly surprised the image was so clear it didn't take us long to identify the individual," Salina Police Department spokesperson Miguel Cabrera said.
Round Two
Candidate #1: MEN WE'VE GOT A DIFFERENT KIND OF PORN FOR YOU.
The American Family Association advertised a 12-disc video series this morning that hopes to convince Christian men to abandon pornography by showing them high-production cinema battlefield reenactment scenes chock full of metaphors conveyed by artillery guns, fighter jets, and an overarching "battle plan for purity." The film series, produced five years ago by KingdomWorks Studios, advertises Marine fighter pilot and pastor Dr. Ted Roberts recounting his experience in combat and delivering a "prophetic voice" to men in a way that encourages them "to walk in sexual integrity with a strong passion for their divine destiny, by the grace of God and the power of the Holy Spirit." The series promises "action packed battle reenactments" with "mind-blowing interviews with brain experts and empowering testimonies by famous male Christian role models."
Candidate #2: I DON'T THINK MR. ABRAHAM IS INTERESTED IN MOLDING OUR MINDS.
This substitute teacher in Ohio allegedly molded minds while touching himself.
Substitute teacher Tracey Abraham, 41, was arrested Tuesday morning at Creekside Middle School after he was allegedly caught masturbating in a classroom while students were present, the Cincinnati Enquirer reported. The class reportedly noticed "suspicious behavior by the substitute that was taking place behind" his desk around 10:30 a.m. The alleged behavior was reported to administrators and the teacher was immediately removed from school property. Charges were filed against Abraham for public indecency. He was arraigned Tuesday in Fairfield Municipal Court.
Candidate #3: HELLO. PREGNANT WOMAN ALL ALONE HERE. HELLO.
A pregnant woman from Florida says she waited so patiently in an exam room that her doctor forgot about her — and then the clinic's staff locked her inside. Footage of the ordeal shows Kendra Richardson wandering the hallways of the empty All About Women OB/GYN Clinic in Ocala, which she visited last week. She is due to give birth this month. "I took video because people are not going to believe me," Richardson told WESH 2. Richardson said her appointment was at 3 p.m. and she didn't see a doctor until hours later. He gave her a paper gown to change into and then never returned, she said. Richardson eventually called the police to get her out of the clinic. Authorities were able to access the facility through a suite in an adjacent office.
Download X96's App