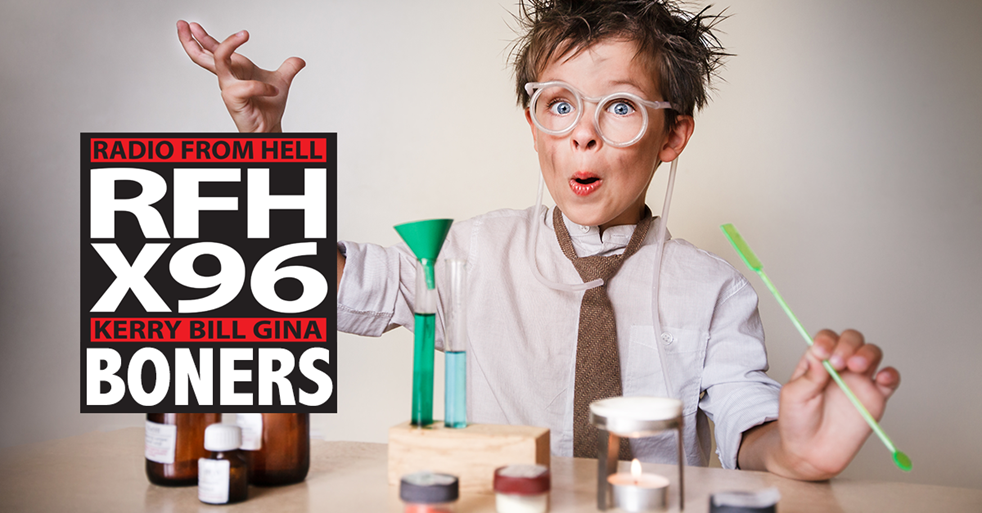 Round One
Boner Candidate #1: SICK AND WRONG….JUST TAKE A PHOTO.
Morticians remove tattooed skin of dead loved ones to preserve as artwork. People remember deceased loved ones in a myriad of different ways, with burial and cremation being two of the most popular methods. But there's a new, some say skin-crawling way to memorialize those who have passed away: by preserving their tattooed flesh so it can be framed and displayed, according to a report by Nine News Australia. That's exactly what an Ohio father/son duo of morticians are doing. It's called "Save My Ink Forever." The operation is based in Northfield, Ohio outside of Cleveland. The idea developed by morticians Michael Sherwood and his son Kyle formed a few years ago over some drinks with friends.One friend had recently lost his father and told the pair he wanted his father's tattoo preserved. Kyle Sherwood told Nine News Australia: Being the guys our friends come to with death-related questions, we kind of laughed about it at first.
But their friend was serious, which got the Sherwoods thinking. Kyle continued in his interview with 9News.com.au: With the art in tattoos and how much they mean to people, why not keep them after they die? People put ashes in urns on mantles and visit stones with their loved one's names on them. Why not keep their tattoos as a memorial? Eventually, the Sherwoods created their "Save My Ink Forever" business which gives people the option to save their loved ones ink as a piece of artwork. It's not an easy or short process either, taking three to four months, according to Kyle.
Boner Candidate #2: PASTOR'S WIVES WITH PISTOLS A BLAZIN'.
A pastor's wife in West Virginia has been charged with reckless endangerment after allegedly firing a gun in a church parking lot. Melinda Frye Toney, 44, is accused of pulling out a pistol that accidentally discharged during an argument with another pastor's wife at New Life Apostolic Church in Oak Hill on May 11. Toney is the wife of New Life pastor Earl Toney while the other woman, Lori Haywood, is married to New Life's youth pastor, David Haywood, Fayette Sheriff's Detective Kevin Willis told the Beckley Register-Herald the animosity between the two women had been simmering for some time. Their husbands had thought the women should publicly bury the hatchet to avoid additional strife. "The pastor and the youth pastor had thought, 'Maybe we could get them together, we can hash this out and fix this before it escalates,' " Willis said Wednesday. "Of course, it just made it worse, I think." According to Willis, "the straw that broke the camel's back" was an argument over a t-shirt Haywood had was wearing. Haywood would only say, "We had a disagreement, and when we sat down to talk, I called her out, and she lost it." According to authorities, Melinda walked out of the church during the disagreement and went to her car in the parking lot, where she got her handgun. Realizing what she intended, Earl and followed her outside. Willis reports Pastor Toney intercepted his wife before she was able to come back inside the church and attempted to wrestle the gun out of her hand. The weapon fired a single shot during the struggle, but nobody was hurt. Haywood, who was leaving the church when the gun discharged, called the police and told them that she was Toney's intended target. The department reviewed parking-lot surveillance video but could not determine whether the pistol was aimed at Haywood before it was fired. Mrs. Toney owned the handgun legally with a concealed carry permit.
"We were just trying to leave, peaceful," Haywood told the Register-Herald. "The reason for the shooting was stupid, and very unnecessary." Melinda declined to speak to police after her arrest and requested an attorney instead, according to Willis, who added that a mental evaluation of her may be part of the investigation.
Read More 
Boner Candidate #3: HE WAS PLAYING POSSUM
A man who police say pretended to be unconscious because he was behind on his rent found this was likely not the best plan to avoid his landlord. The owner of a Main Street apartment called police when he found his tenant, 28-year-old Ted Zarins, unresponsive in the apartment last Wednesday. The landlord called for assistance and Fort Kent police Officer Curtis Picard responded to the call along with a Maine state trooper. When police arrived, they found Zarins conscious and responsive and not in need of medical assistance, according to Fort Kent police Chief Tom Pelletier.
The officers also discovered there was an outstanding warrant for Zarins, who allegedly failed to appear in court with regard to a criminal threatening charge. Picard arrested Zarins on the warrant and officers transported Zarins to Aroostook County Jail. Zarins will appear Monday at Fort Kent District Court.
Read More
Round Two
Boner Candidate #1: IT WAS THE POLITE THING TO DO.
Unfortunately, Taylor Swift's had her share of stalkers found hanging around outside her various homes, as well as a few actual break-ins. The latest involves a guy who was considerate enough to take his shoes off before he entered her house in Rhode Island. The Westerly Sun reports that Richard McEwan, a 26-year-old man from New Jersey, broke into Taylor's house last Friday night. Luckily, she wasn't there. Westerly Police Chief Shawn Lacey told the paper, "A pair of orange shoes were found at the doorway where he broke in. When officers asked him why he wasn't wearing any, he told them 'I was always taught that when you go into someone's home, you have to take your shoes off.' He said he did it because it was polite." According to Lacey, McEwan drove from New Jersey to Rhode Island, jumped a fence, broke a glass door, took his shoes off and then started wandering around "to find Taylor." Police said this was the first instance they can recall of someone actually making it into the house, though there have been a number of attempts since Taylor bought it. McEwan was arrested and charged with breaking and entering, as well as willful trespassing.  He was released on a $5,000 bond; police are currently working with his family to determine if he should have a mental health evaluation, says the paper. Police say McEwan is the third unauthorized man to attempt to access Taylor's house since July 19, a fact they attribute to the release of her new album Lover.Said Lacey, "As with any celebrity, the release of her new album has led to wider media attention. This and related searches that identify the home as her property are likely the reason."
Read More
Boner Candidate #2: I THINK MY WATER BOTTLE NEEDS CLEANING.
A former Tennessee State University student has pleaded guilty to contaminating her roommate's drink with toilet water. Tierni Williams pleaded guilty to tampering with her roommate's water on Tuesday. Back in 2017, the victim says she lost weight and her appetite and couldn't figure out why. That's when she claims she learned via Snapchat that her roommate, Tierni Williams, had been dumping water from the toilet into her water bottles. According to an affidavit, video shows Williams getting liquid from the toilet with a styrofoam cup, then transferring it into water bottles on her roommate's side of the dorm. Williams reportedly narrates during the video, laughing and using expletives while stating her roommate is "gonna get sick from this" and it's "nasty."
Sentencing is scheduled for next month.
Read More 
Boner Candidate #3: MANGLED CHICKEN BONE DUMP.
What the cluck happened here? A disturbing amount of animal carcasses that appeared to be chicken bones filled a Brooklyn street Friday morning, according to a resident who tweeted the grisly scene. "Does anyone know what the hell kind of chicken massacre happened in Boerum Hill?" tweeted Sara Vilkomerson. The "Late Night with Stephen Colbert" producer later told her followers she initially "thought it was fall leaves." The bloody bones were scattered down Bond Street near Bergen Street in brownstone Boerum Hill, she wrote. Many joked that the fanaticism over Popeyes' chicken sandwich must be to blame. In the video Vilkomerson posted, a Caputo Bake Shop van drives over the carcasses, eliciting a horrifyingly moist-sounding crunch. The NYPD released the following statement to The Post: "On Friday, August 30, 2019, at approximately 0950 hours officers responded to a 911 call in the vicinity of Bond Street and Bergen Street within the confines of the 84th Precinct. Upon arrival officers observed employees of the Department of Sanitation cleaning up raw chicken parts on the road." The New York City Department of Sanitation tweeted an update at 11:49 p.m. Friday: "A DSNY mechanical broom addressed the condition at 10:00 a.m. A flusher (truck with water) is on the way to address any remaining street residue," it commented alongside a photo of the freshly deboned stretch of Bond. A nearby deli worker said he "had no idea" where the bones came from. A restaurant worker in the area added that the street didn't have any lingering stench from the morbid spill — at least, "No more than usual," he said.
Read More 
Download X96's App