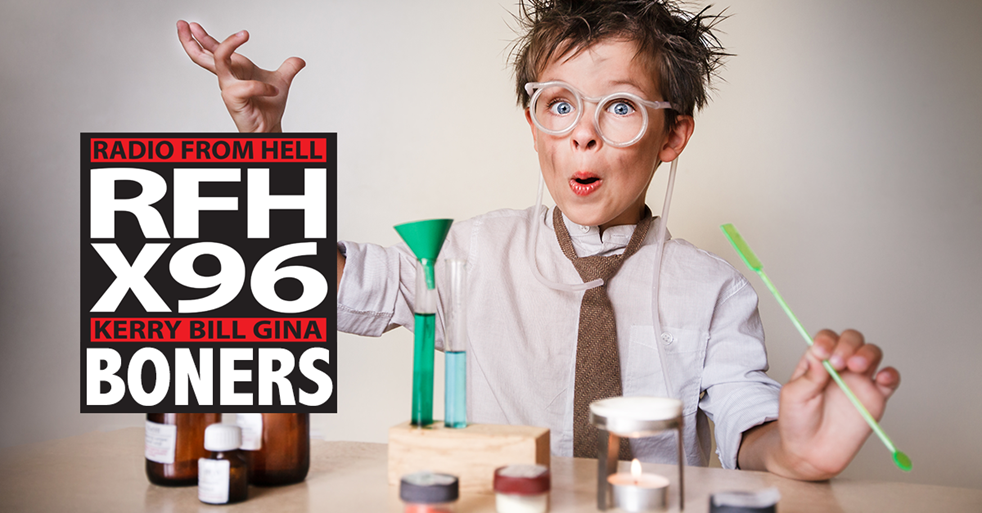 Round One
Boner Candidate #1: MAN, YOU THINK YOUR BOSS IS TOUGH.
We all have our share of bad boss stories. But it's tough to outdo the Chinese sad sacks who endured untold abuse and humiliation from sadistic overlords — all in the name of encouraging better performance. As reported Wednesday by the BBC, an employee of a home renovation company in Guizhou was whipped in retaliation for doing a rotten job.
Others were threatened with being made to eat cockroaches. Some sub-par wage-slaves even had to drink toilet water, have their heads shaved and down plastic cups of urine.
The harsh discipline became all too known after a video of the dastardly behavior modification gambits went viral. As to why employees did not report their bosses to authorities, apparently the company had a habit of withholding pay and people were afraid of losing out on their money.
Boner Candidate #2:  I WAS TRYING TO DO SOME LITTLE THINGS TO SHOW HER THAT I LOVED HER.
A Wesley Chapel man was arrested for placing a hidden camera to watch his roommate, deputies said. Pasco County deputies arrested 24-year-old Michael Petralia on a video voyeurism charge. Deputies said he placed a camera in the attic of the home with the lenses peering through a small construction hole in the victim's bedroom, without her knowing. Investigators said Petralia made sexual advancements towards the victim by flashing his private parts and leaving sex toys throughout the house. When they found the camera's memory card, deputies said there was video showing Petralia placing the hidden camera in the attic.
Boner Candidate #3: YOU GOT MY TUPPERWARE IN THERE, YOU SOB?
This certainly was no Tupperware party. A fight over the popular food storage container escalated to an Arizona man shooting his brother, officials said. Police said John Murillo, 44, fired several shots at his 46-year-old brother, Anthony Murillo, after a heated dispute about the Tupperware dish, AZCentral reported. Anthony Murillo told police that his younger brother stole his plastic container, causing them to fight over text message about the kitchen item. The older Murillo claimed he returned home and knocked on John's room to confront him, but his younger sibling shot him through the door, authorities said. The wounded brother called police and was brought to the hospital in critical condition.
Authorities said John Murillo fled the scene, but was later spotted driving slowly outside the home. He reportedly stopped and asked officers whether his older brother was alright.
"He was banging on my door," John Murillo allegedly told officers. "I didn't know what to do."
Round Two
Boner Candidate #1: BETO LOST AND IT'S BEY'S FAULT.
Fans are roasting Beyoncé for her 11th-hour endorsement of Senate hopeful Beto O'Rourke on Tuesday, with some even blaming her for the Texas Democrat's loss to Sen. Ted Cruz. The Houston-born songstress urged her fans to get out and vote for O'Rourke, posting photos on Instagram of herself dressed in all black and wearing a matching "Beto for Senate" cap. "We can't voice our frustrations and complain about what's wrong without voting and exercising our power to make it right," she wrote to her 119 million followers. "We need you." But many were quick to point out that the pop queen's effort was too little, too late. "You have such a huge, influential voice and you wait until Election Day to post this?!" one flummoxed fan wrote. "Beto needed you sooner. Maybe you could've actually made a difference." "Lol these posts a week ago could have made the difference in young voters," someone else noted.
Boner Candidate #2: PROSTITUTE 1 WAS ALSO A FLIGHT ATTENDANT AND A SHOPLIFTER.
Gabi Grecko claims she was paid to engage in mile-high group sex with two cops and three other men during a wild private-plane trip to Las Vegas in 2013. (Richard Harbus for New York Daily News) The prostitute who accompanied a high-ranking cop and a police buff on a raunchy flight to Las Vegas was also a serial shoplifter, prosecutors revealed. Gabi Grecko posed as a flight attendant on the notorious private flight to Sin City on Super Bowl weekend in 2013 with NYPD Deputy Inspector James Grant, Brooklyn businessman Jeremy Reichberg and others. The wild weekend features prominently in the government's case against the two men accused of abusing Grant's authority to boost Reichberg's status as a big shot in his community. Grecko is expected to testify about the lurid episode. In new papers filed in Manhattan Federal Court on Tuesday, prosecutors asked a judge to prohibit defense attorneys from cross-examining Grecko about her "prior shoplifting conduct," referring to her only as "Prostitute 1."
Boner Candidate #3: OLD CATFISH IS GENTLE AS A PUPPY.
A Missouri landlord stumbled upon an unwanted house guest while evicting a tenant: a large alligator in a hot tub. The tenant described the 150-pound reptile as "gentle as a puppy" after animal control workers were called to the Kansas City home on Wednesday. The workers also found two boa constrictors and a rabbit. The Kansas City Star reports a specialist removed the alligator, which was at least 6 feet long. No one was injured. The tenant, Sean Casey, said he'd owned the alligator for four years and named it Catfish. He called the reptile "a big cuddly lizard." A spokesman for the city's Neighborhood and Housing Services Department says Kansas City doesn't allow homeowners to have alligators. Catfish will be temporarily housed at the Monkey Island Rescue and Sanctuary in nearby Greenwood. The snakes and rabbit were taken to an animal shelter.
Download X96's App