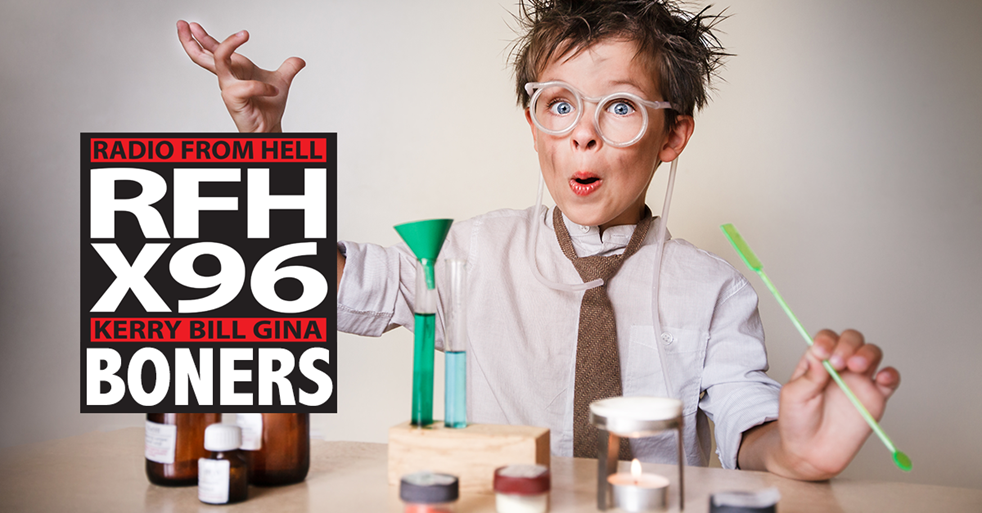 Round One
Boner Candidate #1: I WAS JUST STEALING A CAR NOT A BOY.
A Salt Lake City man got more than he bargained for Monday morning when he found a 12-year-old boy in the backseat of a car he stole from a hotel. The theft occurred outside of the Courtyard Marriott near the Salt Lake City airport at 3:42 a.m. Monday, according to Salt Lake City police. The mother of the boy had gone into the hotel to check in and left the boy in the car with the keys. The man took the car but quickly realized he wasn't alone in it. "We believe he was just trying to steal the vehicle and didn't know the kid was in there," said Sgt. Brandon Shearer. The man pulled onto eastbound Interstate 80, but within minutes flagged an officer down to report he had just stolen the vehicle with the child in it, Shearer said. The 23-year-old man was arrested and booked into the Salt Lake County jail on suspicion of first-degree felony kidnapping, second-degree felony theft of a motor vehicle and a third-degree probation violation. The boy was returned to his mother unharmed, Shearer said.
Boner Candidate #2: JUST SAY NO TO RACIST PROM AND OTHER RACIST MATTERS
A Sarasota, Florida, high school student is in hot water after asking a person to prom using a racist sign. His school, Riverview High School, is investigating the matter with possible disciplinary action to follow. A photograph of the sign was captured via the potential date's Snapchat account and then circulated on social media Sunday, according to the Sarasota Herald-Tribune. The sign read: "If I was black I'd be picking cotton, but I'm white so I'm picking u 4 Prom?" Confirming to Newsweek that the student does go to Riverview, school district spokesperson Tracey Beeker said the school was investigating the incident and working with organizations to "schedule forums on the topic of race" regarding the proposal. Beeker also said that an automated call with a message about the incident went out to students and parents before school Monday. "We want to make everyone aware of a student's social media post that has caused a very concerning situation. It involves one of our seniors and his 'promposal' to another student. It was racial in nature and administration became aware of it last night. Many who saw the post are understandably upset with its contents as well as the subsequent commentary to the post. Riverview High School absolutely does not condone or support the message conveyed in this post," said the message from the school's principal Kathy Wilks.
Boner Candidate #3: TALK ABOUT BEING STUCK BETWEEN A ROCK AND A HARD PLACE.
This woman somehow ended up in this predicament during a boozy night in the Philippines. Witnesses said she was trying to climb onto the roof of her home, but slipped and fell into the tiny gap between two houses. Ouch. She was so wedged into the tight gap that she couldn't get out – but was eventually rescued after six hours. Neighbours heard her desperate cries for help and alerted rescuers, who initially struggled to get the woman out. But it was partly the fault of the woman herself – she was so hammered that she resisted the rescue attempt, the Bureau of Fire Protection said. A spokesman said: 'It took six hours to rescue her. In the end, the rescuers had to make a hole in the wall to remove her. 'She sustained scratches and some bruises after the incident. Her friends asked that her identity was not revealed.'
Round Two
Boner Candidate #1: HE SAID HE BROKE THE LAW SO NO JAIL TIME.
Justice of the Peace Russ Casey pleaded guilty Monday to tampering with a government record and resigned after an investigation showed he turned in fake signatures to secure a place on the March 6 primary ballot. The embattled judge, who worked in Northeast Tarrant County, was sentenced to two years in jail that was probated over five years. "I apologize to the citizens of Tarrant County, the Tarrant County Republican Party, my family and friends for the way that I have ended my judicial career," Casey said in a written statement after the court hearing. "Today's proceedings have begun my transition from public to private life. "I ask for forgiveness and respect for our privacy as we go through this transition." Monday's legal action sparked criticism from some who say women convicted of voter fraud received much harsher punishment. This case stems from claims earlier this year that Casey turned in fake signatures to secure a place on the ballot. It was a controversial time for the Tarrant County Republican Party when a petition was filed to remove Casey — who represented Precinct 3 in Northeast Tarrant County — from the ballot amid the allegations of false signatures.
Boner Candidate #2: I DIDN'T AIM FOR LARRY WITH THAT SINGING FISH..
A Florida man was arrested yesterday after allegedly striking his boyfriend in the head with a Big Mouth Billy Bass, the novelty singing fish, police report. Officers were called Sunday afternoon to a residence in Sebastian in connection with a reported domestic battery. Upon arriving at the home, cops found Larry Timmerman with a laceration on his head, an injury the victim said was caused by a Big Mouth Billy Bass thrown by Gregory Carney, 54. In interviews with Timmerman and Carney, cops determined that the men–who have been domestic partners for 17 years–had been quarreling earlier in the day. At one point, Carney went into the den and began playing with his singing fish. Timmerman said that Carney "continued doing this just to aggravate him." After having to endure several Big Mouth Billy Bass performances, Timmerman, 52, "removed the singing fish from the room and placed it in the trash." When Carney discovered the novelty item was missing from the den, he quizzed Timmerman on its whereabouts. When Timmerman responded that Billy Bass was now in the trash, Carney became angry. Carney then fished the singing fish from the garbage and threw it at his boyfriend, cops allege. The item struck Timmerman in the head, causing a laceration.
Boner Candidate #3: EVEN BLACK COPS HAVE TO PUT UP WITH THIS CRAP
---
Subscribe to X96's News!
Get the latest music news, contests and flyaways, and more straight to your inbox with our weekly emails.