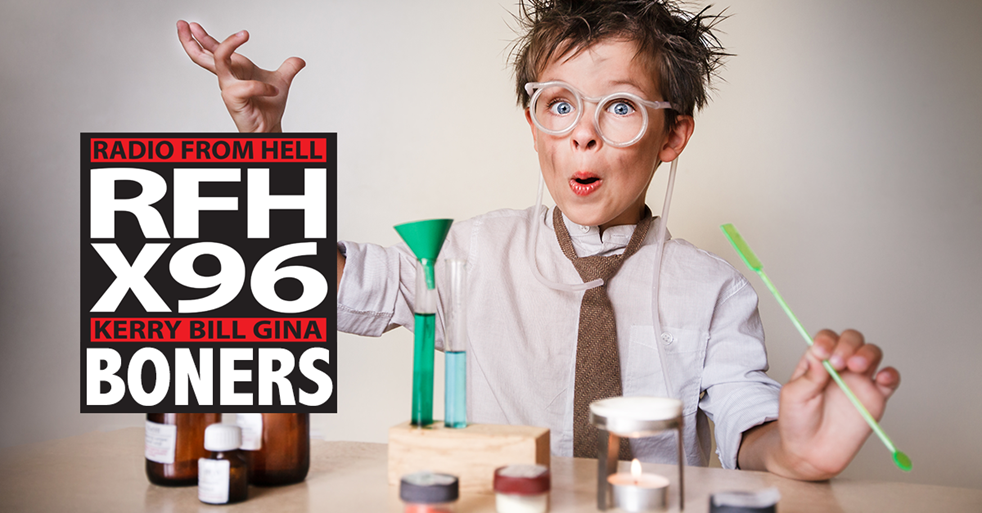 Round One
Boner Candidate #1: HOW TO ESCAPE A TERRORIST BEHEADING.
Who Is America? is full of great characters, from Cohen's faux-liberal Dr. Nira Cain-N'Degeocello to that Finnish YouTube star who got Sheriff Joe to scream at a toy donut, but his Israeli anti-terror expert, Erran Morad, is by far the best thing about the new Showtime series. It was Morad who ran Roy Moore through a pedophile test, got Dick Cheney to autograph a waterboarding kit, and who let now-disgraced GOP lawmaker Jason Spencer ruin his career by screaming the N-word and pulling down his pants to expose his bare ass. And on Sunday's episode, Morad did it again: convincing pro-gun crusader Dan Roberts that the best way to survive a beheading was to chomp down on a terrorist's dick—and then having him bite onto a dildo for practice. "I survived two beheadings… there is only one defense," Morad tells the founder of Youth Shooters of America, a guy who has previously railed against the Parkland survivors. "The only vulnerable point is the groin… Do you want to want to have somebody remove your manhood?"
Boner Candidate #2: THIS GAME IS BETTER THAN ANY BOOKS
NORTH LOGAN, Utah — The former North Logan City Library Director was sentenced today for allegedly stealing $89,000 worth of library funds and spending it on the mobile app, "Game of War." Investigators said they discovered that Adam Winger, 38, had made hundreds of purchases for gift cards with North Logan City credit cards. These gift cards were, in turn, allegedly used to make purchases on the "Game of War" app. Winger was the director of the North Logan City Library for about three years, officials said. Winger was ordered to pay restitution, spend 30 days in jail, and do community service as part of his sentence. Fox 13 reported in June that Winger agreed to pay $78,000 in restitution. If he did not pay the debt by a date that was to be set by the court, Winger will have to repay the full $89,000.
Boner Candidate #3: I FELT LIKE I KNEW HIM SO WELL
They say you can't put a price on love, but a woman in Florida did and shelled out $1 million to an overseas suitor. Worse yet, she has nothing to show for the two years she invested in the faux relationship, aside from a broken heart and an empty bank account. Pamela Viles of Sarasota told WWSB News she was looking for companionship and she thought she met a nice man online but eventually discovered she had been scammed. The 69-year-old Viles said the man wooed her on Match while posing as an Australian-born business owner with citizenship in Canada. She said he texted daily and called twice a week. "This was intimate, love, details, dreaming, so so deep," she said during an interview with WWSB News on Friday. "I felt like I really knew him closer than anybody that I had known."
Round Two
Boner Candidate #1: THERE IS NO PRIVACY.
COTTONWOOD HEIGHTS, Utah – Police in Cottonwood Heights are asking for the public's help identifying two suspects in a theft case. According to a press release made by police, the two individuals stole a cell phone from a waitress at Denny's. The two suspects went through the phone, and sent a "private adult video" to the theft victim's friends and family, the press release stated. Police asked anyone with identifying information on the suspects to contact Det. J. Nelson with the Cottonwood Heights Police Department at 801-682-3041. Pictures of the suspects can be seen below:
Boner Candidate #2: IF YOU'RE GONNA FIGHT MAKE SURE IT'S OVER SOMETHING IMPORTANT.
Imagine standing before an iconic piece of Baroque architecture—and starting a giant fight. That's effectively what happened earlier this month at the Trevi Fountain in Rome, where a 44-year-old American woman and a 19-year-old Dutch woman got into a violent argument over the best selfie spot. On Facebook, Rome police wrote that the two tourists started "to jostle and get slapped and punched" on August 8th after trying to get the best angle to photograph the fountain behind them. Their families soon joined in, and authorities say the fight between the two women eventually spiraled into an eight-person melee involving two 17-year-old Americans, the 13-year-old sister of the Dutch tourist, and a few others. The brawl was stopped after two officials on duty at the scene intervened, according to police, who also noted that there were no major injuries other than some reported bruises.
Boner Candidate #3: WHAT'S UNDER MY SHIRT? TWINS, THAT'S WHAT.
A North Carolina woman who is eight months pregnant with twins was humiliated by a police officer who wrongly accused her of shoplifting items under her shirt, according to reports Monday. "[The cop] pretty much jumped the gun without any type of evidence, except my stomach is large," the shopper, Sherell Bates, told the local TV station WSOC. "That's not fair. No mom should have to go through that." Bates was shopping for back-to-school supplies at Staples in Pineville on Friday when the cop stopped her near a checkout line — and asked what was under her shirt, she told WSOC. "Initially, I thought he was joking, so my response was, 'Twins,'" Bates said. "I'm 34 weeks with twins. I'm having a boy and a girl."
Download X96's App