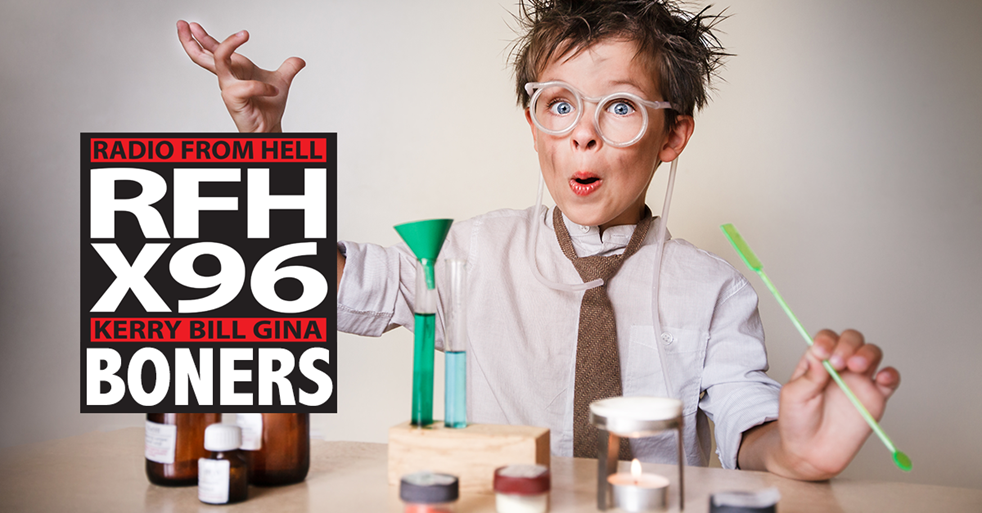 Boner of the Day Round 1
Candidate #1:GOOD WORK BOYS, YOU ALMOST GOT IT.
Technological advancements have created a great divide between Generation Z and just about everyone else. A dad in Illinois illustrated this in a video of two teenagers trying to dial a number on a rotary phone. Kevin Burnstead gave them four minutes to complete the task. Spoiler alert: They failed.
Candidate #2: I'M NOT HERE.
Fugitive leaves 'I'm not here' message on mattress for Flagler County deputies
BUNNELL, Fla. – A fugitive wrote a note on a mattress for Flagler County deputies, stating that he was aware of the warrant out for his arrest, a news release said. Deputies said there was an active warrant for Jesse Pack, 40, of Bunnell, out of Volusia County on charges of kidnapping and aggravated assault with a deadly weapon. Deputies arrived at the Bunnell home on County Road 200 Sunday night and found a mattress with writing on it placed by the front door, the Sheriff's Office said.
Candidate #3: I THINK WE HAVE TO GIVE HIM SOME CREDIT FOR ACTING SKILLS.
It was back in September of last year that Paul Anthony Menchaca of Gilbert, Arizona was arrested at his home located near Val Vista Drive and Williams Field Road for pretending to have down syndrome and posing as a woman hiring caretakers to bathe and change her adult son's diapers.
Boner of the Day Round 2
Candidate #1: PERFECTLY UNDERSTANDABLE BEHAVIOR FROM SOMEONE WHO'S TEAM LOST.
Philadelphia Eagles fan Kirsten Gaskins allegedly assaulted her girlfriend and threatened to harm her dog after the team's NFC divisional round loss to the New Orleans Saints on Sunday.  Citing the criminal complaint, Manuel Gamiz Jr. of The Morning Call reported Gaskins was charged with simple assault, harassment, cruelty to animals and possession of drug paraphernalia after she allegedly attacked her girlfriend and put her girlfriend's dog inside a microwave at the hotel room they were staying in on Sunday. She was released on $20,000 unsecured bail.
Candidate #2: AND LIKE BRETT, SHE SAYS SHE ENJOYS BEER.
Neomi Rao, who serves as Donald Trump's administrator at the Office of Information and Regulatory Affairs, was nominated by Trump in November to replace Brett Kavanaugh's seat on the federal bench. Rao's checks off almost every box you could imagine for a Trump nominee—Federalist Society member, George Mason University's Scalia Law School professor, defender of an abhorrent practice called "dwarf-tossing," and, according to new reporting by Mother Jones, prolific writer of articles espousing radically racist and sexist views in her campus paper.
Candidate #3: IF YOU CAN'T BE SAFE PASSING OUT AT A WAFFLE HOUSE, WHERE CAN YOU BE SAFE?
A man's attempt to sober up at a local Waffle House in Georgia fell as flat as a pancake after two employees covered him in condiments and cheese. Two employees at the iconic breakfast chain in Lithonia were fired when footage of the outrageous prank went viral after it was posted to Instagram earlier this month, WSB-TV reports.
Download X96's App