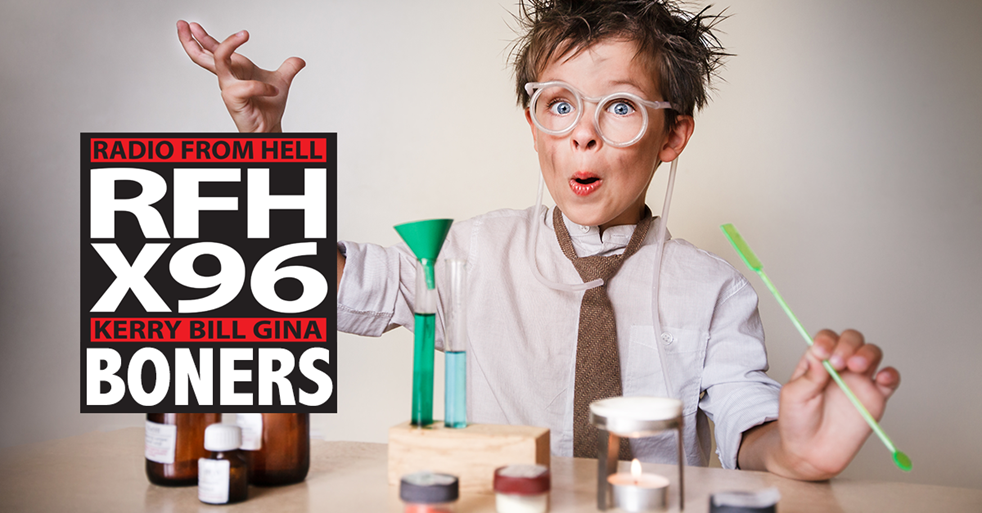 Round One
Boner Candidate #1: OH, TOMI, TOMI, TOMI.
A genealogist took commentator Tomi Lahren to task on Twitter after she made controversial comments about immigrants in this country. And she did so with Lahren's own family history. On Saturday, Lahren went on Fox News' "Watters' World" to defend White House chief of staff John Kelly's remarks on immigrants. Kelly, formerly Trump's homeland security secretary, told NPR last week that undocumented immigrants are "not people that would easily assimilate into the United States into our modern society." Lahren went even further and told host Jesse Watters that people who don't speak English or who come from poverty shouldn't be allowed to immigrate to the United States. "These people need to understand that it's a privilege to be an American and it's a privilege that you work toward. It's not a right. You don't just come into this country with low skills, low education, not understanding the language and come into our country because someone says it makes them feel nice," she said. "That's not what this country is based on. We are based on the rule of law, and we believe in bringing the best people into this country to make it even better. We don't believe in importing poverty. Trust me, I live in California. We have enough poverty. We have enough issues. We don't need any more."
Boner Candidate #2: THAT'S NOT WHAT MY ATTORNEY SAYS.
OKLAHOMA CITY, Okla. (KFOR/NBC News) – A man is facing charges after taking "up-skirt" photos of unsuspecting women inside an Oklahoma City Walmart. According to a police report, an asset protection officer told police that several customers had complained that a man was taking pictures up unsuspecting women's dresses. A security guard also reported seeing Kevin Bierig, 44, "blatantly positioning his cellphone under the woman's dress," said the report. When officers confronted Bierig, he told police that they did not have permission to look in his phone."He was very upset about that," said Oklahoma City Police Master Sgt. Gary Knight. "He claimed his attorney told him it's perfectly legal for him to do this in a public place. Which it was explained to him clearly that it's not." Officers also spoke with the alleged victim, who said that she didn't know she was being photographed. However, she said she noticed that Bierig was following her around the store.
Boner Candidate #3: YOU OPEN THE BURGER KING AND I'LL PUT ON SOME CLOTHES
An intoxicated Illinois man became enraged by Burger King's hours and stripped off his clothes in the street before striking a cop a few times, police said. Manuel Silverio of Plainfeild, Ill., had tried to patron the hamburger chain around 2 in the morning on Sunday. According to the fast food restaurant's website, it closes at 12 am. "He was visibly upset the business was closed and was banging on the drive-thru, screaming at the employees inside," Deputy Police Chief Eric Allen said to The Herald News. "He was heavily intoxicated." Officers were called around 2:15 to the chain in Shorewood, Ill., by employees complaining about the drunk and violent man. When officers arrived, Silverio hit the window again before he "proceeded to strip naked, then put his pants back on," Allen said to The Herald News. After determining no property had been damaged and no one was injured, the police contacted one of Silverio's relatives to pick him up, the news site reported. However, after a police sergeant tried to help the man put his shirt back on, Silverio hit him. The officers handcuffed Silverio and sat him on the curb to calm down, Allen confirmed to the media outlet.
[polldaddy poll=10004944]
Round Two
Boner Candidate #1: I HONOR MY MOM ON HER SPECIAL DAY IN MY OWN WAY.
LAKELAND, Fla. (WFLA) – A mother and son were arrested on Mother's Day after an argument over alcohol turned violent in Polk County. A deputy was called to a home in Lakeland Sunday evening and arrested 27-year-old Seth Bryant and 54-year-old Judy Bryant. According to an arrest report, Seth Bryant and his father got into an argument when Seth demanded that he be allowed to have more alcohol. The father told deputies their argument turned physical when Seth put his fist against his face and pushed him with it. The sheriff's office says Seth made several derogatory racial comments toward the responding deputy, who is black. While Seth was being arrested, deputies say Judy Bryant shoved her husband against a counter and asked, "How's this for domestic violence?"An arrest report states that she then refused commands from the deputy at the scene and resisted being taken into custody. She was eventually placed in handcuffs and arrested. The father/husband was not injured by either incident.
Boner Candidate #2: THE SWAMP IS NOT EVEN DRAINED EVEN A LITTLE BIT.
WASHINGTON ― A month after abruptly resigning from Congress in an apparent effort to avoid more fallout from sexual harassment allegations, former Rep. Blake Farenthold (R-Texas) already has a new job: lobbying his former colleagues on port issues. Farenthold announced Monday on a Corpus Christi radio show that he landed a new gig at the Calhoun Port Authority in Port Lavaca, Texas, as reported by Caller Times. He is now the port's full-time legislative liaison, and his job responsibilities include increasing the port's visibility with federal lawmakers and the Trump administration. Port Lavaca sits on the Texas coast some 70 miles northeast of Corpus Christi. "I'm starting a new job today that has an hour-and-a-half commute," Farenthold said on 1360 KKTX-AM's "Lago in the Morning." "You're going to have me listening and calling in a whole lot now." It is generally illegal for a former member of Congress to immediately become a lobbyist, but there are exceptions for those lobbying for state or local government agencies.
Boner Candidate #3: THERE'S A SPECIAL PLACE IN HELL….
A heartless goon pretended to be a helpful cop before pickpocketing a blind man outside a Manhattan subway station on Monday, law enforcement sources said. The 64-year-old legally blind rider was about to enter the 34th Street Station to ride an E train at Eighth Avenue at 4:30 p.m. when the callous crook approached, sources said. The suspect identified himself as a police officer and offered to help the visually impaired man through the turnstile – which he did, while also lifting the man's wallet. The robber took off on foot and police have recovered surveillance video of the troubling incident, sources said.The robber took off on foot and police have recovered surveillance video of the troubling incident, sources said.
[polldaddy poll=10004952]