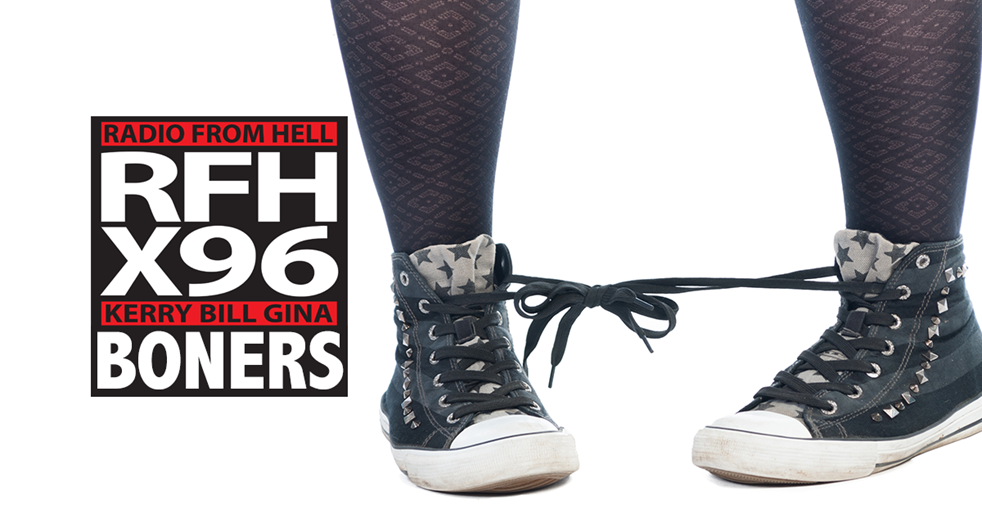 Round One
Boner Candidate #1: IT'S GOOD TO SEE THEY'RE USING THE WHOLE COW.
We're not very good at it in the UK, but in many countries, when you slaughter an animal, you use most of its parts. Not just the meaty, juicy bits – but the parts which sound a little less appetising to our sensitive ears (and palette). We're talking about tripe, feet, gizzards, necks, spleen and even tendons. If none of those really tickle your tastebuds, however, then be glad you didn't spot this packet of sausages in a supermarket in Adelaide, Australia. Because these aren't like any sausages we've heard of before. And maybe this is a cut of meat too far…
Boner Candidate #2: YOU NEED BETTER FRIENDS.
An Ohio woman might want to ask some questions if she tries to borrow someone's urine again to pass a drug test. WTOV-TV reports 24-year-old Kiana Wallace was sentenced to 18 months in prison Monday, in eastern Ohio's Belmont County, after submitting a borrowed urine sample that tested positive for drugs. Wallace pleaded guilty earlier this month to attempted tampering with evidence. Judge Frank Fregiato called the failed urine swap "bizarre" and told Wallace he wouldn't allow her to make a mockery of the drug and alcohol testing system.
Boner Candidate #3: I HAD TO GET HER ATTENTION SOME HOW.
Liberty Gratz has been working at the Publix on Hull Street Road since it opened last Fall. Out of all the shifts she has completed, what happened on Sunday afternoon is burned into her memory. "All of a sudden, I felt some woman hit me in my back," Liberty recounted through her mom Jeanette Gratz's interpreting. Liberty is deaf and says she could not hear the woman asking where to find an item in the store when the scene turned violent. Liberty, who also has vision loss, remembers kneeling down to straighten out a bottom shelf when she felt the knock out of nowhere. "She doesn't have that peripheral vision, so she's really focused on her work," explains Jeanette. "She doesn't always notice the people beside her." Liberty, who uses American Sign Language (ASL) with family and friends, communicates with shoppers by writing on a pad of paper.
Round Two
Boner Candidate #1: I HAD TO IMPROVISE
Police say a driver pulled over in Thunder Bay, Ont., had an unusual seating arrangement — a folding lawn chair where a driver's seat should have been. They say an officer stopped a pickup truck on Tuesday afternoon after noticing the licence plates were allegedly not authorized for that vehicle. Upon approaching the driver, police say the officer noticed the suspicious seating arrangement — the driver was sitting in a lawn chair placed in front of the steering wheel. And investigators say that wasn't the only thing wrong with the pickup. They say it was impounded for a multitude of defects, including a broken windshield blocking the driver's view, a defective door handle that effectively trapped the driver inside the truck, and no seatbelt buckles.
Boner Candidate #2: WE HAD TO IMPROVISE
A woman with multiple sclerosis wants Delta Air Lines to improve its service for disabled passengers after she claims she was tied to a wheelchair following an international flight earlier this month. Maria Saliagas was diagnosed with the central nervous system disease five years ago, but didn't want her deteriorating health to stop her annual trips with her husband to Europe. So prior to her April 1 flight from Atlanta to Amsterdam, her son made arrangements with Delta officials to ensure that the proper wheelchair would be waiting for her on the other side of the Atlantic, WSB-TV reports. But the wheelchair with special straps to help her sit up straight wasn't there, prompting Delta employees to improvise, Nathan Saliagas told the station. "They took a dirty blanket and tied her forcefully with it, and she has bruise marks on this part of her arm, which is where it was tied," he said, pointing to his bicep. "I want them to show initiative that they're willing to change their disability services."
Boner Candidate #3: ONE OF THESE THINGS DOES NOT BELONG WITH THE OTHERS.
Download X96's App