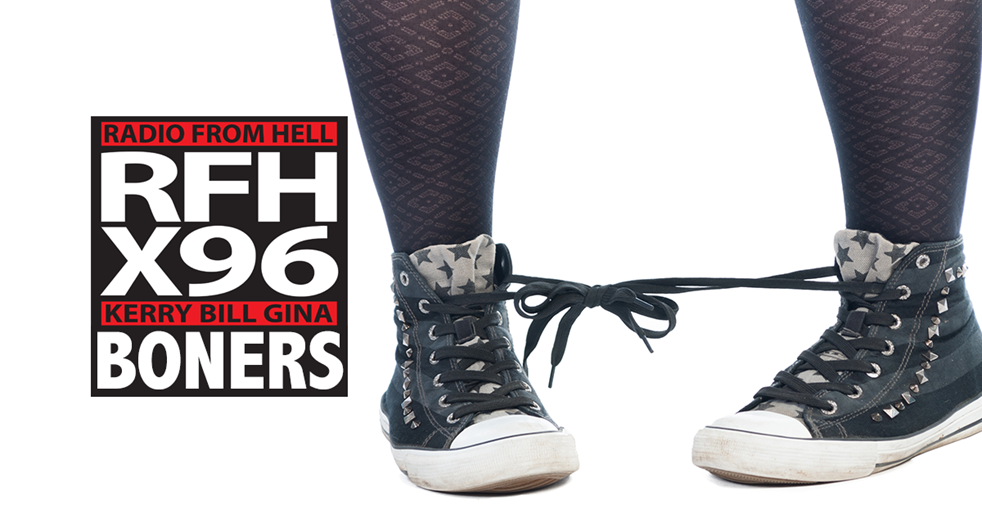 Round One
Boner Candidate #1: PASTORS ARE NEXT.
A prominent Republican said that the El Paso shooter should not be prosecuted under federal hate crimes laws because that could lead to pastors being put in prison. Representative Louis Gohmert (R-TX) was interviewed on local news station KETK, where the host bemoaned how mass shootings were being "politicized." Gohmert said that he was particularly distraught that people were calling for the El Paso shooter to face hate crimes charges, even though he allegedly killed at least 22 people at a Walmart because he hated Hispanic people. "There is no death penalty under federal [hate crimes] law," Gohmert said, implying that the only purpose of hate crimes legislation would be to get the death penalty. Then he said that the real reason he doesn't want the Matthew Shepard Act used against the El Paso shooter is because he believes that pastors who don't like LGBTQ people are pretty much indistinguishable from the El Paso shooter. "So all of this screaming and yelling we need to punish him for hate crimes, you know, that's just going to be something used to lock up preachers someday," he said. Conservatives often conflate hate crimes and hate speech in order to argue that hate crimes laws will be used to punish otherwise legal speech. The threat of a pastor being put in jail for condemning homosexuality is supposed to turn people against hate crimes laws.     Read More
Boner Candidate #2: IGUANA CHUCKER.
An Ohio judge has told a man who threw an iguana at a restaurant manager that he's not allowed to brag about the crime. Forty-nine-year-old Arnold Teeter pleaded guilty Thursday to cruelty to animals and resisting arrest. Painesville Municipal Judge Michael Cicconetti sentenced Teeter to two years of probation. The conditions also include that Teeter cannot live in a home with animals for five years. In April, authorities said Teeter pulled the 2-foot-long (0.61-meter) iguana from under his sweatshirt, swung it around by its tail and threw it at a Perkins Restaurant manager but missed. The iguana suffered a fractured leg but recovered. The lizard had ended up with Teeter after getting away from its rightful owners while they were moving. It has since been returned to them.     
Read More
Boner Candidate #3: WAIT, WHERE IS MY 401K?
An Oregon man who accidentally threw out $23,000 of savings was reunited with the old shoebox full of cash over the weekend after an employee at a Northern California recycling facility spotted the fortune. The Ashland, Ore., man realized his terrible misfortune this past Thursday — but assumed it was too late. The recycling truck had already picked up his rubbish and was heading for the Recology plant in Humboldt County, which provides garbage management to over 1,000,000 homes in the Pacific Northwest. The man's waste had nearly been processed by the time the distressed saver contacted Recology. "We take quite a bit of material every day, so the odds of finding that are not much better than a needle in a haystack," Linda Wise, general manager of the Samoa Resource Recovery Center operated by Recology, tells the Press-Democrat. The workers hunted nonetheless. "But then the box showed up and came down the sorting line, and we were all excited to see it," says Wise. When they found the box, they discovered the savings was almost entirely recovered. After a 200-mile trip, the man had only lost $320.   
 Read More
Round Two
Boner Candidate #1: WE'RE PROBABLY NOT GOING TO SOLVE THIS ONE.
A Florida homeowner says someone stole a 9 mm Glock handgun from his bedroom during a weekend sex party. But Volusia County Sheriff's Sgt. Todd Smith tells The Daytona Beach News Journal the homeowner couldn't give detectives the names of possible suspects because the 20 or so people attending the orgy wore masks. Smith says the handgun was apparently on a bedroom nightstand during the party. It was taken between July 19 and July 21 and reported later. The homeowner said the party was advertised on social media and guests were encouraged to bring friends and to use fictitious names or no name at all. He said he probably only knew about five of the guests that entered the home that weekend. Smith says it's unlikely they'll solve the crime.     
Read More
Boner Candidate #2: A TOTALLY PEACEFUL RACIST GROUP.
A city council meeting in Modesto, California this week turned heated as citizens, business owners and a group calling itself the National Straight Pride Coalition debated the group's plans for a "Straight Pride" event in the city. The city has since denied the permit, citing safety concerns and the fact that event organizer did not get insurance CBS Sacramento reports. During the debate Wednesday, Don Grundmann, founder and director of the National Straight Pride Coalition, tried to make a case for holding the event celebrating heterosexuality. Some in the crowd booed as Grundmann tried to defend his group. Then he made a gaffe that suddenly had the audience laughing out loud.  "We're a peaceful group, we wanted to have a meeting, celebration of life. We're attacked as racists," Grundmann said. Then he declared, "We're a totally peaceful racist group!" The entire meeting erupted in laughter at Grundmann's blunder. The room had been booing Grundmann, but the gaffe triggered even louder cheers and jeers from the crowd. Grundmann tried to finish his speech as attendees clapped and screamed, but couldn't get much else out.     
Read More
Boner Candidate #3: THESE COMMENTS DON'T MAKE THE CUT.
Police in South Wales have warned members of the public who made fun of a convicted drug dealer's haircut they could be prosecuted for their remarks. Gwent Police used Facebook to appeal for information about Jermaine Taylor from Newport who is being recalled to prison after breaching his licence release conditions. They shared the 21-year-old's mugshot, which appears to show the man with a receding hairline, alongside the appeal in a bid to track him down.  His hairstyle attracted a slew of jokes and puns in the comments – with the image of Taylor having been liked more than 10,000 times, shared 14,000 times and commented on over 80,000 times. Gwent Police sought to stop people mocking the man's appearance by telling them they could face a criminal investigation for certain comments.     
Read More
Download X96's App