The Hunt Will Not Be Released!
Universal will not be releasing Blumhouse's The Hunt on September 27 as planned. Deadline hears that a collective decision was made by Universal leadership, led by Donna Langley, with The Hunt filmmaking team. For this particular film, it's better to wait. The news of Universal canceling The Hunt comes in the wake of the studio putting the brakes on the pic's marketing campaign in the wake of the mass shootings in El Paso, TX, Dayton, OH and Girloy, CA. The studio released the following statement this morning: "While Universal Pictures had already paused the marketing campaign for The Hunt, after thoughtful consideration, the studio has decided to cancel our plans to release the film.  We stand by our filmmakers and will continue to distribute films in partnership with bold and visionary creators, like those associated with this satirical social thriller, but we understand that now is not the right time to release this film." No official plans as to what happens to The Hunt now. It could come back for a theatrical release at a latter date, or it could go to streaming once NBCUniversal parent Comcast launches its service. The Hunt follows 12 red-state strangers who wake up in a clearing and realize that they're being hunted by liberal elites. Betty Gilpin and double Oscar winner Hilary Swank play women on opposite sides of the political spectrum, conservative and liberal, who are targeting each other. Craig Zobel directed the movie, which was written by Nick Cuse and Damon Lindelof. President Donald Trump went after Hollywood on Friday, in what was perceived by the media as an alluded slam at The Hunt, "You talk about racist — Hollywood is racist. What they're doing, with the kind of movies they're putting out — it's actually very dangerous for our country."
New Loki Series and What You Should Know
The Marvel Cinematic Universe will have a big presence on Disney's streaming video service, Disney+, with multiple MCU spinoff series planned for the service. Among the confirmed shows will be Loki, a series focusing on the titular, Asgardian trickster who debuted in 2011's Thor and played a prominent role in the evolution of Marvel's movie-verse. Tom Hiddleston will star in the series, which follows Loki as he uses the Infinity Stone he acquired in Avengers: Endgame to hop around the universe engaging in various adventures. With the series expected to premiere in 2021, here's everything we know about Loki so far. During Marvel Studios' panel at San Diego Comic-Con in July 2019, the studio revealed its Phase 4 plans for the MCU, which included Loki and other Disney+ projects in addition to its big-screen features. Marvel's timeline indicates that Loki will debut in spring 2021, at some point between the May 7 theatrical debut of Doctor Strange in the Multiverse of Madness and the summer premiere of Marvel's What If? anthology series.
"New Gods" Confirms Villain's of DC
Ava DuVernay Confirms The Villains Of DC's 'New Gods' Movie With Warner Bros. wisely being relatively quiet about its DC movies in development for the time being, that's not stopping the filmmakers themselves from giving us some more information about upcoming projects. One of those anticipated films is Ava DuVernay's The New Gods, based on the DC comic book characters created by Jack Kirby. We don't know much about the film yet – it doesn't even have an official release date – but DuVernay herself gave us a big piece of info in a recent Twitter Q&A when she confirmed the villains of the movie: Darkseid and the Female Furies. (Fun fact: Qualifying them with "Female" is kind of redundant considering historically, the Furies have always been female. Yay, male-dominated '70s comics! I digress.)
Cathrine Hardwicke will Direct Heathen
Catherine Hardwicke will be directing an adaptation of Vault Comics' acclaimed queer feminist-viking series, Heathen. Created by Natasha Alterici, the book is about a Norse warrior woman, Aydis, who sets out the kill the ultimate patriarch himself, Odin. "Aydis decides to take on Odin himself and sets forth on a journey to free the defiant valkyrie Brynhild," reports The Mary Sue, "with some help from the queer, polyamorous goddess of love, Freyja." The series was published after a successful Kickstarter campaign in 2017. Kerry Williamson is writing the adaptation. "The entire Heathen team and I are incredibly excited about adapting my little lesbian viking comic for film, especially with a kindred spirit like Kerry writing it," Alterici told Deadline. The Heathen adaptation comes on the heels of Marvel's announcement that Natalie Portman will be playing Thor in the upcoming Love & Thunder. Hardwicke is no stranger to femme-horror adaptations of myth. The director sank her teeth into the first Twilight movie before taking on the dark and gritty reimagining of Red Riding Hood.
Elizabeth Hurley Confirms Role in Runaways
The third season of Runaways is going full-on mystical this year, introducing sorceress Morgan le Fay to the larger Marvel Cinematic Universe. Portrayed by Austin Powers alum Elizabeth Hurley, the characters will make her debut later this year. In a recent visit to the set of the acclaimed Hulu show, Hurley teased her spooky upcoming role. In fact, she compared the role to the Devil she played in the Brendan Fraser-led Bedazzled. "I was so excited when they offered me this," Hurley tells Extra. "You know, I've been a Marvel fan. I've played the Devil, so I've played bad before. Playing Morgan le Fay, she's the most powerful enchantress of the Dark Dimension. It's nice to go back to my evil side." As Hurley explained, the show will seem to give a nod to the Dark Dimension first introduced in Doctor Strange, where Dormammu currently rules. Conveniently enough, this season of Runaways will also feature a crossover with Freeform's Cloak & Dagger and both Tandy Bowen (Olivia Holt) and Tyrone Johnson (Aubrey Joseph) have had recent experience in interdimensional threats. "It's so fun being able to do something that revels in the Mighty Marvel Manner," Marvel TV boss Jeph Loeb previously said in a statement announcing the crossover. "Having these young heroes crossover allows fans of both shows to see the adventure everyone has been waiting for and we've only hinted at."
Marvels Runaways and Cloak and Dagger Crossover
The rumors are finally coming true! After teasing a potential crossover between Marvel's Runaways and Cloak and Dagger for years, Marvel confirmed that a crossover episode is indeed happening this season. The stars of Freeform's Cloak and Dagger series, Olivia Holt and Aubrey Joseph, will appear on an episode of Hulu series Marvel's Runaways when season 3 premieres later this year. The casts of both shows announced the exciting news early Thursday morning in a video shared on social media. "This season we're going to be facing some of our toughest challenges ever," Virginia Gardner teases sitting with her Marvel's Runaways cast on set. "And we need some help," Ariela Barer adds before the camera pans over to reveal Cloak and Dagger's Holt and Joseph sitting next to them.
Pick Rick Cereal?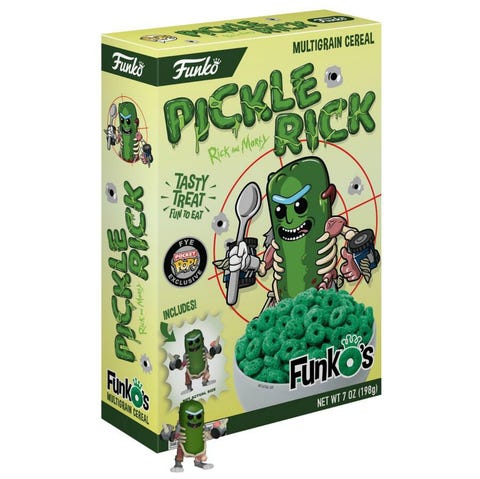 We live for a good collaboration, so when we got news that Rick and Morty was teaming up with Funko to create a Pickle Rick cereal, we were reasonably very hype. But, the major concern racking our brains: Will this be a pickle flavored cereal??? FYI: Pickle Rick came to be when Rick Sanchez accidentally turned himself into a pickle circa season three and he has been a beloved character ever since. Thankfully, this breakfast collab will be served up sans the pickle flavoring (🙌). Don't get us wrong, we're all for a nice, crunchy pickle at a BBQ, with a sandwich, or basically in any other situation. But a fermented cucumber flavor served up with milk first thing in the AM? Not as appetizing. The cereal, available for preorder exclusively at FYE, is a box of dark green multigrain rings. An added bonus? Each box comes with a Pickle Rick toy inside. Jackpot. The outside of the box, designed by Funko, depicts a pretty angry looking Pickle Rick grasping a spoon. TBH, I wouldn't want to mess with him.
Download X96's App