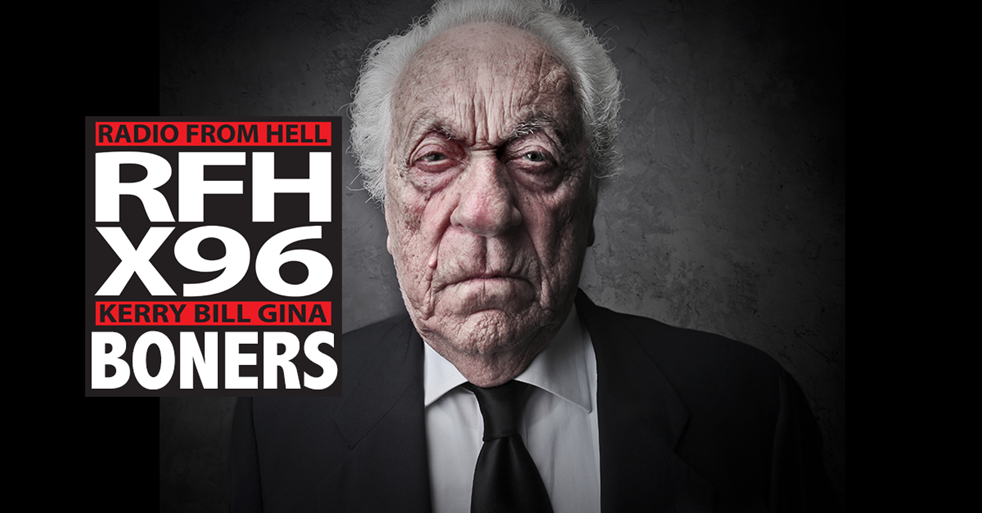 Round One
Boner Candidate #1: AMERICAN HEROS
WASHINGTON, D.C. – Oklahoma country music star Toby Keith and bluegrass icon Ricky Skaggs were reportedly at the White House being honored by President Donald Trump this afternoon as the U.S. House of Representatives voted to impeach the commander in chief a historic second time. Trump reportedly presented each performer with the National Medal of Arts in the White House's East Room. NBC News' Peter Alexander reported on Twitter that the ceremony took place minutes after the House voted 232-197 to impeach Trump on charges of "inciting violence against the government of the United States" in the wake of last week's riots at the U.S. Capitol. No official advanced announcement was made about the presentation from the White House, the National Endowment for the Arts or representatives for the music stars. Keith's publicist declined to comment, and Skaggs' could not be reached for comment prior to publication.
Boner Candidate #2: SHREDDIN' NAKED.
WEST VALLEY CITY, Utah — A skateboarder was arrested Tuesday at a West Valley City park for skating naked. Witnesses recorded Elvis Sabanagic, 29, skateboarding without clothes in front of multiple juveniles at the West Valley Skate Plaza. Sabanagic reportedly arrived at the park with his clothes on, but then police say he stripped down naked in public, exposing his genitals in the presence of children who were under 14 years of age. The officer who arrived at the park said there were 30 to 40 people in the area, including children as young as 6 years old. Although Sabanagic had left the park, witnesses were able to show police videos of the him skating naked. Sabanagic was later found at nearby Centennial Park and arrested. He was charged with lewdness involving a child and use or possession of drug possession and possession of paraphernalia.
Boner Candidate #3: YOU SAID IT WAS ALL RIGHT TO WALK OUR PETS
A couple in Canada have been fined after police caught the wife walking her husband like a dog after curfew. The woman, 24, was reportedly stopped while 'walking' her 40-year-old spouse on a leash in Quebec. The province has imposed a nightly curfew in a bid to curb coronavirus infection rates. People are only allowed out close to their homes for limited reasons between 8pm and 5am – such as exercising their pooch. The woman told officers that she was just out "walking her dog" near the couples' home in the city of Sherbrooke, reports the BBC. Officers said the couple were 'not cooperative.' They couple were stopped at 9pm Saturday, about an hour after a new curfew kicked, local reports said. During Quebec's strict curfew, people are only allowed out of their homes for limited reasons, such as seeking medical help or walking their dog within 1km of their home. The woman, 24, and her partner 40, tried to argue that they were not in breach of curfew rules, according to the Toronto Sun. "One of them had the other on a leash, and she said she was taking her dog, pointing to her partner, out on a walk, as allowed under the exceptions provided by Quebec's premier under its curfew law," a Sherbrooke police department spokeswoman said.
Round Two
Boner Candidate #1: SUPER SPREADER SWINGER
FOX 11 Investigates has been showing Los Angeles County Sheriff's Department breaking up superspreader events over the last several weeks. But we didn't see this twist coming. An "adults only" superspreader event got busted at a warehouse in South Central Los Angeles over the weekend. This time, it wasn't teenagers and young people… it was older, middle-aged partygoers. "The party is over," an LASD deputy told partygoers over the loudspeakers.
Boner Candidate #2: WE'RE GONNA STIFF RUDY
There are six days left in the Trump presidency and, assuming no further coup attempts, on Day Seven Donald Trump can go back to being a private shyster, rather than public one. If you needed a reminder of how Donald Trump operates, and has always operated, you need not look further than his relationship with his brother-in-cognitive decline, Rudy Giuliani. Giuliani gave everything to Trump, most notably, the last remaining shred of his public professional credibility and his dignity. Giuliani barnstormed around the world, first, cooking up absurdities about Joe Biden's son in far off places that led to Trump's first Ukraine-based impeachment and then parachuted into states across the U.S. to push Trump's utterly ludicrous election fiction that he was cheated. The more public airtime Giuliani got, the more ridiculous he looked. But he was Trump's guy and seemed sure to be reaping a financial reward for selling his soul and his sanity for his old pal. It was all part of the Trumpworld grift, overcharge and then slide the bill over to someone else, preferably the taxpayer. But not so fast! The Washington Post reported this delicious, umami-filled treat on Trump's move to… stiff Giuliani!
Boner Candidate #3: I'M WITH DONALD TO THE BITTER END.
MyPillow, a bedding company, is still offering a "FightForTrump" discount code for its products despite other companies trying to distance themselves from President Trump following last week's Capitol riot. Mike Lindell, CEO of MyPillow, has been a longtime supporter of Trump. The "FightForTrump" discount code went up last Wednesday, the day the Capitol was attacked. Lindell attended the rally that Trump spoke at before the riot began. It is not clear if the "FightForTrump" code was up before then, The New York Times reports. In an interview with Newsmax, Lindell attempted to blame the riot on antifa, the loosely organized anti-fascist movement, despite the FBI saying there were no signs of antifa at the riot. There were "probably some undercover antifa that dressed as Trump people and did some damage to windows and got in there," Lindell said. He also claimed in the interview that Trump would be president for another four years, despite the electoral votes now certified for President-elect Joe Biden.