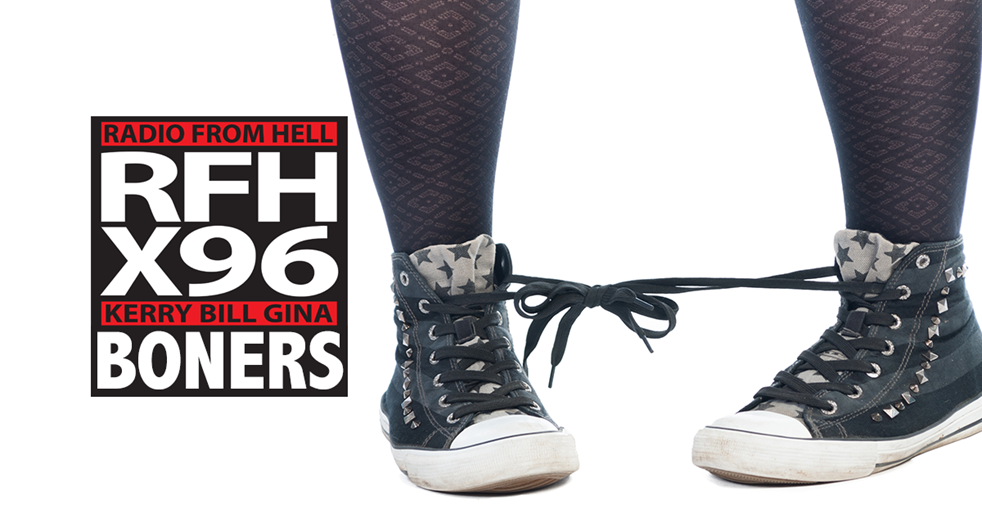 Round One
Boner Candidate #1: YUCK. JUST YUCK.
Kraft Mac & Cheese is looking to spice up its signature dish for Valentine's Day. The company is launching a limited-edition macaroni and cheese dish that will include a "candy flavor packet" that turns its noodles pink and adds a sweet flavor, Kraft revealed in a news release. To celebrate the romantic holiday, The Kraft Heinz Company is giving away 1,000 packages of Candy Kraft Mac & Cheese, a giveaway reportedly valued at $2,500. Fans who are least 18-years-old and live in the U.S. can enter for a chance to win a Valentine's Day package online, free of charge. But hurry – the deadline to enter is Feb. 8. Winners will receive their packages by Feb. 14, just in time for V-Day according to Kraft Heinz. Last year, food brand launched a "Kraft is for Lovers" campaign ahead of Valentine's Day, which urged parents to buy its "big bowl" for their kids so they can spend the night together uninterrupted. Kraft isn't the only company trying to keep romance alive during the coronavirus pandemic, however. The Hershey Company unveiled its lineup of Valentine's Day sweets back in December, while burger chain White Castle will transform its traditional dining plans into a national drive-in event.
Boner Candidate #2: I DID IT TO SAVE THE STRONG
ROME—Dr. Carlo Mosca's online patient reviews describe a loving "humanitarian" who saved countless lives before the coronavirus pandemic struck Italy. Patients and their families lavished praise on the loving father, whose hospital in Brescia in northern Italy was one of the hardest hit during the first wave of the pandemic last March. Something clearly changed in Mosca as the pandemic raged on. The 47-year-old was arrested on double homicide charges this week, accused of killing weak COVID patients and doctoring their medical records in order to free up beds for other patients. Mosca describes the allegations as "baseless" claiming that the overwhelmed health care system is the reason the patients died.
Boner Candidate #3: BLESS THIS HAPPY HOME
A UK woman being interviewed from home got a rise from TV viewers — who noticed the prodigious sex toy sitting on a shelf behind her. Yvette Amos was telling the BBC about how people were being "passed over" for jobs during the coronavirus pandemic, but what captivated "Wales Today" viewers was the dildo apparently being used as a bookend, the Sun reported. Some viewers have even called for Amos to receive a "damehood" for doing a bang-up job and spicing up the humdrum news report. "This lady has just been live on BBC Wales News. I think she should maybe have checked her top shelf first!" David Roberts said in a tweet. "Was that on the 6''-Cock News?" Declan Cashlin wrote. User @Jack Murphy asked: "Ummm who is this absolute queen who was on BBC Wales Today earlier?" "Damehood pending," he added. "What a cock up … but in fairness she looks well happy," said Jack Hutchinson. Adam Lightfoot reacted with a succinct and apropos: "THIS JUST IN."
Round Two
Boner Candidate #1: THE ORIGINAL 33
As the Georgia House of Representatives convened on Tuesday, Speaker David Ralston (R) called for an unnamed lawmaker who had repeatedly refused to be tested for the coronavirus to discreetly remove himself from the room. But no one left the chamber. So Ralston then called on a state trooper to escort out Republican state Rep. David Clark for violating the twice-a-week testing policy and for "jeopardizing the health of our members in this chamber." "I don't know about y'all but I've been to too many funerals — and I'm tired of going to them," Ralston said from his seat on the House dais after ordering Clark's removal, prompting applause from fellow lawmakers. The confrontation was the latest flash point among Georgia GOP members since tensions arose after the state's Republican governor and secretary of state certified the November election results for President Biden. Clark joined about 30 other Georgia state legislators in supporting Texas Attorney General Ken Paxton's lawsuit to overturn election results in Georgia, Pennsylvania, Michigan and Wisconsin. The U.S. Supreme Court dismissed the long-shot bid.
Boner Candidate #2: MAYBE THAT STUFF WILL MAKE MY LIPS NICE AND PLUMP.
Thought "toilet paper lips" were harebrained? An amateur TikTok cosmetician has taken to using erection cream to plump his soup coolers in a viral stunt that doctors are deeming dumb and dangerous. "So recently I saw a movie and this girl put erection cream on her lips and it made them really big so I wanted to try it," TikTok user Jerry Mal said of the inspiration behind his unconventional pout-puffing hack. The resulting clip, with over 3.5 million views, depicts him applying the unspecified brand until it looks like he smooched a tub of cream cheese. While initially pledging to wait five minutes for it to set, Mal towels off at the three-minute mark, saying his kisser was "burning really bad." After the unorthodox procedure, his lips do look so luscious they evoke miniature life rafts. "Oh, my gosh. I kinda like it — I'm not gonna lie," gushed the internet beautician while examining his handiwork. Despite seeming like magic, it's unsurprising that an erection elixir fluffed up his lips to full mast. The same mechanism that facilitates blood flow to the penis follows suit for the smackers, causing them to swell, Daily Mail reported.
Boner Candidate #3: NOW THAT I THINK ON IT A BIT… THAT WAS A BAD DECISION.
OGDEN, Utah — A crime scene investigator with the Weber County Sheriff's Office was arrested Wednesday and charged on multiple counts of voyeurism and sexual exploitation of a minor. Marc Swain, 47, allegedly placed a recording device in the bathroom used by a 12-year-old female. Because of the conflict of interest, the case was investigated by the Layton City Police Department. Officials say the girl told someone else about the camera after seeing a lens in various places around the bathroom. When questioned by someone who knows the girl, Swain said the device was a flash drive he had accidentally left in the bathroom. But when Swain produced the flash drive that included a camera, there was no SD card inside.  The complaintant told police Swain had previously entered the bathroom and left before telling the girl to take a shower. She added that Swain had a pornography problem. The girl says she noticed the flash drive with the camera in the bathroom on three occasions, each time in a position to see her in a period of undress. A search warrant was served at the Ogden home of Swain and various electronic devices were seized. Swain was arrested Wednesday and admitted to making a bad decision by placing the recording device in the bathroom.
Download X96's App