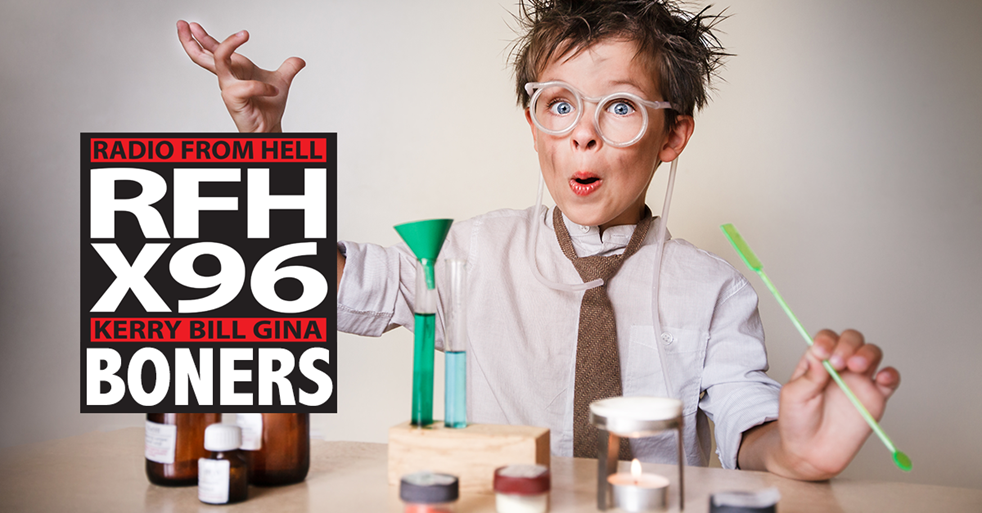 BONER ROUND ONE
BONER CANDIDATE #1: I WAS ON A MISSION
A Florida man was arrested Saturday after plowing his vehicle into a Catholic church and then setting the building on fire as parishioners were inside preparing for Mass, according to officials. The Marion County Sheriff's Office said Steven Anthony Shields, 24, crashed his van through the front doors of Queen of Peace Catholic Church in Ocala around 7:30 a.m.  He got out, poured gasoline in the foyer area and set it on fire, authorities said. Shields then drove off but was spotted by Deputy Josue Gonzalez, who stopped the vehicle by hitting it with his patrol car, the sheriff's office said. Officials said parishioners were not injured. Marion County firefighters quickly doused the fire. Steven Anthony Shields, 24, allegedly crashed his vehicle through the front doors of the Queen of Peace Catholic Church in Ocala and then set a fire in the building's foyer area, according to the sheriff's office.
BONER CANDIDATE #2: YOUR WIFE DID WHAT NOW?
Once you have kids it can be especially hard to find time to exercise. You can't just run out the door like in your pre-kid days. Or you could be like one mom, who chose to let her baby nap alone in the house while she went for a jog. But if you're going to go that route, you're probably going to end up with an angry husband — just like she did. According to her husband, he'd just come home from work when the mom got back from her run. That is when he noticed that his son was sleeping in a separate room, he wrote on Reddit's Am I the A–hole forum. When he asked his wife about their napping son, she immediately got defensive. "It was only a mile," she told him. "And I never got far away from the house."
BONER CANDIDATE #3: IT'S TIME FOR ME TO DO A LITTLE FLY FISHING
The Fox News host said the show didn't "endorse" Blake Neff's anonymous posts, then he announced he'd be going trout fishing for the rest of the week. Fox News' Tucker Carlson addressed the resignation of Blake Neff, a writer for Carlson's show who quit soon after a CNN report revealed racist and sexist comments he had posted online. Carlson admitted to the viewers of his show on Monday night that "what Blake wrote anonymously was wrong." "We don't endorse those words," Carlson said. "They have no connection to the show. It is wrong to attack people for qualities they cannot control."At the end of his show, the Fox News host announced that he would be going on a previously planned trout-fishing vacation for the next few days. According to a report from CNN Business, Neff had been posting messages under a pseudonym on the AutoAdmit message board.
BONER ROUND TWO
BONER CANDIDATE #1: THAT'S THE STATE BIRD OF UTAH YOU'RE MESSING WITH SIR.
ENGLAND – A McDonald's customer was arrested after he allegedly bit a seagull after it tried to steal his meal. The suspect reportedly attacked the bird in front of the authorities. Officers from a local unit were on patrol when they witnessed the incident in the city of Plymouth, England, Cornwall Live reports. The man reportedly claimed that the bird was trying to steal his McDonald's, so he grabbed it and bit it. The animal apparently appeared to be injured as a result of the bite, but it flew away before authorities could inspect it. The suspect reportedly admitted to being under the influence of drugs. The suspect was taken into custody since seagulls are a protected species in the area. The McDonald's fan is reportedly facing up to six months in prison or a fine of about $6,300.
BONER CANDIDATE #2: I GOT TWO WORDS FOR YOU AND THE FIRST ONE OF THEM BEGINS WITH "F"
ESPN has suspended NBA reporter Adrian Wojnarowski for sending a profane email to a United States senator, according to a report. On Friday, Senator Josh Hawley (R-Mo.) sent a press release blasting the NBA for its limited selection of pre-approved messages they would allow league players to wear on the back of their jerseys during the restart in Orlando. Hawley's letter, which was directed at NBA Commissioner Adam Silver, was critical that the messages did not give players the option to support the military, law enforcement, or condemn the Chinese Communist Party. Hawley's letter was sent out as a press release via email, and Wojnarowski was one of the recipients. The noted NBA reporter responded to the email with two words: "F— you". Wojnarowski shared a formal apology statement not long after Hawley publicized the profane email response.
BONER CANDIDATE #3: DO YOU REALLY WANT A MAN WHO IS A LOVING HUSBAND AND FATHER AS PRESIDENT?
A member of the GOP's rapid response team had to delete a tweet about Joe Biden after it managed to make the presumptive Democratic presidential candidate look good. On Monday, Steve Guest, the Republican Party's rapid response director, attempted to use the news that Washington, D.C.'s NFL team is changing its racist team name to tar the former vice president. Guest did so using a frankly adorable photo of the former vice president with one of his sons. Presumably, the tweeted photo was intended to make Biden look like a supporter of the NFL team's racist name. However, things didn't turn out that way based on the reactions on social media. Guest eventually deleted the tweet.
Download X96's App