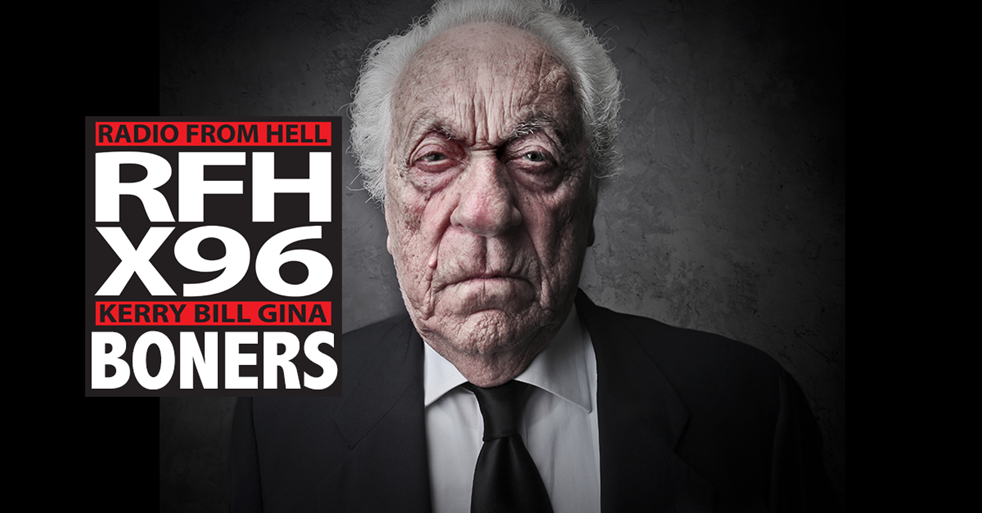 ROUND ONE
BONER CANDIDATE #1: SOCIAL DISTANCING…HA!
Despite warnings about "social distancing," a couple decided to have sex in public outside a Florida hospital, according to cops who busted the duo on a pair of criminal charges. As detailed in arrest affidavits, Ann Marie Tucker, 45, and Albert Singletary, 37, were "found to be exposing sexual organs in plain view of the public" across from St. Anthony's Hospital in St. Petersburg. The pair were flattening the curve one evening "in close proximity to a no trespassing sign," police report. Singletary's "penis, testicles, and buttocks were displayed within view" of nearby citizens, while Tucker's vagina was also on view earlier this month. Tucker and Singletary are seen in the above mug shots (Tucker lowered her surgical mask before the photo was snapped). They were each charged with trespassing and exposure of sexual organs, both misdemeanors.   Read More
BONER CANDIDATE #2: THE OWNER WON'T BE HARD TO FIND
Police on the north end of Vancouver Island say they are looking to "reunite" a lost bag with its rightful owner, now that the four ounces of cocaine and $20,000 in cash that were found inside have been seized. Port Hardy RCMP said in a news release that they were called to Hardy Bay Drugstore on Friday because someone had abandoned a brown "satchel" inside the store. Police said the bag appeared to have been left "by mistake." "Thankfully, the owner of the bag was very helpful and also left his identification with his contact information and address," police said. "The Port Hardy RCMP are requesting the individual contact the local detachment should he want to explain the large quantities of money and drugs in his bag."   Read More
BONER CANDIDATE #3: HEY NUNES, WHY DON'T YOU GO SOMEWHERE CROWDED?
Rep. Devin Nunes of California urged Americans to go out and visit bars and restaurants on Sunday, amid mounting calls by experts for people to avoid public gatherings to avoid spreading coronavirus, which causes the disease COVID-19. In an appearance on Fox News' Sunday Morning Futures , Nunes told that people should "stop panicking here." He was concerned that the COVID-19 pandemic could harm the economy, "because people are scared to go out." "But I just want to say, one of the things you can do: if you're healthy, you and your family, it's a great time to go out and go to a local restaurant, likely you can get in easy," said Nunes. "Let's not hurt the working people in this country that are relying on wages and tips to keep their small business going… Don't just run to the grocery store and buy $4,000 of food. Go to your local pub."   Read More
ROUND TWO
BONER CANDIDATE #1: NOT GOOD NAKED…BAD NAKED
A Florida man was arrested for chucking rocks at passing cars while naked on his driveway on Tuesday, a report said. Multiple people witnessed the bizarre behavior of 34-year-old Duy Khanh and called authorities, according to WKMG News 6. Brevard County Deputies showed up and found the naked suspect, the report said. It wasn't clear why the man was naked and throwing rocks.   Read More
BONER CANDIDATE #2: DID THEY AT LEAST PASS OUT GREEN HAND SANITIZER?
Four dozen deaths and more than 2,000 coronavirus infections throughout 49 states were not enough to deter St. Patrick's Day party-goers from flocking together for large public gatherings on Saturday in defiance of guidelines from public officials hoping to stop the spread of a pandemic. Nor were warnings from health officials that the novel coronavirus could wipe out many of the most vulnerable members of the population. "I'm not about to put my life on hold because this is going around," one reveler, identified as a nurse from Colorado, told The Chicago Sun Times. "I'm being careful, I've got my hand sanitizer, and I'm washing my hands," Kyle Thomas was quoted as saying. While Chicago and many other cities canceled their annual St. Patrick's Day parades in a bid to contain the spread of the coronavirus, many privately organized events and pub crawls went ahead as planned—with revelers apparently indifferent to or disdainful of authorities' pleas to avoid crowded gatherings that could send infection rates soaring and cost lives.   Read More
BONER CANDIDATE #3: WELL, WHO DO YOU CALL?
The Newport Oregon Police Department is notifying the public that they are not to call the emergency line simply because they ran out of toilet paper. While many people have been blitzing shopping areas in order to stock up on toilet paper, the police department is offering a number of alternative options you can use in case you run out. "It's hard to believe that we even have to post this. Do not call 9-1-1 just because you ran out of toilet paper. You will survive without our assistance."   Read More
Download X96's App