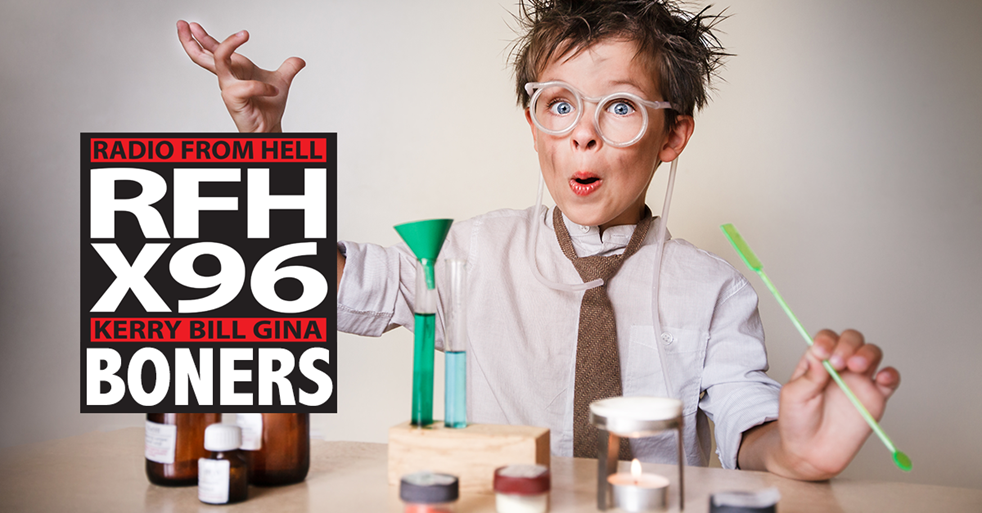 ROUND ONE
Boner Candidate #1: IT'S LIKE STANDING IN LINE FOR A CUPCAKE
In a conversation with reporters on Wednesday, White House counselor Kellyanne Conway defended President Donald Trump's repeated attacks on mail-in voting. She did so by likening the task of standing in line at a cupcake shop to waiting in line to vote at the polls. "People very proudly show up and go to the polls," Conway said on the White House lawn. "They really are…I mean they wait in line at Georgetown Cupcake for an hour to get a cupcake. So I think they can probably wait in line to do something as consequential and critical and constitutionally significant as cast their ballot." Trump himself voted by mail in the last election. White House Spokesperson Kayleigh McEnany has voted by mail 11 times in the past 10 years. For the uninitiated, the New York Times has said Georgetown Cupcakes' goodies "beat Magnolia Bakery's by miles and miles." And the line there has become so notorious that the Washington Post sent a reporter out to investigate. But some, like Rep. Mark Pocan of Wisconsin's Second District point out that Georgetown Cupcakes are only available for take out or via delivery right now. There is no waiting in line.
Boner Candidate #2: OH, NO WEDDING BECAUSE SHE DIED? WELL BOO HOO.
COLORADO SPRINGS, Colo. — Justin Montney is demanding his money back from a wedding videographer after his fiancée was killed in a car crash just outside of Colorado Springs, Colorado. Montney paid Copper Stallion Media $1,800 back in November to capture their May wedding. After Alexis-Athena Wyatt was hit and killed by a semi-truck in February, Montney contacted the wedding videographers seeking a refund for the cancelled wedding. Montney said he understood that the contract was non-refundable, but thought that an exception could be made given his circumstances. The company offered its services to Montney's next wedding, but he told KRDO that the offer was "very insensitive." The company addressed the situation on their Facebook page, before making all of their social media accounts private. "We replied and expressed our sympathy and explained to him that all of our wedding contracts are non-refundable," the company posted. "He kept emailing us trying to get a refund and we kept reiterating that the contract is non-refundable. We eventually stopped responding since the issue was moot." CBS News reports that Copper Stallion Media bought the website domains JustinMontney.com and JustinMontneyWedding.com after Montney went to the media and had his friends post negative comments on the wedding planning website The Knot. The two domains now forward to the song "Disillusioned," performed by A Perfect Circle.
Boner Candidate #3: NO ICE CREAM FOR YOU.
According to City Pages, area residents have noticed a black ice cream truck cruising through the streets while blaring out extreme metal music. Even though it also plays a more traditional ice-cream-truck jingle and appears to have images of various ice cream choices on the side of the truck, it never stops for treat-seeking kids with money in their hands. Turns out it's the long-conceived brainchild of the driver, Matt Peterson, who purchased a rundown ice cream truck 10 years ago and tricked it out with heavy metal imagery. He calls the truck the Hell General, and there's quite a backstory that goes along with the high-volume vehicle. As Peterson explains on the Hell General website, he had a traumatic experience with an ice cream truck when he was a child. As a 10-year-old, Peterson ran soaking wet from his backyard wading pool when he heard an ice cream truck in front of his house. When he realized he had no money in his swimming trunks, he asked the ice cream man to wait while he went inside to get cash. From there, his story continues as follows: "I found by the time I reached my front porch, he had already began to leave. I screamed and wailed for him to stop, pounding hard on the windows in our porch.
ROUND TWO
Boner Candidate #1: WHY DIDN'T YOU NOTIFY US?
Democrats in Pennsylvania's House of Representatives were outraged Wednesday after learning one of their Republican colleagues had tested positive for the coronavirus and they weren't notified of the result or informed that he was self-isolating for a week. State Rep. Andrew Lewis (R) said in a Facebook post that he tested positive for COVID-19 on May 20 and immediately began self-isolating after contacting the chamber's human resources department. He said the body followed guidelines released by the Centers for Disease Control and Prevention "to determine exactly who I may have been in contact with, and who I may have possibly exposed to the virus." He said he was last in the Capitol on May 14. "I can confirm every member or staff member who met the criteria for exposure was immediately contacted and required to self-isolate for 14 days from their date of possible exposure," Lewis wrote. "Out of respect for my family, and those who I may have exposed, I chose to keep my positive case private." A spokesman for House Republicans, Mike Straub, told Penn Live the chamber "followed data and science" and notified anyone who met CDC and state health guidelines. But state Democrats accused Republicans, who hold a majority in the House, of withholding the information from the full chamber as the GOP publicly touted a broad reopening of the state. Many noted they only learned of Lewis' results from the media.
Boner Candidate #2: CAN WE JUST GET ON WITH IT PLEASE.
Lori Loughin and Mossimo Giannulli will have to wait a little longer for a judge to approve their plea deal in the nationwide college admissions scandal. Although the Full House star and her husband wanted to face the judge in early July, the judge in the case has set a sentencing date for August 21. "They're disappointed," a legal source close to the couple tells PEOPLE. "The whole point of this was to put this behind them, and they wanted the hearing sooner rather than later." On May 22, Loughlin, 55, confessed to one count of conspiracy to commit wire and mail fraud, while Giannulli, 57, pleaded guilty to one count of conspiracy to commit wire and mail fraud and one count of honest services wire and mail fraud. Under the terms of the deal, which is pending the judge's approval, Loughlin agreed to serve two months in prison (though the coronavirus pandemic could affect that time), pay a $150,000 fine and do 100 hours of community service, while Giannulli agreed to serve five months, pay $250,000 and do 250 hours of community service.
Boner Candidate #3: I'M STILL LOOKING IN TO THE 'YOUR DAD KILLED JFK' STORY
Sen. Ted Cruz (R-Tex.) tried to defend President Donald Trump's constant rants about "Obamagate" on Twitter. It didn't go well. Trump has repeatedly railed against former President Barack Obama, claiming "Obamagate" is the "biggest political crime in American history" without offering any details on what that supposed crime is. When asked to explain earlier this month, Trump simply said "you know what the crime is." On Wednesday, MSNBC analyst and editor of The Recount John Heilemann replied to Trump's latest "Obamagate" tweet with another request for an explanation. That's when Cruz stepped in it: The senator later replied with a conspiracy theory of his own, claiming Obama had "personal involvement in abusing FBI to target Trump." Cruz was on the receiving end of wild accusations from Trump himself when the two were rivals for the GOP nomination in 2016 ― including a claim that the senator's father, Rafael Cruz, was somehow involved in the assassination of President John F. Kennedy.
Download X96's App