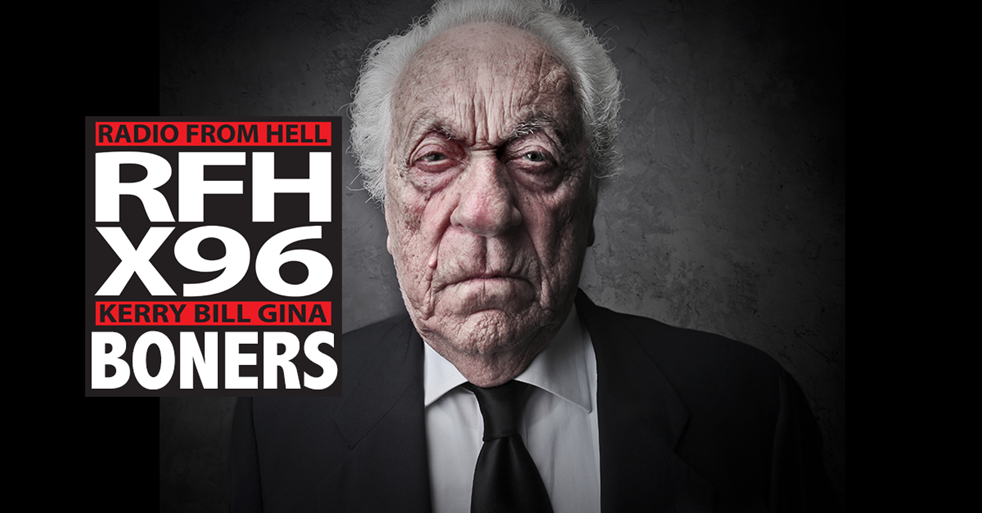 ROUND ONE
Boner Candidate #1: I Will Not Be Denied Tacos!
Deputies are asking for the public's help in identifying a man who was caught on video using a skateboard to break a window at a taco shop in Imperial Beach. The San Diego Sheriff's Department said the man walked up to Don Pancho's Taco Shop on Oct. 8 but was refused service because he was not wearing a mask. The man then walked outside and used a skateboard to break a shop window, causing $400 in damage, deputies said. The department shared video of the vandalism on Twitter Friday in hopes of finding the man. No injuries were reported in the incident. Officials hope someone recognizes the man's clothing, backpack or demeanor. Those with information are asked to call the Sheriff's Department at 858-565-5200.
Boner Candidate #2: Do you really need more than one Burmese python?
SALT LAKE CITY (KUTV) — Twenty Burmese pythons were seized from the home of a Salt Lake County man who now faces charges for possessing exotic animals without a permit, according to court documents obtained by 2News. A probable cause affidavit states 64-year-old Marty Lynn Bone sold a baby Burmese python to an undercover police officer. Police got a search warrant for his home, where they found the 20 pythons, 10 of which were more than 10 feet long, the affidavit states. Bone has not had an exotic/dangerous animal permit since 2017, according to police. On Bone's dining room table, police state they located "fresh marijuana," more than $2,000, and a gun. Bone is restricted from owning a firearm, the affidavit states. Also found inside the home were two unlabeled plastic containers full of "several pills" which police determined were "opiate derivatives."
Boner Candidate #3: These things are not emergencies
However, they're also human, which means sometimes they can't help but laugh when someone calls to report the emergency of boiling water being "too hot to touch." While it's important to always be safe and report anything potentially life-threatening to 911, more people could benefit from tapping into their common sense in a panic. Of course, it's always better to be safe than sorry and 911 dispatchers won't tease or brutally roast you (to your face) if you call in a very silly emergency. If you're not careful, though, you might just be their favorite story of the job at dinner parties and training sessions. So, when a recent Reddit asked, "911 operators of Reddit, what is the stupidest reason that someone has ever called?" dispatchers with a tale of emergency hilarity were ready to share.
ROUND ONE
Boner Candidate #1: My Boobs are Lewd
A passenger flying with Southwest Airlines has claimed that employees with the carrier made her cover up her outfit — after deeming her cleavage to be "lewd, obscene and offensive." Kayla Eubanks took to Twitter to share her story on Tuesday, along with a photo of the outfit in question. In the selfie, Eubanks is seen wearing a low-cut top and a long red skirt. At the time, she had also written that she was initially denied boarding altogether. "Y'all I was KICKED OFF my @SouthwestAir flight because my boobs are 'lewd, obscene and offensive.' I was told that passengers may look at me in my attire and be offended," she wrote. Eubanks further claimed that a gate agent at LaGuardia Airport in NYC had initially denied her boarding while trying to look up Southwest's policy on passenger dress. She also shared a video of the gate agent telling her she could not board, citing an airline policy that the gate agent had not provided to her.
Boner Candidate #2: This is never ok
15-year-old Braxton McElhaney is a sophomore at West Jordan High School. He said the confrontation happened on one of his first days back at school. He said he was taunted by other students and spit on because of what he was wearing. Cellphone video taken inside the school captured the confrontation on Sept. 3. "The two girls, they kept antagonizing me, calling me a racist, saying I look r—–ed, and calling me a white supremist, white privilege, because I was wearing my Trump hat," McElhaney said. He said two female students ripped his hat off, stomped on his glasses, threw his American flag face mask in the dumpster, and spit in his face. Braxton said he had to battle the urge to fight back, but kept calm. Braxton's family says the school acted quickly to investigate. His mom, Meshyalah McElhaney, said she can barely get through watching the video. It brings me to tears every time I watch it, and I can't believe that people who are on that side and try to push love and acceptance and toleration of other people, and then they are so against somebody who is just a patriot," she said. Braxton's father, Joe McElhaney, said this confrontation is part of a bigger picture of intolerance from both sides.
Boner Candidate #3: Long Live Tupac
President Donald Trump's campaign left a ticket for Tupac at Wednesday night's vice-presidential debate, according to the New York Post. The dig came after a recent interview in which Sen. Kamala Harris said Tupac was the "best rapper alive." Mopreme Shakur, Tupac's stepbrother, told TMZ that the invitation by the Trump campaign was "clearly disrespectful" to the late rapper's loved ones. Visit Business Insider's homepage for more stories. President Donald Trump's campaign left the late rapper Tupac Shakur a ticket to Wednesday night's vice-presidential debate as a dig to Sen. Kamala Harris following a recent interview, according to the New York Post. In an interview with Angela Rye last month, Harris was asked who she thought was "the best rapper alive." "Tupac," the Democratic vice-presidential nominee responded, chuckling after she realized her error.
Download X96's App