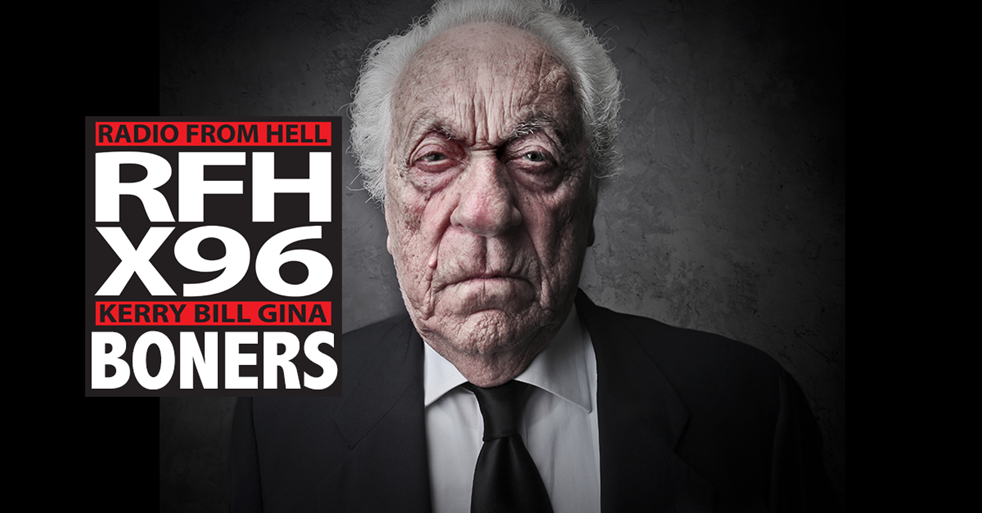 ROUND ONE
Boner Candidate #1: THE MASKED SINGER; PART OF A CORONAVIRUS PLOT
A conservative activist is bizarrely speculating that the celebrity song show "The Masked Singer" could be a "demonic" effort to force the American public to wear face masks during the coronavirus pandemic. DeAnna Lorraine, a political correspondent for right-wing outlet Newsmax, on Friday offered the conspiracy-themed tweet about a show in which singing celebs don head-to-toe crazy costumes, including full-face coverings. "I find it very interesting how the show 'Masked Singer' hit America in January 2019, a little bit over a year before they started forcing us all into masks," she tweeted. "It's almost like they were beginning to condition the public that masks were "normal" and 'cool'. The media is demonic." Mask-wearing did not become a widespread behavior in the U.S. until the COVID-19 crisis hit this spring. The show itself is based on a South Korean program, "The King of Mask Singer," that debuted in 2015. Lorraine, who was defeated in a Republican primary in House Speaker Nancy Pelosi's California district in 2020 but still uses the handle "@DeAnna4Congress" on her Twitter bio, was skewered on social media for the wild theory.
Boner Candidate #2: THE ADDRESS WAS ELM STREET, NOT ELM ROAD
A Kentucky woman is sending out what she calls an "urgent plea" after a box containing her mother's cremated remains went missing after she mailed it to her sister in Florida. On Sept. 9., Amy Redford of La Grange, Kentucky, sent the box via the U.S. Postal Service to what she thought was her sister's address in Jacksonville, The Florida Times-Union reported. The box, which bore a bright red label saying, "CREMATED REMAINS," was delivered the next day. But her sister had moved, and Redford didn't know. Redford has talked to postal inspectors and the apartment manager to piece together a timeline. The tenant took the box when the mail carrier knocked on the door, but seemed in a hurry because she was taking an online test, Redford told the newspaper. When the woman realized the box wasn't for her, she put it outside so the mail carrier could take it. Now it's missing.
Boner Candidate #3:I'M GUESSING EVEL'S KID IS HARD UP FOR SOME CASH
Kelly Knievel — whose company K and K Promotions filed the federal trademark infringement lawsuit in Las Vegas — has maintained publicity rights to Evel Knievel's name since 1998, The Associated Press reports. "Evel Knievel did not thrill millions around the world, break his bones and spill his blood just so Disney could make a bunch of money," he wrote Wednesday in a statement announcing the legal move. Knievel is seeking over $300,000 in damages in the suit, which also includes allegations of false endorsement and unjust enrichment. The complaint accuses the company of intentionally basing the character on Knievel, who died in 2007. It reportedly describes the Keanu Reeves-voiced Caboom as a 1970s toy daredevil in a white jumpsuit and helmet  with a Canadian insignia. The complaint also alleges similarities between a toy sold as part of the film's marketing campaign and an Evel Knievel toy launched in 1973 and recently rereleased. The Caboom character was also used by McDonald's as part of a "Happy Meal" promotion.
ROUND TWO
Boner Candidate #1: I WILL NEVER WATCH DENNIS QUAID AGAIN
Dennis Quaid is taking heat for joining a $300 million federal public service campaign that reportedly will try to put a positive spin on the Trump administration's handling of the COVID-19 emergency. But in a statement released on Instagram on Saturday night, Quaid insisted that he was never paid for the public service announcement, and that all he does in the yet-aired spot is urge people to wear a mask and stay socially distant. "It was in no way political," he said in his rebuttal. Since news of the ad blitz first broke on Politico, it has been earning criticism — including for its choice of Trump-friendly celebrities set to tape spots. "The Big Easy" star has publicly praised President Trump's handling of the virus, and has already taped an ad with administration infectious-disease expert Anthony Fauci, Politico reported Friday. Surgeon General Jerome Adams has likewise paired with gospel singer CeCe Winans. The Health and Human Services team creating the campaign also hopes to tap Dr. Oz — who, like President Trump, has touted the widely criticized hydroxychloroquine as a treatment — and singer Garth Brooks, the report said.
Boner Candidate #2: THIS WILL GO WELL
Crowds packed into some Florida bars over the weekend after Gov. Ron DeSantis lifted coronavirus restrictions on them and other businesses, according to a report. Footage showed patrons overflowing out of the Elbo Room in Fort Lauderdale on Saturday after the governor's surprise order, news station WPLG reported. "I'm healthy, I'm strong and I feel comfortable with all my friends," said Dan Gibby, who was at the watering hole. In Davie, Gaffer's Pub owner Debbie Qualls said the greenlight to reopen was a lifesaver for the business. "We've had to pay the rent, the electric, all the bills. If it was too much longer, we wouldn't be here," Qualls said. DeSantis's announcement Friday allowed all bars and restaurants to reopen effectively immediately — and prevented local municipalities from implementing restrictions that would force them to operate at less than half-capacity unless it can be justified for health or economic reasons. "We're not closing anything going forward," DeSantis said. The governor closed bars and nightclubs on St. Patrick's Day due to outbreaks across the state.
Boner Candidate #3: UNDERPANTS, A BIBLE AND A BOO BOO
SUMMERFIELD, FL. – A Summerfield man who allegedly hit a Marion County sheriff's deputy with a Bible and then defecated on himself was jailed Tuesday after telling deputies that God told him to enter his neighbor's residence to free his juvenile daughter. Robert Otis Hoskins, 39, was taken into custody shortly after deputies responded to a residence in 9100 block of S.E. 151st Lane Rd. The victim told deputies that he had refused to lend Hoskins some clothing before leaving his home and when he returned, his door had been kicked in. He said Hoskins came over to his residence and said, "I (expletive deleted) up, man. I was mad," a sheriff's office report states. The victim said he took Hoskins' statement as an admission of guilt in burglarizing his residence so he called law enforcement for help. Deputies arrived a short time later and when they attempted to speak with Hoskins, he approached them wearing only his underwear and hit a deputy in the face with a Bible. The deputy deployed his Taser and Hoskins was placed in handcuffs after a brief struggle, the report says. The victim's wife told deputies that $50 worth of clothing – two pairs of gray shorts and a red shirt – were missing from their residence. Deputies observed where the door had been kicked in and a shattered window pane above a washing machine. The victim said the mattress in his bedroom also had been pushed to one side, the report says.
Download X96's App