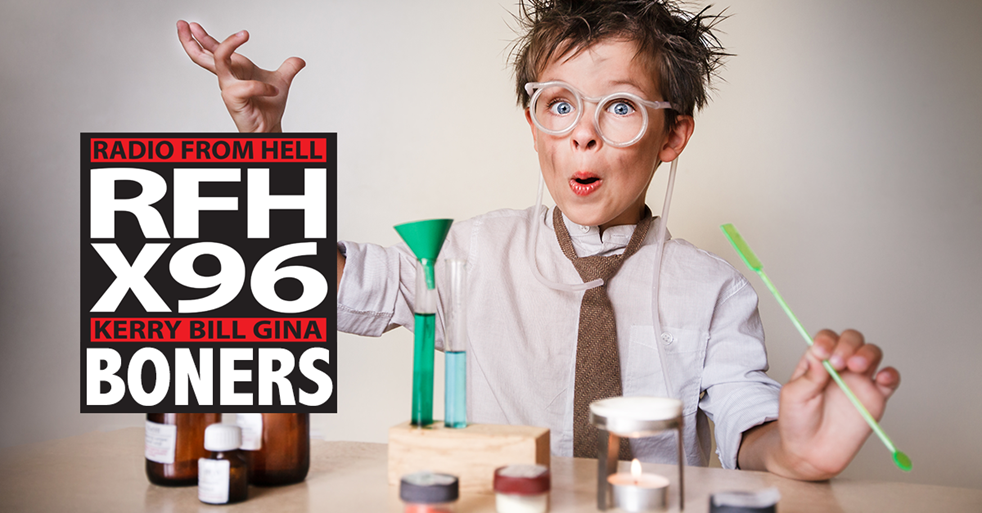 BONERS ROUND ONE
Boner Candidate #1: WHY ARE PEOPLE SO STUPID?
A smoke-generating pyrotechnic device used during a gender reveal party sparked the El Dorado Fire burning near Yucaipa, which has charred more than 7,000 acres, officials say.
YUCAIPA, Calif. (KABC) — A smoke-generating pyrotechnic device used during a gender reveal party sparked the El Dorado Fire burning near Yucaipa, which has charred more than 7,000 acres, officials said Sunday. According to the Cal Fire San Bernardino Unit, the El Dorado Fire was caused by "a smoke generating pyrotechnic device" used during the party in El Dorado Ranch Park. The fire spread from the park to Yucaipa Ridge, which separates Mountain Home Village and Forest Falls from Yucaipa. "Cal Fire reminds the public that with the dry conditions and critical fire weather, it doesn't take much to start a wildfire", the agency said in a press release. "Those responsible for starting fires due to negligence or illegal activity can be held financially and criminally responsible." The El Dorado Fire erupted Saturday before 10:30 a.m. in the 37000 block of Oak Glen Road. It has grown to 7,386 acres as of Monday morning and containment is listed at 7%. Gov. Gavin Newsom declared a state of emergency on Sunday for San Bernardino County due to the fire. Four other counties in California were also under a state of emergency due to wildfires amid extreme temperatures.
Boner Candidate #2: HE FORGOT DRAW ON THE REGISTRATION STICKER
MILLERSBURG, KY – A Kentucky driver was pulled over last Wednesday after police officers noticed something was a little off about his particular license plate, police said. After more investigation, the officers learned that the driver also had no insurance and was driving on a suspended license. The bizarre interaction took place in Millersburg, a small town in northern Kentucky, about 100 miles east of Louisville. The driver's identity was not released. The Millersburg Police Department offered a "Pro Tip" for drivers hoping to get away with drawing their own license plate: "Don't forget to draw the registration sticker."
Boner Candidate #3: IF WE'RE LUCKY, THIS IS A METAPHOR FOR THE COMING ELECTION
The president loves his "beautiful 'boaters,'" his well-off, pleasure-craft-owning supporters who, since early May, have held nautical parades in his honor. Throughout the summer, Trump has cited his popularity among small boat owners as counter-evidence proving he is actually ahead in the presidential race. "Are we polling the boaters yet?" he reportedly asked during one June campaign meeting, fixated on a show of support that affirms his popularity among his most ardent backers: wealthy, suburban weekenders that already own several flags with his name on them.
BONERS ROUND TWO
Boner Candidate #1: THAT'S IT. FOOTBALL IS OVER
Eric Trump, son of U.S. President Donald Trump, tweets about Dallas Cowboys' 'green light' to protest. If you've already held your fantasy football draft, you wasted your time. Colin Kaepernick is nominated for the Pro Football Hall of Fame. That is, at least according to Eric Trump, son of U.S. President Donald Trump, who tweeted Monday night that "Football is officially dead." The impetus of Eric Trump's rage tweet was news that Dallas Cowboys players have been given the "green light" to protest during the national anthem. No Dallas Cowboys player has knelt during the anthem in the four years since Colin Kaepernick first sparked a wave of protests against racial injustices and police brutality. "Football is officially dead — so much for 'America's sport.' Goodbye NFL… I'm gone," Eric Trump wrote on Twitter. On Friday, while appearing on Dallas radio station 105.3 The Fan, Cowboys owner Jerry Jones shifted his tone regarding players protesting during the national anthem, urging fans to respect the fact that players' opinions are diverse.  "That's the great thing about America: Everybody has a difference," Jones said. "If our players are there, they are sensitive to and respect what America is as it relates to the flag. I'll assure you that. I'd hope that our fans — and I think they will — understand that our players have issues that they need help on. They need help from the majority of America."
Boner Candidate #2: DAMN FLY
FRANCE – House flies can definitely work a person into a lather as they buzz about, resisting all attempts to be swatted. But one French man probably wishes he had simply let the fly that got into his house go about his business, because his attempt to kill it ended up causing an explosion. He was using an electric bug-killing racket, per the BBC, but a gas canister was also leaking, with the reaction between the two causing a blast that destroyed the kitchen and damaged the roof. The man burned his hand but is otherwise OK; he is currently living at a campsite while his home is repaired, Sky News reports. It's not clear whether he killed the fly.
Boner Candidate #3: I ASKED FOR AN EXTENSION
On September 5, Kyoto Police announced the arrest of Hagawara, after he kept a vehicle he rented from the company for more than one year, running up a bill of nearly 8 million yen ($75k USD). Under the original agreement he was to return it on July 2. "I am in Tokyo and I'd like an extension," he said when he telephoned the company, according to the Fushimi Police Station. That was the last time the company heard from him. A police officer found the car parked in Kyoto City on August 4, when his bill had reached around 7.66 million yen (about 72,000 U.S. dollars). Upon his arrest, Hagawara admitted to the allegations, police said.
Download X96's App