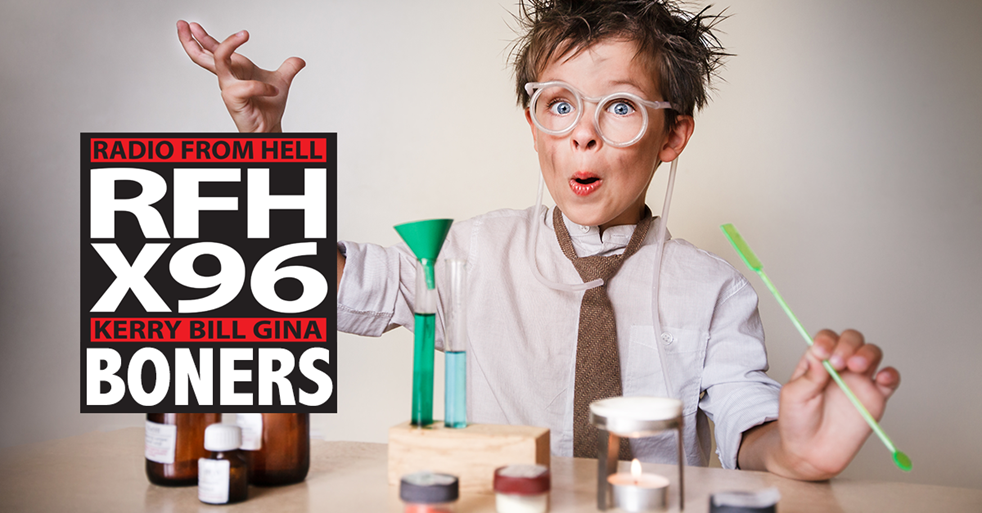 Round One
Boner Candidate #1: WHAT WOULD HITLER DRINK?
A local grocery store chain is pulling soda products a customer posted a photo online of a Nazi-themed soda product she called "offensive." The commotion began when a customer posted a photo of a product called "Not See Kola" on Twitter that was apparently sold at a Macey's grocery store. "Shocked & horrifed (sic) to see that @maceysgrocery carries "Not See" (Nazi) from Real Soda of Utah. Please stop selling this offensive product! Six million Jews were murdered by Nazis! You have lost my business," the customer wrote to Macey's. Macey's, which has locations 13 locations across the Wasatch Front, apologized to the customer and vowed to pull "Not See Kola," "Leninade" and "Orthodox Jooce" from its shelves. It said the products were ordered by a store employee without the corporate company knowing. "Thank you for bringing this matter to our attention. We apologize and our stores have been instructed to remove the product from shelves immediately. This item was not approved at a corporate level," it said in another tweet.
Boner Candidate #2: WE'RE AMERICA, BITCH.
Two high-ranking aides to President Trump summed up the administration's foreign policy in three bombastic words, "We're America, Bitch," according to a published report on Monday. The comment was reportedly made when The Atlantic asked one senior White House official to explain what, if anything, is the "Trump Doctrine." "The Trump Doctrine is 'We're America, Bitch.' That's the Trump Doctrine," the official bluntly explained. That Trump aide also repeated Trump's oft-repeated campaign trail accusation that President Obama undercut America's standing around the globe. "Obama apologized to everyone for everything. He felt bad about everything," the aide said. "(Trump) doesn't feel like he has to apologize for anything America does." A second senior White House official, also asked to explain Trump's foreign policy, answered in nearly identical words: "We're America, Bitches," the magazine said.
Boner Candidate #3: JUST SAY NO TO PROM AND PROMPOSALS.
A "promposal" may end up landing someone behind bars after a national monument in Colorado was vandalized last month. The National Park Service's Colorado National Monument posted about the vandalism on Saturday. It shows the words "Prom…ise?" and "I promise to love you forever + always" on the rocks, located outside of Grand Junction. National Park Ranger Frank Hayde told FOX31 the vandalism was reported on May 23 by someone who lives near the site. The graffiti is still up because preservationists need to analyze the damage and make sure there aren't any historic works of art, such as subtle paintings, that have been damaged due to the message, according to Hayde. The National Park Service can apply a maximum penalty of six months in prison and a $5,000 fine for that kind of vandalism, according to federal law. Hayde told FOX31 officials will be far "more lenient" with those charges if the culprit decides to come forward.
Round Two
Boner Candidate #1: THIS IS A BIG PART OF WHAT'S WRONG WITH AMERICA.
SINGAPORE (AP) — Former NBA star Dennis Rodman openly wept on television in a live interview from Singapore as President Donald Trump and North Korean leader Kim Jong Un met for the first time. The eccentric former reality television star is one of the few westerners to have spent time with Kim during multiple visits to Pyongyang and the two struck up an unlikely friendship over their shared love of basketball. Rodman also goes back years with Trump and appeared on his "Celebrity Apprentice" show. In an emotional with CNN's Chris Cuomo, Rodman, wearing sunglasses and a "Make America Great Again" hat, said he had received a call from the White House ahead of Trump's historic meeting with Kim — the first between a sitting president and North Korean leader.
Boner Candidate #2: YOU WEREN'T INVITED BUT WHY DIDN'T YOU SHOW UP?
On Monday, State Department spokeswoman Heather Nauert, a former Fox News anchor and correspondent, posted a tweet that singled out CNN for ignoring a feel-good news story about her boss. Time magazine correspondent Phil Elliot pointed out a slight problem with Nauert's tweet ― journalists weren't allowed at the event. Naturally, CNN wasn't the only outlet that missed the event, but President Donald Trump has frequently attacked the network, which he branded #FraudNewsCNN in a notoriously violent video he shared. Earlier this month, Nauert reportedly cited the D-Day invasion of Nazi-occupied France during World War II as proof of America's "very strong relationship" with Germany.
Boner Candidate #3: IT'S MAN BAMBI….MAN.
NELSONVILLE, Ohio (WSYX/WTTE) — Deputies in Athens County found a pet deer while searching a home in Nelsonville Friday. The sheriff said he received multiple tips about the house on Happy Hollow Road. When deputies arrived, they found a baby deer inside a bedroom. Wildlife officials said it's a problem they deal with more often during this time of year. "Most of the times people take it inside, care for it and then help it themselves because they think it's been abandoned," said Lindsay Rist, a wildlife communications specialist with the Ohio Department of Natural Resources, Division of Wildlife. "The best thing they can do is put it back outside where it came from." Rist said this time of year is when fawns are typically born. The mother will often leave her young alone while she forages so people will often think it's been abandoned.
Download X96's App