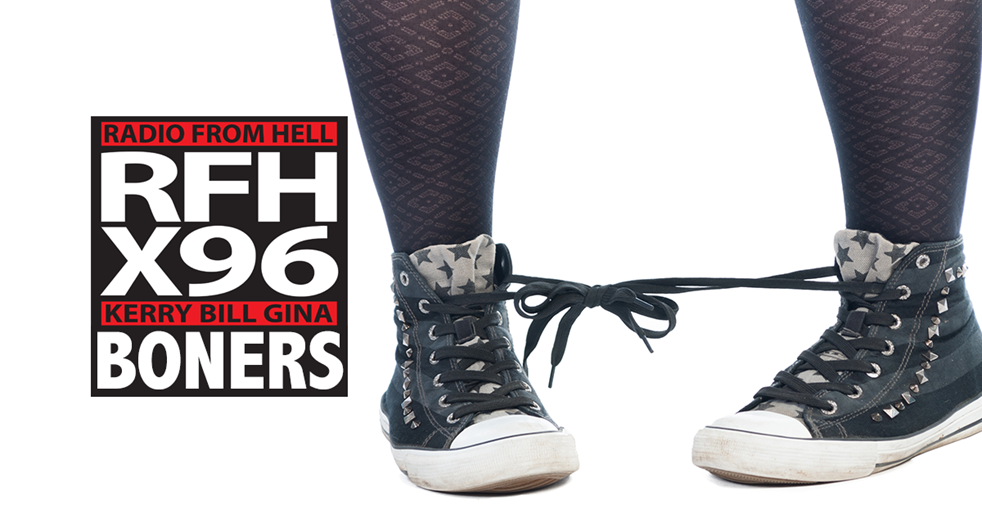 Round One
Boner Candidate #1: BAN TRENCH COATS.
MSNBC host and conservative commentator Hugh Hewitt on Monday suggested that schools ban trench coats days after a gunman reportedly wearing a trench coat opened fire at a Santa Fe, Texas, high school. Hewitt, speaking on "The Hugh Hewitt Show" on Salem Radio Network on Monday in a clip posted by Media Matters, noted that the suspected shooter allegedly did not use an assault-style rifle. He instead used a shotgun and a .38 revolver belonging to his father, according to authorities. Hewitt said that measures like universal background checks and a ban on assault-style weapons — as he said Democrats often call for in the wake of mass shooting — likely would not have prevented the Texas shooting. "Point being, this is about identifying and segregating individuals away from guns who are not in the position to own them with due process protection," Hewitt said. He said that local officials and politicians should take steps to identify those individuals.
Boner Candidate #2: COME ON GERMANY! AGAIN WITH THE MARKLE MEANNESS?
BERLIN (AP) — A German confectionery company has apologized for tweeting a picture of a chocolate-covered marshmallow dressed up as bride Meghan Markle at her wedding to Prince Harry. A spokesman for Dickmann's Schokokuesse, a popular sweet in Germany especially among children, apologized for the picture depicting Markle, who has an African-American mother, as a chocolate-covered marshmallow with a crown, a white dress and wedding bouquet. The company deleted the tweet but top-selling Bild newspaper reprinted it Wednesday, adding fuel to the controversy. The chocolate marshmallow was linked in the past to racism, being widely known as the "Negerkuss" or "negro kiss" in Germany until about 20 years ago. Company spokesman Bernd Roessler said Tuesday, the picture was "stupid and embarrassing," German news agency dpa reported.
Boner Candidate #3: SHE JUST COULDN'T KEEP THEM DAMN SHOES ON.
Two day care employees in North Carolina were fired for strapping shoes to a little girl with tightly bound tape, causing her bruises and swelling, according to reports. The terminations at Pleasant Hill Day Care in Elkin come after a mother picked up her 17-month-old daughter and saw her shoes were taped on, news station WXII reported. Jessica Hayes took to social media Saturday following the disturbing incident, which she said left her daughter crying and in pain. The mother said the shoes were "left on long enough and tight enough to leave marks, cause swelling, and bruises." "Someone was clearly upset that she was learning take her shoes off and done it out of being aggravated," Hayes posted on Facebook. "This was also not just her shoes being taped up it was around her ankle … My 17-month-old child was unable to say anything" Pleasant Hill director Maehsell Marley said security footage was reviewed and the two employees involved were let go from the center.
Round Two
Boner Candidate #1:  I DIDN'T ORDER ANY SOUR KUSH
NORWALK, Ohio — Police say a man who delivered a bag of marijuana to the wrong car in an Ohio store parking lot faces drug trafficking charges. The Sandusky Register reports 18-year-old Anthony Damante, of Milan, was arrested Tuesday in Norwalk. Police say a woman went into a store Friday afternoon to buy lottery tickets, returned to her car and found a strange smelling sandwich bag marked "Sour Kush" on the front seat, prompting a call to police. A police report says officers used surveillance camera footage to determine that another woman in the lot gave Damante money and went inside the store while Damante put the 40 grams (1.4 ounces) of pot into the unwitting woman's unlocked car.
Boner Candidate #2: WE WERE HOPING TO MAKE JAIL TIME, FUN TIME.
Daggett County's budget was small, propped up by the money the Utah prison system gave it to essentially rent jail space each day for about 80 state inmates. But the work of running the jail could often be boring. Night shifts were long, at times 12 hours through the dead of night when prisoners were sleeping. So guards would routinely sleep, too, taking shifts to ensure one was on lookout while the other napped. Once, a guard gave an inmate a Taser to scare someone, according to a newly released investigative report from the Department of Corrections. The report details how some deputies spent their time while overseeing the oversized jail in Utah's least populous county in a remote corner of the state, before criminal behavior by several deputies and lax oversight by the sheriff cost the county its money-making jail. Sometimes, they'd skip their rounds where they were supposed to circle the medium-sized jail counting inmates to make sure everything was in order.
Boner Candidate #3: THERE IS A SPECIAL PLACE IN HELL FOR PEOPLE LIKE THIS.
A former police dispatcher charged with gambling away nearly $10,000 raised for a paralyzed cop is now betting on a judge to decide her fate. April Briscuso, 40, entered a blind plea on Monday to one count of felony stealing, meaning a judge will determine her sentence without a recommendation from prosecutors who earlier sought a seven-year suspended sentence with 30 days of shock time in jail, the St. Louis Post-Dispatch reports. Briscuso was arrested in November after organizing several fundraisers for former Hazelwood Police Officer Craig Tudor, who was paralyzed in an on-duty crash in August 2016. Police in St. Louis County said Briscuso, a veteran dispatcher of 11 years, admitted stealing at least $9,500 in donations intended for Tudor and gambled it away at local casinos. The thefts were uncovered after Tudor and his wife, Christine, told investigators they had not received money raised at several events hosted in their name — including at a St. Louis Cardinals game — except in cases where checks were made payable directly to them.
Download X96's App