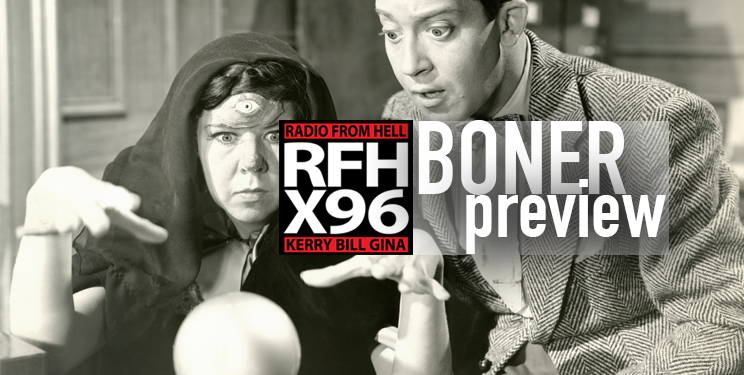 Round 1
Candidate #1: I HAVE A GUN FULL OF DEADLY AIDS BUBBLES
A Jordanian man living illegally in Israel was busted for holding up a bank with a soap bubble gun — and threatening to infect a clerk with AIDS, according to a report. The 24-year-old first entered the busy postal bank in the southern city of Beersheba on Jan. 20, when he passed a teller a handwritten note in grammatically challenged Hebrew, the Times of Israel reported. "A robbery give me the money quick I will stab you with a bloody needle I am sick with AIDS," he scribbled. The bubblehead also attached a syringe filled with a red liquid to the see-through plastic gun as part of his ploy. A teller handed him some cash while a co-worker, seated at an adjacent window, continued to serve other customers, apparently unaware of the crime in progress. Bank employees alerted police to the crime as soon as the man fled.
Candidate #2: SHE'S A FACE LICKER AND A CROTCH GRABBER AND THAT'S INAPPROPRIATE.
Nancy Oakley, a city commissioner in Madeira Beach, Florida has resigned amid allegations that she got drunk at a fishing contest then licked a colleague's face after accusing him of having an affair.  In 2012, the town of Madeira hosted a fishing competition to honor a Bahamian sister city. The city council opted to host a special outdoor meeting, which Oakley attended after drinking at the competition. There, she accused Shane Crawford, the city manager at the time, of having an affair with his assistant, Cheryl McGrady, and demanded McGrady be removed from the meeting. Here's where it all went to hell, according to The Washington Post:  Then, after the otherwise low-key meeting concluded, Oakley walked up to Crawford again. She allegedly licked his neck and the side of his face, slowly working her way up from his Adam's apple, and groped him by grabbing at his crotch and buttocks. When McGrady pointed out the inappropriateness of licking a co-worker and grabbing his genitals, Oakley allegedly threw a punch at her.
Candidate #3: SHE IS WAY WORSE THAN CINDERELLA'S EVIL SISTERS
A New Jersey woman busted for prostitution played a dirty trick on her sister — trying to beat the rap by identifying herself to cops as her younger sibling, according to reports. Samantha Humienny, 24, was stopped by police in Paterson, NJ, in November on a prostitution-related charge, but identified herself as 20-year-old Jaclyn Humienny, who lives in Florida and is studying to become a teacher, NJ.com reported.
City officials have said Samantha misidentified herself twice when she was being charged and then did not show up in court to face the charges, causing warrants to be issued for her sis. Jaclyn, who plans to teach kids with disabilities, recently learned of the situation when a background check for her work revealed the pending charges, officials said, according to NorthJersey.com.
Round 2
Candidate #1: HAVING A PROSTHETIC LEG CAN COME IN PRETTY HANDY
The discovery of cocaine inside a Virginia inmate's prosthetic leg has led to an investigation into a suspected drug distribution operation at that jail. The Free Lance-Star reports officers acting on a tip about drugs stashed in a Rappahannock Regional Jail cell located the 3 to 7 grams of cocaine inside the prosthesis last month. The search warrant affidavit lists the name of the leg's owner, but the newspaper isn't printing it because he hasn't been charged in the case. He was already jailed on marijuana possession charges.
The affidavit says his girlfriend collected drug payments from other inmates via the Cash App mobile service. It's still not clear how the drugs got into the jail. The girlfriend is currently jailed on unrelated drug charges. Her name hasn't been released.
Candidate #2: I'M SORRY. I WAS JUST WATCHING MY MORNING SHOWS.
A New Jersey school bus driver has been arrested for allegedly watching pornography in front of elementary school-age children.
Franck Lafortune, 64, of Burlington Township, NJ, was charged with obscenity to minors under the age of 18 for the alleged incident, New Jersey State Police said Wednesday. According to police, staff members from the Indian Mills Elementary School in Shamong were notified on Monday that two children at the school told their parents that they saw Lafortune watching the X-rated video on his cellphone before they got off the bus around 8:30 a.m. The bus reportedly was parked at the time, cops said. The parents of the children later reported the alleged incident to state troopers, prompting authorities to investigate. Lafortune was charged and released pending a court appearance.
Candidate #3: IT'S PRETTY COMMON TO BE NERVOUS RIGHT BEFORE THE WEDDING VOWS.
A Pennsylvania couple's wedding ended in a drunken brawl after the groom hit on an underage waitress — then followed the teen into a bathroom stall and groped her, according to prosecutors. Matthew Aimers, 31, was charged Wednesday in connection to the nightmare nuptials Nov. 24 at a country club in Northampton Valley, the Philadelphia Inquirer reported. Court documents detail a wedding from hell in which the groom left in handcuffs. The newlywed now faces numerous charges, including indecent assault, imprisonment of a minor and disorderly conduct. During the reception, Aimers allegedly hit on a teen waitress and "asked her to go outside and make out," according to an affidavit. The groom propositioned the teen by saying they could do "whatever you want," she told police, adding that the experience had left her shaken.
Download X96's App