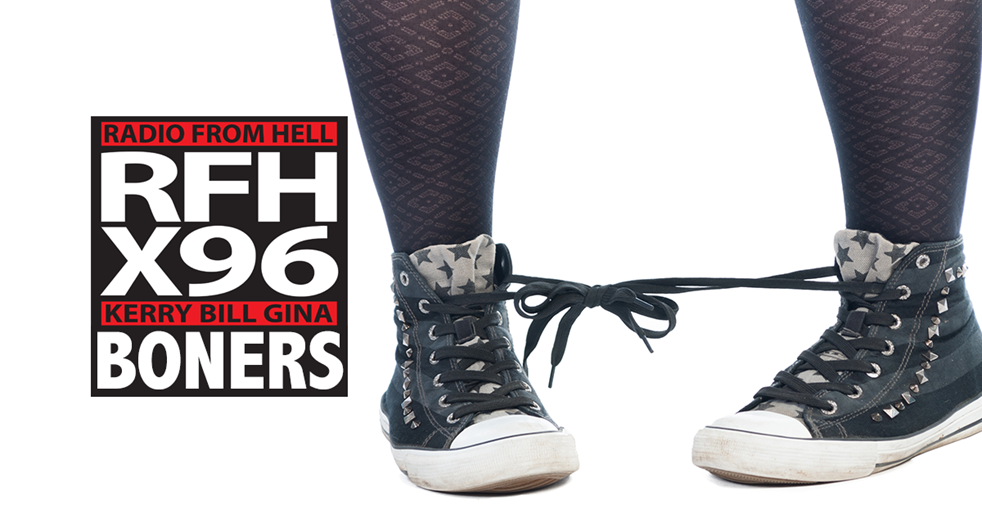 ROUND ONE
Boner Candidate #1: THERE WASN'T A FISH THERE WHEN I SAT DOWN
A 30-year-old man in China has had a whole fish removed from his rectum after he had allegedly sat on it by accident. Gruesome footage shows medics removing the dead blue tilapia from the patient's body at a hospital. Reports from local media did not specify the fish's size but the species usually measures 30-40 centimetres (12-16 inches) long. The incident is believed to have taken place last Tuesday at the Zhaoqing First People's Hospital in Guangdong province of southern China. Doctors made the shocking discovery during an X-ray scan after the 30-year-old man had gone to the hospital for severe abdominal pain. The patient, who remains anonymous, claimed that the fish slipped into his rectum after he had accidentally sat on the creature, according to Guangdong Television. The man eventually came to the hospital after failing to remove the fish from his backside himself.
Boner Candidate #2: TUCKER CARLSON; A SENTIENT POLO MALLET
Fox News host Tucker Carlson raged against the social justice movement Black Lives Matter on Monday night, claiming that the movement for racial justice and fair policing was "definitely not about black lives" while warning his viewers to "remember that when they come for you." Carlson, who has been highly critical of the protests over George Floyd's death while claiming systemic racism is nonexistent, began Monday's broadcast of his primetime show by railing against calls for defunding the police. Calling the protests the "Black Lives Matter Riots," the Fox star claimed liberals didn't want to abolish the police but instead planned on replacing law enforcement with an armed "woke militia" to patrol cities. "Imagine if the Black Lives Matter rioters had weapons and immunity from prosecution," Carlson dramatically exclaimed. "That's what they are talking about. Partisan law enforcement, and partisan law enforcement, incidentally, is hardly without precedent. In fact, it's the rule in the Third World. This is an attempt to bring it here." From there, Carlson continued to fear-monger over Black Lives Matter and the "finance moguls" who are funding the movement before expressing concern that Republicans weren't doing enough to stop Democrats and the social justice movement.
Boner Candidate #3: WAIT A MINUTE; WHERE IS LITTLE FRITZ?
Police in Germany say they had an easy time tracking down a petty thief—he forgot his own son at the scene of the crime. Bautzen police said the 29-year-old suspect ran off when the $5.65 worth of goods he was trying to steal triggered an alarm at a supermarket checkout late Friday, per the AP. Police said the man's 8-year-old son was left behind, "and so the culprit was quickly identified." The suspect, a German, also managed to fall during his escape and ended the day in the hospital, police said.
ROUND TWO
Boner Candidate #1: IT SAYS NO ENFORCEMENT
A town government has been slammed after confused motorists were fined due to a misunderstanding over a missing period. Drivers in Ludlow, Shropshire have been left scratching their heads after the signs appeared reading: 'No parking enforcement in operation.' A number of residents living in the market town have taken the notice to mean they are allowed to pull up at the car park in Castle Square. But the poorly punctuated sign was intended to inform motorists no parking is allowed, and enforcement is in effect under coronavirus measures. As a result, fines have been dished out to people who have wrongly interpreted the warning. Liberal Democrat councillor Andy Boddington, who represents Ludlow North, said: 'The sign should have read, "No parking. Enforcement in operation." 'For want of a full stop, a message was lost and parking fines were issued. It was obviously confusing. 'I would encourage anybody who's got parking tickets to challenge it. I think it was just put up in a hurry.
Boner Candidate #2: CHRIS CUOMO NUDIE BUM
If you think you've seen enough of Chris Cuomo after his much-publicized contraction of coronavirus and nightly TV reminders of "you know who my brother is," think again. The CNN anchor was apparently caught in the nude in the garden of his Hamptons mansion during a social media yoga session filmed by his wife, Cristina Greeven Cuomo. The younger brother of New York Gov. Andrew Cuomo is seemingly seen in a screengrab strutting his stuff in the buff outside his home in Southampton, where he had been broadcasting from his basement while under quarantine. The 49-year-old super-fit newsman was allegedly seen au naturel outside, captured from behind through the large windows of their home, during an Instagram Live yoga video shot by Cristina. The video was deleted quickly after it was filmed around May 27, but not before some eagle-eyed followers grabbed a stark-naked screenshot. While Page Six has been working to get to the bottom of this birthday-suit broadcast, reps for the host of "Cuomo Prime Time" at CNN and his wife didn't respond to multiple calls and emails to confirm it is the news anchor's distinguished derriere. Yet Cuomo, a dad of three, hasn't otherwise been shy about public exposure. He announced on March 31 that he had tested positive for coronavirus, and gave searing daily accounts on his prime-time program of his painful battle to overcome it.
Boner Candidate #3: IT'S ABOUT TIME
The U.S. Marine Corps on Friday issued detailed directives about removing and banning public displays of the Confederate battle flag at Marine installations — an order that extended to such items as mugs, posters and bumper stickers. "Current events are a stark reminder that it is not enough for us to remove symbols that cause division — rather, we also must strive to eliminate division itself," the commandant of the Marine Corps, Gen. David H. Berger, said in a statement on Wednesday. As protests across the United States have erupted over police brutality, pressure has grown on officials to remove monuments and flags seen as symbols of racism. Dozens of statues were removed after a white nationalist rally in Charlottesville, Va., in 2017, and protesters demonstrating over the death of George Floyd, a black man who died in police custody in Minneapolis, are targeting some that remain. In several states, anger has given way to the damaging or defacing of more than a dozen symbols of the Confederacy.
Download X96's App