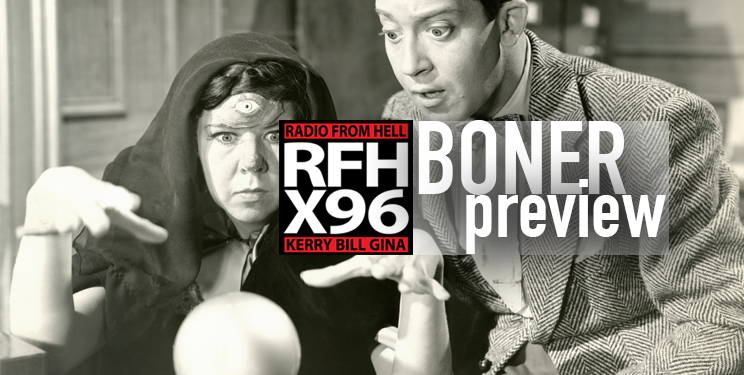 Boner Round 1
Candidate #1: I'M SURPRISED THAT PEOPLE ARE REACTING TO THAT FLAG
Chet Nelson, who has lived in Logan for two years, said that he and his wife were at a festival when they saw the flag. They thought it was cool, so they bought it. Nelson said he was surprised by the reaction the flag got. In the past week, he said the flag has drawn attention, prompting a local newspaper to report about it. "I just thought it was a cool flag," Nelson said. "But, I guess it's in support of the Second Amendment." He said he wasn't into politics, but he worked for a company in Salt Lake City that manufactured rifles, which made him appreciate and love guns more.
Candidate #2: AW, COME ON. WE'RE JUST A PRO TRUMP DRINKING CLUB.
The founder of a far-right men's group filed a defamation lawsuit Monday against the Southern Poverty Law Center for labeling the organization as a hate group, in the latest attempt to use litigation to fight the extremist label. Gavin McInnes, founder of the Proud Boys — an organization that describes its members as "Western chauvinists" — contends in the lawsuit that he was banned from social media platforms and saw his livelihood suffer after getting the designation from the SPLC. "What they do is they cast this wide net of 'everyone's a Nazi' and they start destroying lives," McInnes said during a news conference in front of the SPLC building in Montgomery, Ala. "This is a free speech nation, and this is not a free speech organization."
Candidate #3: I DIDN'T ASK TO BE BORN
We can never repay our parents for everything they do for us – the care, love and support we get from them is impossible to get from anyone else. But Raphael Samuel who lives in Mumbai is planning to sue his parents for bringing him into this world without his consent. He believes that no human has the right to 'force life' on another human. It is not because he doesn't have a good relationship with his parents, but because he thinks that people should not give birth to a child just for the sake of their pleasure. "I want to tell all Indian kids that they don't owe their parents anything," Samuel told The Print. "I love my parents, and we have a great relationship, but they had me for their joy and their pleasure. My life has been amazing, but I don't see why I should put another life through the rigamarole of school and finding a career, especially when they didn't ask to exist."
Boner Round 2
Candidate #1: THAT'S NO GHOST
A North Carolina college student says she thought a ghost was haunting her off-campus apartment – until this past weekend when she found a man in her closet, dressed in her clothes. It happened at the Summit at the Edge Apartments, just steps from the University of North Carolina at Greensboro. "I've been having, like, pieces of clothes missing. Like shirts and pants," says Maddie, a junior at the college. She told WGHP she is scared for her safety and declined to show her face on camera. Items were disappearing and handprints were left behind on the bathroom wall. It wasn't until Saturday that she uncovered a mystery that she and her roommates thought was a ghost.
Candidate #2: IT'S MY INTENTION TO COMPLY WITH THE TOTALLY AWESOME REQUIREMENTS OF THE COURT
AMERICAN FORK — Dell "Super Dell" Schanze is facing a criminal charge for allegedly target shooting too close to neighboring homes. Schanze was charged last month in Utah County Justice Court with discharging a firearm within 600 feet of a dwelling, a class B misdemeanor. The alleged incident occurred Jan. 2 at Schanze's home west of American Fork in unincorporated Utah County. According to state law, a person may not fire a weapon in that area within 600 feet of a house without written permission from neighbors. Utah County Sheriff's Sgt. Spencer Cannon said three neighbors called the sheriff's office that day to report shots being fired. One neighboring house was about 300 feet away, and one person said he could hear bullets flying past his house, Cannon said. The deputy responding to the call also noted that he could hear shots while en route to Schanze's house. Once there, shell casings were found on Schanze's back deck and targets were set up, Cannon said. An arraignment originally scheduled for last week was continued until Feb. 19. Schanze, 49, wrote a letter to the court asking for a continuance because he had been out of state on business trips. "It is my every intention to comply with the court requirements as soon as possible," he wrote.
Candidate #3: WHAT POOR BABY? SHE LOVES SHOW BUSINESS.
A Russian couple has been detained by police in Malaysia for putting on an apparent street performance in which their 4-month-old baby was swung around by her ankles and tossed in the air. The man, 28, and his 27-year-old wife, who have been dubbed "begpackers," were busted by cops Monday while they were in the middle-of-the-street act in the Malaysian capital of Kuala Lumpur. "We detained them on Monday for questioning over the alleged abuse of their four-month-old baby girl," Kuala Lumpur police chief Mazlan Lazim told the AFP. The identities of the individuals were not immediately released. A 90-second video showing the "irresponsible act" surfaced on Facebook over the weekend and quickly went viral with more than 20,000 views.
Download X96's App