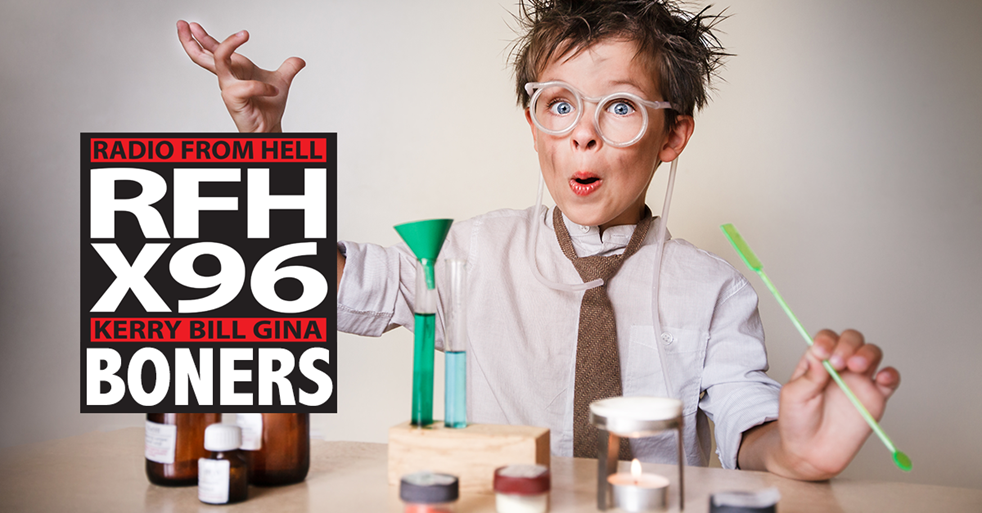 Round One:
Boner Candidate #1: STOP IT. STOP WITH THE HUGGING.
Thousands of people have signed an online petition to end a practice of "forced 'hugging'" and demand a  better way of reporting alleged harassment at fashion chain Ted Baker.  More than 2,000 members of staff and customers of the UK retailer have called on the firm's founder and CEO, Ray Kelvin, to alter his behavior, including "inappropriate touching," which they say is "part of a culture that leaves harassment unchallenged." The call has come in an open letter to the company's board of directors on the online platform Organise, which runs workplace-specific campaigns.  More than 300 of the signatories are either current or former members of staff, according to Nat Whalley, CEO of Organise.
Boner Candidate #2: OKAY, LET'S ASSUME THE VICE PRESIDENT DIDN'T KNOW ABOUT THE QANON PATCH.
As further evidence that we're all trapped in an increasingly surreal waking nightmare, Vice President Mike Pence tweeted a photo-op on Friday of himself with a sheriff's deputy whose uniform prominently sported a patch for QAnon, the elaborate, pro-Donald Trump conspiracy theory with 4chan roots. The tweet has since been deleted. The photo was flagged on Twitter by Right Wing Watch's Jared Holt, who noted the patch's resemblance to one currently available on Amazon that reads "Question The Narrative." Before it was scrubbed from Twitter, the tweet was originally shared Friday from the official White House account for the vice president, which later re-posted similar images of the vice president and local law enforcement officials without the deputy with the QAnon patch.
Boner Candidate #3:HEY KANYE. THE SHOW IS UP HERE.
Yeezy does it. An actor in "The Cher Show" ripped Kanye West on Monday night, chiding the rapper for staring at his cellphone during a performance. Jarrod Spector — who plays Cher's former husband and musical companion Sonny Bono in the Broadway musical — tweeted at the "Yeezus" star after the show's debut. "Hey @kanyewest so cool that you're here at @TheCherShow!" Spector wrote.  "If you look up from your cell phone you'll see we're doing a show up here. It's opening night. Kind of a big deal for us. Thanks so much." The show opened at the Neil Simon Theater. Three actresses — Stephanie J. Block, Teal Wicks, and Micaela Diamond — depict the singing sensation. The hip hop star, who attended with wife Kim Kardashian, later tweeted out a mea culpa, adding that they loved the show,. "To Cher and the Cher show team, the dynamics of Cher and Sonny's relationship made Kim and I grab each other's hand and sing 'I got you babe,'" the rapper wrote.
Round Two:
Boner Candidate #1: THIS IS NOT THE KIND OF MASSAGE I PAID FOR.
They really rubbed him the wrong way. A customer flew into a rage at a Queens spa when he didn't get a "happy ending" to his foot massage and attacked two workers with a hammer — before smashing their piggy bank tip jar to pieces, cops said Sunday. The wild rampage was caught on surveillance video released late Saturday by cops who are asking the public's help tracking down the brute. The mayhem began when the creepy customer demanded his money back from a 55-year-old worker at Tao Spa Bodywork on 40th Rd. near Main St. in Flushing around 10:30 p.m. Thursday, cops said. He had ordered a foot massage and was unhappy his request for a so-called happy ending — an erotic massage — was turned down, according to police sources. When the worker refused him a refund for the foot massage, he went berserk and pulled out a hammer, dragged her into the 24-hour spa's front waiting room and punched her in the face, the video shows.
Boner Candidate #2: WELL, THAT IS SOMETHING OF A STICKY SITUATION.
A local landscaper was charged with voyeurism after police said he got into a sticky situation with a co-worker. Robert Somley, 52, was arrested after a 48-year-old female associate complained that Somley had secretly taken video of her while the two of them were on a break from a job at a local home.Police said the woman told officers she and Somley had been loading wood into a trailer when Somley said he needed to take a break. After about 20 minutes, the woman went looking for Somley and found him in the home, standing there naked watching pornography on a laptop, police said.When the woman questioned what Somley was doing, police said, he responded that he needed to relieve himself before continuing work. Police said the woman left and went back to loading wood on the trailer. But, after a short while, decided that she, too, needed to take a break. When she went back into the home this time, she found Somley naked and dribbling maple syrup on his body, police said.
Boner Candidate #3:OH YEAH. WE'LL YOU'RE A DRUNK.
Interior Secretary Ryan Zinke—a man who wears ranger hats backwards and spreads conspiracy theories about how "radical environmentalists" are responsible for wildfires when he's not destroying public land protections and calling for more drilling—just accused a sitting congressman of alcoholism in retaliation for writing that Zinke should resign. Rep. Raúl M. Grijalva, the top Democrat on the House Natural Resources Committee and its likely future chair in 2019, penned an op-ed in USA Today on Friday saying Zinke should leave his post. Grijalva noted that there are "at least 17 publicly known formal probes" of either Zinke or his department, including one referred to the Department of Justice in which Zinke allegedly met with a Montana property developer and the chairman of oil contractor Halliburton to lead them on a secret, private tour of the Lincoln Memorial. That's at the same time his family foundation, which Zinke may have still been involved with, is discussing a land deal with a Halliburton-backed investment group and the developer in question.
Download X96's App