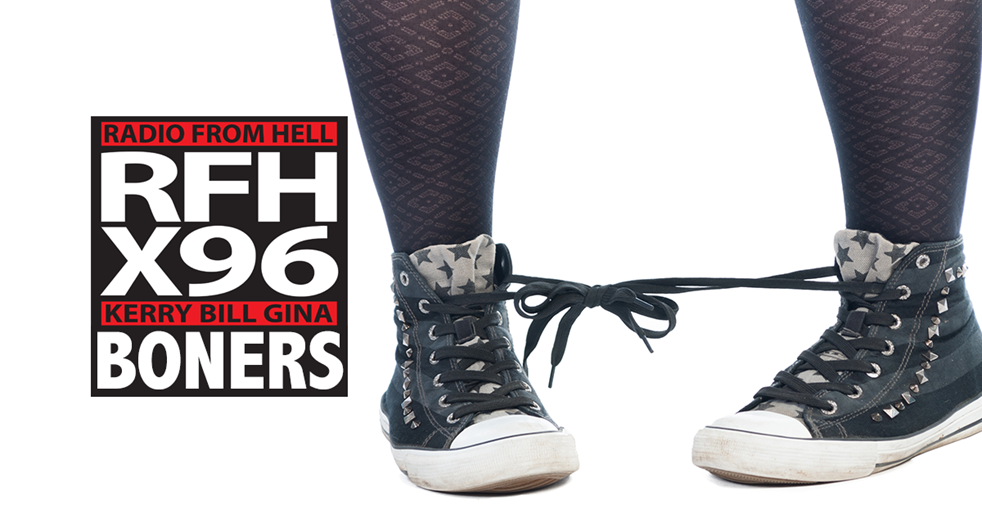 ROUND ONE
Boner Candidate #1: You Know What My Question Is?
Pembroke Pines, FL — Police in South Florida descended on what they thought was an armed break-in at a men's clothing store Tuesday morning after people were spotted storming in with rifles — but officers arrived to find a music video filming, all with the store owners' knowledge. The guns were not real and the men holding them were actors in a video, said Amanda Conwell, a spokeswoman for the Pembroke Pines Police Department. The music video was being filmed inside the men's clothing and accessories store with a film crew while the larger shopping center was closed, The Miami Herald reported, citing a store manager. The manager said the filming was supposed to take less than an hour.
Boner Candidate #2: You Know What My Other Question Is?
Ann Arbor, MI — A man who became angry when he was told his direct deposit hadn't cleared yet took his anger out on his bank, throwing a heavy animal trap and concrete chunks through the building's windows, police said. Stephen Lee Wallace, 51, of Chelsea, was arraigned Friday, Dec. 4, on two felony counts of malicious destruction of property after being arrested for allegedly throwing various heavy items through the windows of Chase Bank in Ann Arbor, according to the Ann Arbor Police Department. At about 9:45 a.m. Thursday, Dec. 3, Wallace entered the bank at 2475 W. Stadium Blvd. where he asked about a direct deposit he was expecting to be available in his account, police said. Wallace was told the deposit hadn't cleared yet, leading him to grow frustrated and angry, yelling at employees as he left the bank, police said. Once outside, Wallace apparently uprooted a mailbox, tied the front doors shut with guitar string and proceeded to bang on the front door, police said.
Boner Candidate #3: Miley Doesn't Eat Anything That's 1000 Calories
Chipotle has named a burrito after the 28-year-old singer after she commented on the restaurant's TikTok account. On Tuesday, the fast-food chain shared a short video of someone holding up a wrapped burrito with the name "Miley," along with the words, "if miley cyrus comments we'll make a miley burrito in our app." Cyrus obliged, commenting, "only if you name it 'the Guac is extra but so is miley burrito'…"
ROUND TWO
Boner Candidate #1: Sean Reyes = Trump Hugger
Utah Attorney General Sean Reyes has thrown his support behind a U.S. Supreme Court lawsuit challenging President Donald Trump's election loss. Reyes joined 16 other attorneys general Wednesday in endorsing the Texas petition that seeks to invalidate the election results in four battleground states captured by President-elect Joe Biden. In a prepared statement, the Utah Republican and staunch Trump ally said his legal action is about ensuring faith in the electoral process and not about any one candidate or contest.
Boner Candidate #2: Trump's Star Witness Gets Better and Better
The star witness in Trump's 'voter fraud' case in Michigan used to work as a stripper at a now closed gentlemen's club called the Bada Bing, sources have told DailyMail.com. Mellissa Carone, 33, used to dance at the venue in 2010, which has the same name as the infamous strip club featured in HBO's hit show The Sopranos. The seedy joint even takes after the mobster strip club, having its own history of violence.
Boner Candidate #3: Horde Your Milanos!
Pepperidge Farms' parent company Campbell Soup has issued a warning that due to "supply constraints" there may be a shortage of their cookies on store shelves this holiday season. The issue has to do with labor shortages due to the coronavirus pandemic and the increase in demand for cookies as more people remain in their homes, Campbell's Chief Executive Officer Mark Clouse said on an earnings call, according to Bloomberg News.
Download X96's App