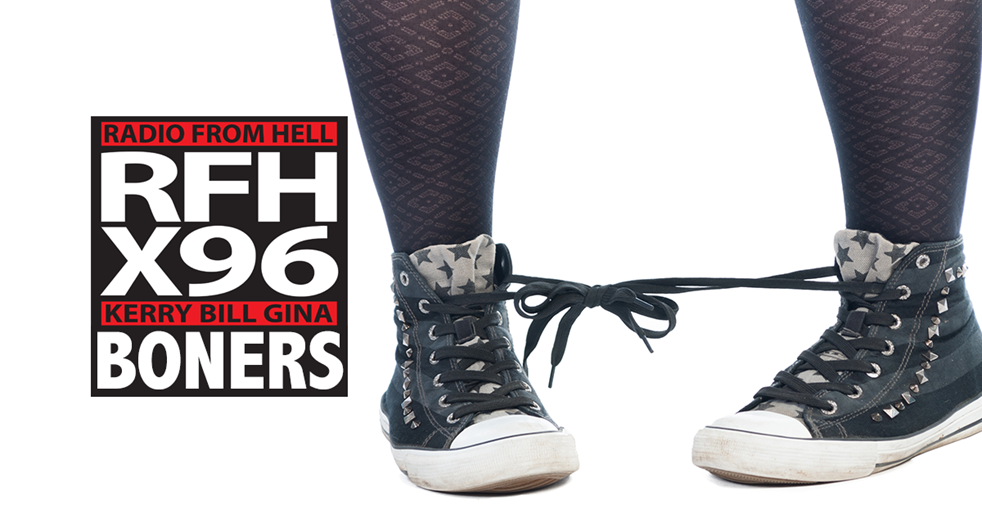 ROUND ONE
BONER CANDIDATE #1: WHOA THERE! KEEP YOUR PANTS ON, LADY.
A woman in jail, accused of kidnapping and assaulting a Miamisburg man, was caught on video trying to escape. Jessica Boomershine, 42, didn't make it far, though. Surveillance video shows her trying to climb a pipe against the wall of a holding room at the Montgomery County Jail. She reaches the ceiling but then crashes through the tiles and is left suspended, her pants falling down as deputies grab her, just before she falls, into a trash can. Boomershine and Billy Joe Farra, 35, are accused of kidnapping an 85-year-old Miamisburg man, robbing him and then leaving him badly bleeding at a recycling center in Dayton.   Read More
BONER CANDIDATE #2: I WANTED VIDEO OF SOMEONE WHO LIKES ME
A woman was changing in the bathroom when she noticed a cellphone hidden under the sink at a gym in Utah County. When she picked up the phone, she noticed it was recording, according to court documents. She took the phone to the Utah County Sheriff's Office and investigators tracked down the owner of the phone to a trainer at the gym where the woman frequents. 19-year-old Ashley Reed was met by police outside the gym last Wednesday and was arrested for 11 counts of voyeurism. On his phone, there was video evidence of Reed setting up the phone in the women's bathroom, according to arresting documents. Reed admitted to investigators he hoped to capture video of a female "who he likes." Additionally, he said he struggled with approaching her and that's when he went to the women's bathroom to set up his phone.   Read More
BONER CANDIDATE #3: GLENN BECK…SPREADING THE LOVE
GLENN BECK (HOST): A lot of people would find [Pete Buttigieg's] lifestyle antithetical to what is found in the Bible. I mean, you just — Pete, you can't make this claim. "You know, I just don't know how you would vote for him because the way he lives his life, I mean, you know, you can't find that in the Bible." Well, you also can't find anything but stoning of homosexuality and stoning of homosexuals in the Bible too. Old-timey, sure. Bad, yes. But it's not an endorsement. Nowhere in the Bible is there an endorsement of that. I mean, at best you can say, well, Jesus never talked about it. Well Jesus never talked about tweeting either.   Read More
ROUND TWO
BONER CANDIDATE #1: CELEBRATING SOBRIETY
An Arizona man arrested for allegedly stealing a motorcycle from a Kawasaki dealership told police he was "celebrating 4 months of sobriety and decided he wanted" a chopper, according to court records. Investigators say that Jackson Hanley, 29, was actually intoxicated when he walked into a Mesa dealership earlier this month and "grabbed a Kawasaki motorcycle and began pushing it down the street." Hanley, who rode his bicycle to Kelly's Kawasaki, had his theft bid thwarted when a customer alerted an employee that a crime was in progress. Police were then summoned and Hanley was located about a mile away. "The defendant," a cop noted, was found "resting on a fence with the bike slightly tipped over but still upright." Hanley, cops say, "admitted to stealing the motorcycle. He said he was celebrating 4 months of sobriety and decided he wanted a motorcycle." Hanley reportedly said he was "going to walk it back home and try and start it there."   Read More
BONER CANDIDATE #2: HE HAS AN IMMORAL INTEREST IN HER CLOTHING
Police in Huron County have arrested a man they say left his child unattended so he could break into a woman's home because he had an "immoral interest" in her clothing. At 6:12 a.m. on Saturday, Feb. 22, sheriff's deputies responded to an apartment in the 7200 block of Michigan Avenue in Pigeon. A 29-year-old woman had called 911 upon returning home and finding a man in her apartment, deputies report. The woman said when she first arrived, her door was ajar but she entered anyway and saw a flickering light in her bedroom. She then noticed a man standing over her laundry, she told deputies. The intruder tried to flee, but first punched the woman in her face, deputies report. The woman recognized the man as a neighbor, but didn't know his name. A deputy located and confronted the 32-year-old suspect in his apartment. The suspect was cooperative and "it appears that (he) had an immoral interest in the complainant's clothing," deputies reported in a press release. Deputies arrested the man on a charge of felony home invasion and lodged him in the county jail. His child who had been staying with him and was left unattended during the break-in was turned over to family, deputies said.   Read More
BONER CANDIDATE #3: I TAKE PUBLIC TRANSPORTATION BECAUSE I'M WORRIED ABOUT THE ENVIRONMENT
A 55-year-old man was taken into custody after a bank robbery in Seattle's Ballard neighborhood Wednesday afternoon. At about 1:20 p.m., officers responded to a reported bank robbery in the 6100 block of 15th Avenue Northwest. Police after the robbery, the suspect was seen getting into a cab. One officer saw the cab and called for additional units as he followed the taxi. According to investigators, the suspect got out and ran away as officers chased him. Police said the suspect boarded a Metro bus and was taken into custody in the 2100 block of Dexter Avenue.   Read More
---
Subscribe to X96's News!
Get the latest music news, contests and flyaways, and more straight to your inbox with our weekly emails.