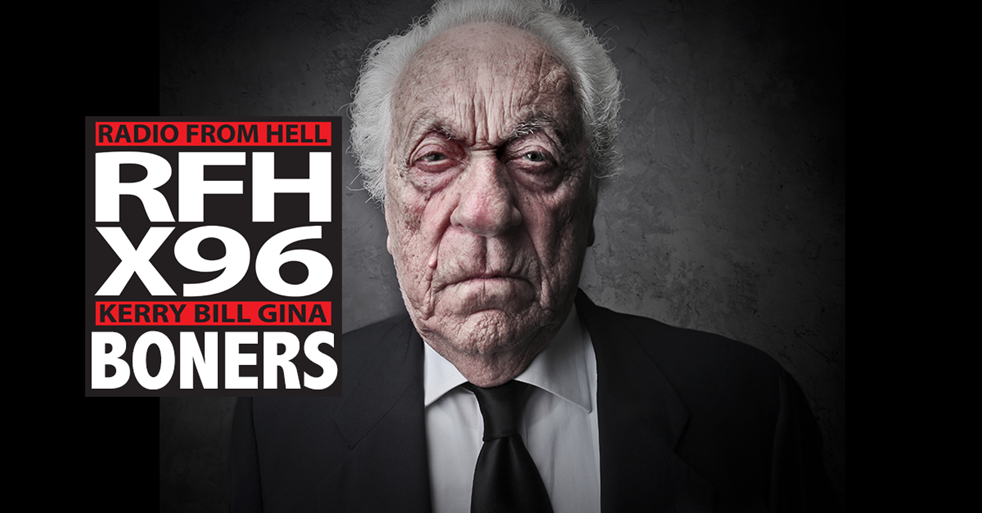 ROUND ONE
Boner Candidate #1: THERE WAS NO OTHER WAY TO HANDLE THIS SITUATION
The Greenville Police Department responded to a call this morning in regards to a hit and run at a local KFC restaurant. Officials said the KFC employee arrived this morning and reacted after he didn't get the paycheck he thought he was entitled to. The employee struck the restaurant with his white Ford Explorer. No one was hurt. Code Enforcement is coming to look at the restaurant to see if they continue to operate, officials said. The driver has significant injuries. The investigation is ongoing. Stay with 9OYS for more updates. Read More
Boner Candidate #2: WE KNOW YOU'RE IN THERE SOMEWHERE
Police in Auburn, Wash., recently released footage of a bizarre situation they believe is occurring at a local grocery store. After several reports of possible break-ins and employees claiming to hear footsteps coming from the ceiling, police believe that an unknown individual has spent several weeks hiding up in the store's rafters. But while evidence of the suspect has been found at the scene, authorities still have not located the man and have not ruled out the possibility that he may still be in the store. Over the weekend, authorities with the Auburn Police Department shared surveillance footage on Facebook from the Haggen supermarket on Lake Tapps Blvd., showing the man sneaking around inside the store on Christmas Day. "Auburn Police have been called to Haggen Lake Tapps on five occasions since Christmas Day," the police department captioned the footage, "On that day, the suspect stole thousands of dollars' worth of cigarettes and liquor. There have been four additional 911 calls since then: two on January 15th, one on the 16th, and another this morning (the 17th)." Read More
Boner Candidate #3: SQUAD CAR TWERKING
A woman was arrested after she was caught "doing a sexually provocative dance" on top of a vehicle parked at an H-E-B grocery store, according to an arrest affidavit.
On Tuesday, Austin police responded to a call about two women fighting at an H-E-B located at 9414 N. Lamar Blvd. when they saw the woman on top of the car. After being asked to get off of the vehicle, 31-year-old Kisa Trinee Taylor allegedly took off her pants and continued "twerking while naked from the waist down." The affidavit said police then detained Taylor for disorderly conduct and put her in the back of their patrol car. Taylor then allegedly spit on an officer's face through an opened car window. Taylor has been charged with harassment of a public servant. Her bond is set at $3,000. Read More
ROUND TWO
Boner Candidate #1: MAYBE HE IS A MARIACHI.
Officials in a Nevada city said they are trying to find and rescue a pigeon seen wandering around with a sombrero apparently glued to its head. Reno City Manager Sabra Newby tweeted photos she snapped of the sombrero-wearing pigeon whole she was on a ride along with city parking enforcement officers. Washoe County Animal Services said it is trying to track down the pigeon so the hat can be safely removed. Two pigeons were recently spotted in Las Vegas with cowboy hats glued to their heads. One of the pigeons was captured by officials, but later died.
"While quirky or fun, it's still inhumane," Newby told KOLO-TV. Read More
Boner Candidate #2: GRITTY PUNCHED ME!
The Philadelphia Flyers' mascot, Gritty, is being investigated in connection with allegations of an assault involving a 13-year-old boy, police said. The incident happened during a November photo shoot with fans and the 7-foot furry orange creature at the Wells Fargo Center. Chris Greenwell, the boy's father, said the Flyers invited him and his son to meet Gritty to thank them for being season ticket holders, The Philadelphia Inquirer reported. But what was supposed to be a fun evening with the hockey team's mascot quickly turned sour. Greenwell told the newspaper that after the photo was snapped, his son playfully patted Gritty on the head. The mascot hopped out of his chair, "took a running start" and punched the teenage boy in the back, Greenwell alleged.
In an email to officials at Comcast Spectacor, which owns the Flyers, Greenwell called Gritty's actions "unprofessional and unacceptable," according to The Inquirer. Comcast Spectacor and NBCUniversal, which owns NBC News, are subsidiaries of Comcast. Read More
Boner Candidate #3: JIMMY CARTER IS VERY DISAPPOINTED
The Layton Habitat for Humanity ReStore was burglarized over the weekend, putting their community home build on hold due to financial strain. Layton Police confirmed to FOX 13 that the ReStore building and a nearby Asian Buffet Restaurant were broken into around or before 5 a.m. Sunday, Jan. 19. Jeannie Gamble, Executive Director with Habitat for Humanity Weber and Davis Counties believes that multiple people pried open a garage door, stole tools and broke open a private office to access the safe and donation jar. "They were in here for quite some time," said Gamble. "It's very disheartening actually and then they took the tools and left our place; robbed the Chinese restaurant in front of us." The suspects took all the money from the donation jar and used Habitat's own tools to break open the safe and steal the cash. Habitat for Humanity says the theft will impact them and the community immediately. "It's actually halting our home build that we just poured the foundation on," said Gamble who has an Ogden family waiting for a new home. "My staff, my volunteers put blood, sweat and tears into helping the county, the community and the people that live here." Read More
---
Subscribe to X96's News!
Get the latest music news, contests and flyaways, and more straight to your inbox with our weekly emails.