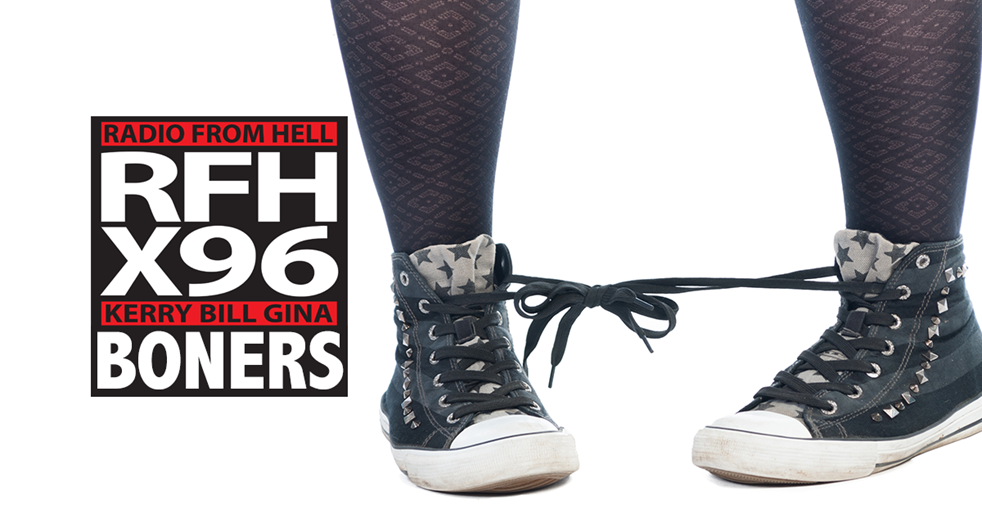 ROUND ONE
Boner Candidate #1: I'M NOT IN THE BUSINESS OF TRYING TO STOP COVID
A small conservative college in southern Michigan has defied warnings from state public health officials during the coronavirus pandemic by hosting an in-person graduation ceremony. Hillsdale College held a graduation Saturday evening, capping days of celebrations. The college of about 1,500 students had expected more than 2,000 people at the event, though school officials declined to discuss actual attendance numbers. 'COVID obviously was a concern,' said David Betz, whose son, Christian, graduated. 'For a once-in-a-lifetime opportunity to be able to come, it was well worth it.' Michigan Attorney General Dana Nessel had called the gathering illegal at a time when with public gatherings are capped at 100 people. Nessel said in a statement: 'Organized gatherings of more than 100 people are prohibited by law in that part of the state, and such events clearly show a lack of consideration for the dangerous threat this virus presents. 'We sympathize with those who want to celebrate the success of college graduates, but the unfortunate circumstances surrounding this pandemic have made that difficult for many, and we encourage alternatives to large assemblies that could further jeopardize the health of many people,' Nessel's statement continued.
Boner Candidate #2: BEAUTIFUL WORLD WARS
President Donald Trump refused to say the Confederate flag is an offensive symbol during an interview on Sunday, where he touted the controversial banner as a sign of pride for the South. The Republican president was asked by host Chris Wallace on Fox News Sunday if the flag, considered a symbol of slavery and oppression by most Americans, was offensive. 'It depends on who you're talking about, when you're talking about,' Trump responded. 'When people proudly had their Confederate flags, they're not talking about racism. They love their flag, it represents the South. They like the South … I say it's freedom of many things, but it's freedom of speech,' he added. Trump has been an audible opponent of banning the Confederate flag, slamming it as an infringement of freedom of speech. He's even threatened to veto a military bill if it allows for the renaming of forts christened after Confederate generals. Trump voiced his disapproval of cancel culture, reasoning that the Confederacy had a role in American history. 'I'm not offended either by Black Lives Matter, that's freedom of speech. You know the whole thing with cancel culture — we can't cancel our whole history. We can't forget that the North and the South fought,' he added.
Boner Candidate #3: THE COPS DON'T WATCH MOVIES
FLORENCE, ITALY – Police in Italy have intercepted a package containing hundreds of coffee beans that were hiding illegal drugs inside them. Around 500 beans had been cut open, stuffed with cocaine, and carefully taped closed again with dark brown tape. While the method of transportation appears to have been carefully thought out, the name on the package may have given the smugglers away. Police said suspicions were initially raised when they saw the name "Santino D'Antonio" on the packets — a mafia boss in the American action film John Wick. Police intercepted the beans after they had been sent from Medellin in Colombia to Milan's Malpensa airport. The 2kg package contained 150g of cocaine powder. It was addressed to a tobacco shop in Florence — police followed the package as it was delivered and arrested a 50-year-old man who came to collect it.
ROUND TWO
Boner Candidate #1: WELL, THEY WERE BOTH WONDERFUL MEN
Marco Rubio and Dan Sullivan were each trying to honor Mr. Lewis on social media when they mistakenly posted photos of Mr. Cummings, a Black congressman who died in October. Like thousands of other Americans, Senators Marco Rubio and Dan Sullivan took to social media on Saturday to mourn the death of Representative John Lewis, a venerated figure of the civil rights movement. "It was an honor to know & be blessed with the opportunity to serve in Congress with John Lewis a genuine & historic American hero," Mr. Rubio said in a tweet on Saturday afternoon. "May the Lord grant him eternal peace." Except the photo Mr. Rubio posted was not of Mr. Lewis, but of another congressman: Representative Elijah E. Cummings, who died in October. Mr. Rubio also used the photo of himself with Mr. Cummings as his Twitter profile picture for a brief time. Mr. Sullivan, Republican of Alaska, also memorialized Mr. Lewis with a photo of Mr. Cummings. In the picture he posted to his Facebook account, Mr. Sullivan is standing beside Mr. Cummings in front of the National Museum of African American History and Culture in Washington. "Congressman Lewis' courage and principled leadership helped guide America through one of the most challenging periods in its history, calling our country to live up to its ideals with justice and equality for all people regardless of color and creed," Mr. Sullivan wrote.
Boner Candidate #2: MAN SHE WAS REALLY UPSET
Roseville, CA — We've seen a lot of confrontations involving masks, including verbal fights, physical altercations and even coughing fits. But this one might top it all when a regular day at work turned into quite a show at the Verizon store off Galleria Boulevard in Roseville. In a 911 call, you hear a dispatch operator tell an officer three people are "refusing to leave, not wearing a mask… they've asked several times and she refuses." About three minutes later the operator tells the officer, "They're calling back and advising that that female is pulling down her pants and is now urinating inside the business." "Absolutely not. That's totally inappropriate. We're not animals," said Michelle Davidson. Roseville Police got to the scene and confirmed the incident to CBS13. Spokesperson Rob Baquera says officers arrested the woman after finding several stolen items from a nearby Dick's Sporting Goods store in her vehicle. Verizon spokesperson Heidi Flato says the company is requiring all customers to wear masks in their stores. Flato told CBS13 the incident wasn't just about the company's mask policy but wouldn't comment further about what happened.
Boner Candidate #3: HOW WE SPEND YOUR MONEY IS NONE OF YOUR BUSINESS.
Since 2012, the Utah Legislature has steered $5.1 million to a nonprofit group called Big Game Forever to advocate for eliminating federal protections for the gray wolf and returning management of the predator to states. Now, the organization has run to court in a last-ditch move to block the public from learning how these tax dollars were spent, arguing that divulging such information would give away trade secrets, akin to Colonel Sanders having to share the recipe for his famous fried chicken. "The disclosure of the names of BGF's employees/subcontractors would allow for competitors to recruit from BGF's workforce and bid against BGF for other lobbying work nationwide," the group's lawyers wrote in the lawsuit filed in Salt Lake City's 3rd District Court. That line of reasoning had failed to sway Utah's State Records Committee, which in March ordered the Utah Department of Natural Resources to hand over the information to an independent Salt Lake City journalist. For months, Eric S. Peterson, who heads The Utah Investigative Journalism Project and has written pieces for The Salt Lake Tribune, has been seeking the names of Big Game Forever's subcontractors from the Department of Natural Resources, which has rejected Peterson's requests made under the state's Government Records Access and Management Act, or GRAMA.
Download X96's App