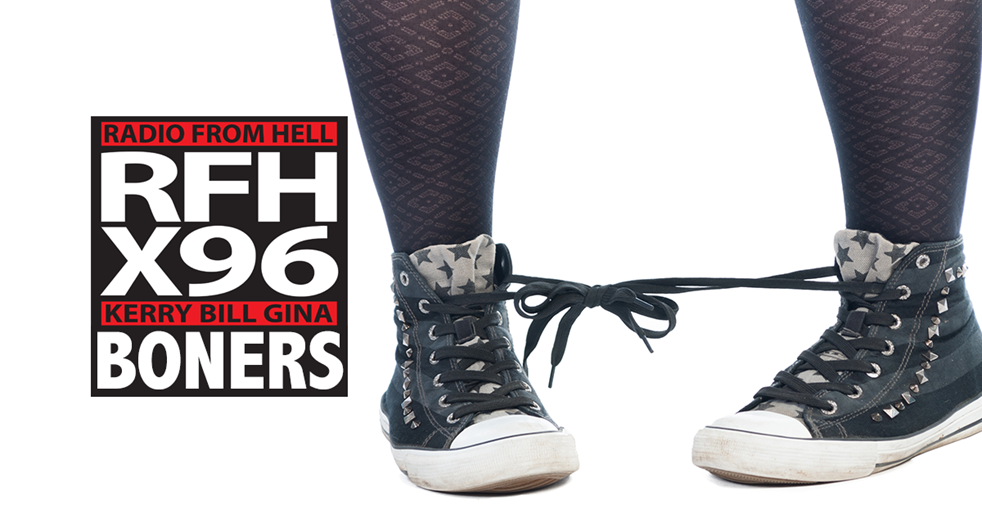 Round One
Boner Candidate #1: HEY. WHERE DID EVERYONE GO?
On an uncrowded flight from Quebec City to Toronto, Tiffani Adams decided to take advantage of an empty row of seats and take a nap. When she awoke, the plane was pitch dark, CTV reports, and she was the only person on the plane. The plane was parked far from the terminal in Toronto, and flight crew had left her behind, CTV reports. "I wake up around midnight, few hours after [the] flight landed, freezing cold still strapped in my seat in complete darkness," Adams said in a post on the airline's Facebook page. Adams wrote that she first tried to charge her phone so she could call for help, but couldn't because the plane had been powered down. Panic set in, she said, "because I want off this nightmare ASAP." Adams found a flashlight and tried to catch the attention of workers on the tarmac. She was able to open a door, she wrote, but "now I'm facing a 40-50ft drop to the pavement below." A baggage attendant eventually saw her light and brought a ladder truck. The airline offered her a ride home and has apologized. Air Canada also said it is investigating.
Boner Candidate #2: THERE'S A RAT IN THE CEILING. WHAT AM I GONNA DO?
A woman who stopped by a Buffalo Wild Wings restaurant in the Los Angeles area was shocked by a very unpleasant surprise. Alisha Norman posted on Facebook a photo of a rat that reportedly fell "from the ceiling" and onto a table. "Really LA? I was just trying to watch the soccer game," wrote Alisha Norman, posting photos of the rat resting right on top of a menu. She told FOX35 she was visiting Los Angeles from Texas and was about to order when she heard something crawling overhead.  Buffalo Wild Wings told Fox News in a statement that the restaurant was immediately closed for cleaning. "The isolated incident at the Westchester-area Buffalo Wild Wings in Los Angeles yesterday was unfortunate. The center where the restaurant is located is undergoing significant construction and we are confident it was directly related. We hold Buffalo Wild Wings to the highest operating standards and promptly closed the restaurant for proper remediation, cleaning and sanitization. We look forward to reopening soon to once again serve our guests in the Westchester area," the statement said.
Boner Candidate #3: YOU LOOK LIKE A VANDAL!
A Detroit artist was mistaken for a vandal and arrested by police while he was working a graffiti mural commissioned by the city. Artist Sheefy McFly, whose real name is Tashif Turner, was arrested on Wednesday while he was working on a mural on a viaduct near 7 Mile and John R. The 29-year-old was hired by the city as a part of a multi-year effort called City Walls to fight illegal graffiti with city-approved artwork. It was his first project for the city after he was hired in a $10,000 contract to paint 10 murals in the area. However, police cuffed him, mistaking him for a vandal.  'It's an oxymoron — doing something for the city and being arrested by the city,' McFly said to the Detroit Free Press. It was his first project for the city after he was hired in a $10,000 contract to paint 10 murals for the city in an effort to combat illegal graffiti vandalism (pictured)McFly didn't have his city-issued permit on him at the time and as he tried to explain the situation to police about 'four or five police cars' arrived on site. e said that when he tried to walk away from officers to check his bag for a permit, officers tried to detain him, one officer placed her hands on his wrists and another  placing her hand on his neck. ultimately, a city official had to arrive on site to vouch for him. They treated me like a felon even though I was commissioned by the city to do this,' he said, noting he felt depressed following the incident.
Round Two
Boner Candidate #1:WE DON'T FORGET.
A Minnesota woman said a debt collection agency is trying to collect a $35 ticket she received at the age of 15 for not wearing a seat belt. Amy Rush, who is in her 40s, said she was riding with an older man in Hamilton County, Iowa, in 1990 after running away from home and the man was pulled over for speeding. Rush was issued a $35 ticket for not wearing her seat belt. She said the officer should have been more concerned with the fact that she was a teenage runaway riding with a stranger. "I was a runaway, the officer that pulled us over and not only did he not see an ID or license from me, but never inquired more about me at all. For all they knew I was with a deranged psychopath or something," Rush told WHOTV. She said she was surprised to receive a letter at her home outside of St. Paul a few days ago from a debt collection agency looking to get the money from the ticket. "I've almost considered driving down there the two and a half hours to talk to a judge to tell him how absolutely ridiculous this is and what a waste of taxpayer money this has been for the 15 years. I can't imagine the postage they've paid on following me around trying to get this $35," she said. The Iowa Judicial System allows for Rush to appear in person and ask a magistrate to forgive the fine, but Rush said she has no intention of doing so. "I told them they can keep sending me mail and wasting more money because I'm not paying it," she said.
Boner Candidate #2: LEAVE HALLE ALONE!
Halle Berry was allegedly the victim of a man who attempted to take ownership of her house without her knowledge. According to a press release from the Los Angeles Police Department, Ronald Eugene Griffin was arrested on Thursday, June 20. Authorities charged him with one count of forging a fraudulent recorded document and one count of petty theft. Police received a call about a trespasser in March. Berry's employees, who allegedly intercepted Griffin, claimed that he tried to get in the home by "compromising the locks." The man allegedly told the 52-year-old John Wick: Chapter 3 – Parabellum star's staff that he was the new owner of the residence. The Oscar winner then told authorities that she did not know Griffin and did not give authorization for the title of the house to be changed. He allegedly altered the title without Berry realizing it and tried to force his way into the property. TMZ Opens a New Window. reported that Griffin first attempted to procure the residence in January. He reportedly did not know Berry was the owner either.
Boner Candidate #3: POO FLINGING.
Court officials say a Florida man charged with burglary defecated during his criminal trial and tried to throw his feces at the judge. The Miami Herald reports 33-year-old Dorleans Philidor was sitting in a wheelchair next to Miami-Dade Circuit Judge Lisa Walsh when officials say he tried to throw his excrement at her. It did not reach her. There were no jurors present during Friday's incident. Witnesses say dozens of corrections officers responded and the trial was moved while the courtroom was sanitized. Miami Dade Circuit Court spokeswoman Eunice Sigler says Philidor also defecated on himself in a holding cell Thursday. Jurors subsequently acquitted him of the burglary charge. The newspaper says he still faces another trial in a grand theft auto case.
It's unclear whether he'll face any charges involving the feces.
Download X96's App