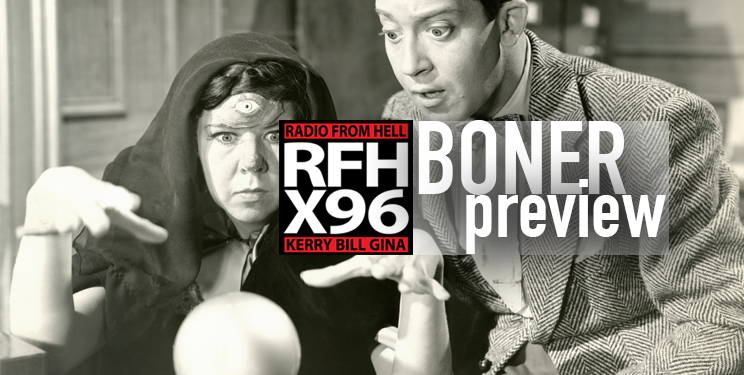 Round One
Boner Candidate #1: THAT'S THE WAY IT WAS WHEN I BOUGHT IT!
A man was arrested on Thursday for reportedly threatening to walk into a St. Augustine Walmart with a gun after the store refused to let him return an inflatable mattress, according to the St. Johns County Sheriff's Office. An offense report says the suspect, Darius Kennedy, 26, became irate when employees at the Walmart told him it was too late to return the mattress, saying he'd missed the 15-day cut-off. Employees also said the mattress box was opened and the mattress itself looked used and dirty. That's when Kennedy began yelling profanities at management, creating a scene in front of customers, the report said. Afterward, Kennedy reportedly said he was walking out to his vehicle to get a gun and was going to return to the store with it. Deputies were called to the scene and found Kennedy outside the store. As deputies handcuffed Kennedy, the suspect reportedly said it was his right to arm himself and walk back into the store.
Boner Candidate #2: OKAY, YOUR BITTER BUT DON'T TAKE IT OUT ON A FISH.
"I didn't know steelhead get married," a fisherman quipped Friday after a fish was pulled from Lake Michigan with a wedding band fixed to its tail with a zip-tie. The Chicago Sun-Times unravels the mystery: Four years after his divorce, fishing guide Jason Rose felt his wedding ring was cursed, but didn't want to simply toss it in the lake. "So I released it the best way I know how." He caught a steelhead on May 4, attached the ring to its tail, and let it go near the port of Whitehall, Mich., in what seemed like a proper goodbye. After all, Rose says his former wife of almost 10 years always "hated how much I fished." But it wasn't really goodbye. Joe Penar caught the same steelhead, showing signs of irritation from the zip-tie, on the other side of Lake Michigan, near Chicago, during a tournament on Friday. A fisherman who witnessed the catch tells USA Today that the plan is to mail the silver and diamond ring back to Rose with "no return address." "That ring is cursed," says Jim Nelligan. "Ever since it came on my boat, I've had problems with my Glendinning engine controls, the switch to raise the helm floor to get at the engines broke and the hose at my dock burst."
Boner Candidate #3: SCUM.
Just a few months after taking his seat in Congress in 2009, Duncan Hunter began an affair with a lobbyist and used campaign money to pay for dates, prosecutors said in a new court filing.
On one of their first "solo getaways," according to prosecutors, the pair went on a ski trip to the Heavenly resort near Lake Tahoe and "spent the weekend skiing, ordering room service and enjoying the amenities of the full service resort." The hotel tab: $1,008. And no expense seemed too small that it couldn't be paid for with campaign money, not even the $7 Sam Adams he drank at the hotel bar just after checking in, according to the filing. Mr. Hunter, a Republican, has been accused of spending almost $250,000 of campaign funds on personal expenses. The sprawling indictment issued last year threatened the re-election campaign of Mr. Hunter, an Iraq war veteran, but he won in his conservative district in San Diego County, where many military veterans live. Mr. Hunter has pleaded not guilty and is awaiting a trial scheduled to begin in September. His wife, who was also indicted, recently pleaded guilty and agreed to cooperate with prosecutors.
The 47-page indictment last year of Mr. Hunter, a scion of a political dynasty in Southern California where his father was a congressman for almost three decades, accused him of a brazen pattern of financial misconduct, including using campaign money for an elaborate vacation in Italy. Prosecutors also said Mr. Hunter had tried to pass off personal expenses as charitable contributions for veterans, an offense that alienated an important constituency.
Round Two
Boner Candidate #1: STPO! STPO OR I'LL HOOST!
A noticeable spelling error was discovered at a Lemon Grove intersection on Tuesday. At the 4-way intersection of Lincoln and Washington streets, the 10News Breaking News Tracker saw that "STPO" was painted on the pavement, but it is supposed to read STOP. 10News reached out to Lemon Grove officials to find out how the mistake happened and when it will be corrected, but they did not respond as of the posting of this story.
Boner Candidate #2: DRIVEWAY DUMP
A homeowner was shocked after a man was caught on video defecating on his driveway then leaving the mess and the shirt he used to clean himself behind. While homeowner Wilton Thomas was at work, his Ring camera captured a green car pulled into his driveway. In the video, the driver opened the door, took off his shirt and stooped down to relieve himself. "I know when it comes on for you to go, you have to go," Thomas said. "He could have drove himself right toward the left in the fence toward the coconut tree and do what he wanted to do there. That would be no problem – but in my driveway?" Thomas says when he got home, it was too late to take care of the mess right away, so he waited until Sunday morning. "I went in the hot sun, scraped it up, poured it into a bag. I poured bleach, and then I hosed and washed the whole thing off," Thomas said. Thomas says he's ready to put this situation behind him, but he does want an apology from the person responsible.
Boner Candidate #3: PERFECT SPOT FOR A MOVIE!
A substitute teacher was fired from her job at a southeast Texas high school for filming pornographic material inside the classroom. El Campo Independent School District told ABC13 Eyewitness News that the teacher was let go in connection with an "improper criminal incident" that happened at El Campo High School. The school official confirmed that the teacher produced porn in a classroom and a workroom last month. The school says no students were involved. The school district received a tip involving the substitute and informed El Campo police and the Texas Education Agency. The police department said an officer was sent to the school last week in connection with the tip. As of Tuesday, the female employee's name was not being released, and charges have not been filed. However, police stated the woman could face trespassing or public lewdness counts. The substitute was employed for three months. The school district used the state system to vet the employee. The school district said it is working with police to ban the woman from stepping foot on campus.
Download X96's App