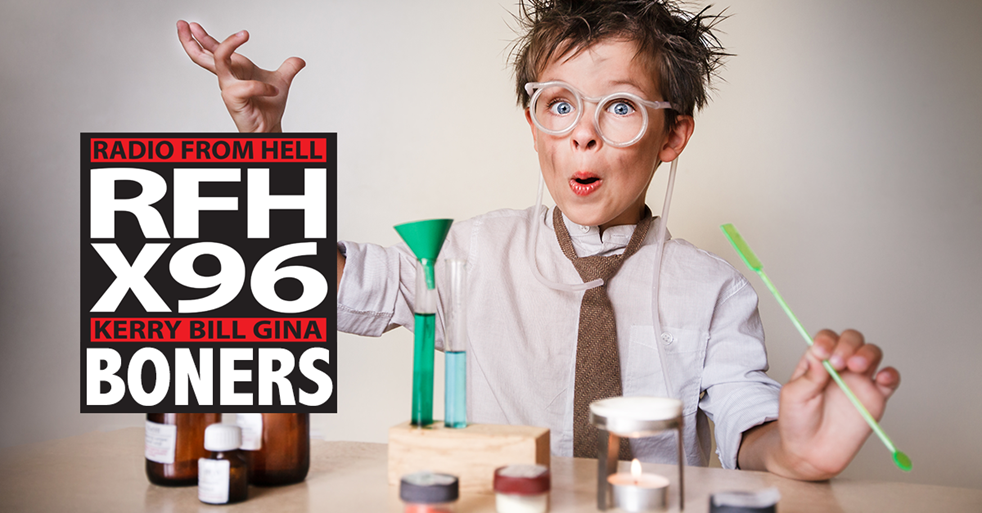 ROUND ONE
BONER CANDIDATE #1: WOW, NO MORE SOAP AND WATER
ANTIMICROBIAL HAND SANITIZER: No soap or water available? No problem.
BUY IT ONCE: Use it for a Lifetime. Made of 99.9% Copper. No wires, No batteries to charge, No refills need, and nothing to make a mess. Will not lose its antimicrobial properties even if scratched or dented.
PORTABLE AND COMPACT enough to carry most anywhere; Planes, Trains and Automobiles Travel-friendly
CHEMICAL-FREE and Environmentally friendly
Kills up to 94% of harmful germs on the hands with an added bonus, eliminates food and smoke odors from hands
BONER CANDIDATE #2: WE'RE CHAMPIONS FOR CHRIST
As Liberty University's spring break was drawing to a close this month, Jerry Falwell Jr., its president, spoke with the physician who runs Liberty's student health service about the rampaging coronavirus. "We've lost the ability to corral this thing," Dr. Thomas W. Eppes Jr. said he told Mr. Falwell. But he did not urge him to close the school. "I just am not going to be so presumptuous as to say, 'This is what you should do and this is what you shouldn't do,'" Dr. Eppes said in an interview. So Mr. Falwell — a staunch ally of President Trump and an influential voice in the evangelical world — reopened the university last week, igniting a firestorm. As of Friday, Dr. Eppes said, nearly a dozen Liberty students were sick with symptoms that suggested Covid-19, the disease caused by the virus. Three were referred to local hospital centers for testing. Another eight were told to self-isolate. "Liberty will be notifying the community as deemed appropriate and required by law," Mr. Falwell said in an interview on Sunday when confronted with the numbers. He added that any student now returning to campus would be required to self-quarantine for 14 days.   Read More
BONER CANDIDATE #3: POTLUCK AT MY HOUSE AFTER WORK!
Quarantine? Is that a drink? While most New Yorkers are hunkering in place, others are popping corks and staging parties that defy occupancy and social-distancing edicts. Lucian Wintrich, a former White House reporter and advertisement hand, is one of them. The 31-year-old contrarian recently hosted a "corona potluck" at his small but chic East Village apartment. "They can't diagnose us all," reads the invite Wintrich sent to a select group for the March 14 gathering. "Don't wash your hands. … Bring your fav dish!" The tongue-in-cheek advert also included an image of a boy covered in chicken pox and a fork digging into a coronavirus spore.   Read More
ROUND TWO
BONER CANDIDATE #1: THOMAS MASSIE: MR. NO
When Representative Thomas Massie heard that House leaders wanted to pass a $2 trillion stimulus measure to respond to the coronavirus without so much as a recorded vote, he swung into outraged action. He got into his black Tesla on Wednesday and began the drive from his home in northeastern Kentucky to the Capitol, determined to object to its quick passage and insist that lawmakers show up in person — in defiance of public health advice — to register their support or opposition. "I came here to make sure our republic doesn't die by unanimous consent and empty chamber," he said on the House floor on Friday. Mr. Massie, the libertarian whose contrarian streak has earned him the moniker "Mr. No," ultimately failed when House leaders in both parties united to deflect his stunt, assembling enough lawmakers in the chamber for a quorum and allowing the bill to pass by voice vote after all. President Trump signed the bill later in the afternoon, sending direct payments and jobless aid to taxpayers, help to states and hospitals battling the disease, and government bailouts to businesses battered by the crisis.   Read More
BONER CANDIDATE #2: SURE, YOU CAN USE THE HOSPITAL…FOR A MILLION A MONTH
A hospital with room for nearly 500 beds has been closed for months in the center of Philadelphia, a city bracing for the spread of the coronavirus and a crush of sick patients. But the facility will remain empty, city officials said, because they cannot accept the owner's offer: buy the hospital or lease it for almost $1 million a month, including utilities and other costs. "We don't have the need to own it nor the resources to buy it. So we are done and we are moving on," Mayor Jim Kenney told reporters on Thursday during the city's daily briefing. The next day, he said that Temple University would let the city use a music and sports venue for free. The city would no longer pursue the closed facility, Hahnemann University Hospital. The abrupt end of the dispute underscored the frantic search for more hospital beds as cities try to prepare for a crisis that is overwhelming medical facilities in New York, and highlighted the tensions between government officials and businesses in responding to the pandemic.   Read More
BONER CANDIDATE #3: COME ON LADY, HELP DAD OUT
Times are tough for many due to the spread of coronavirus, including the father of pop superstar Lady Gaga and owner of several New York eateries. The restauranteur, 64, recently created a GoFundMe account asking the public to donate $50,000 to cover his staff's wages at Upper West Side spot Joanne Trattoria, and was immediately met with criticism from the masses. Restaurants across the world have been ordered to close their doors in an effort to encourage self-isolation and curb the spread of COVID-19. "I'm doing the best I can but we had to close Joanne for the month. Our staff needs some help financial. Any help for our employees will be appreciated," Germanotta wrote in a since-deleted tweet, according to Newsweek.   Read More
---
Subscribe to X96's News!
Get the latest music news, contests and flyaways, and more straight to your inbox with our weekly emails.