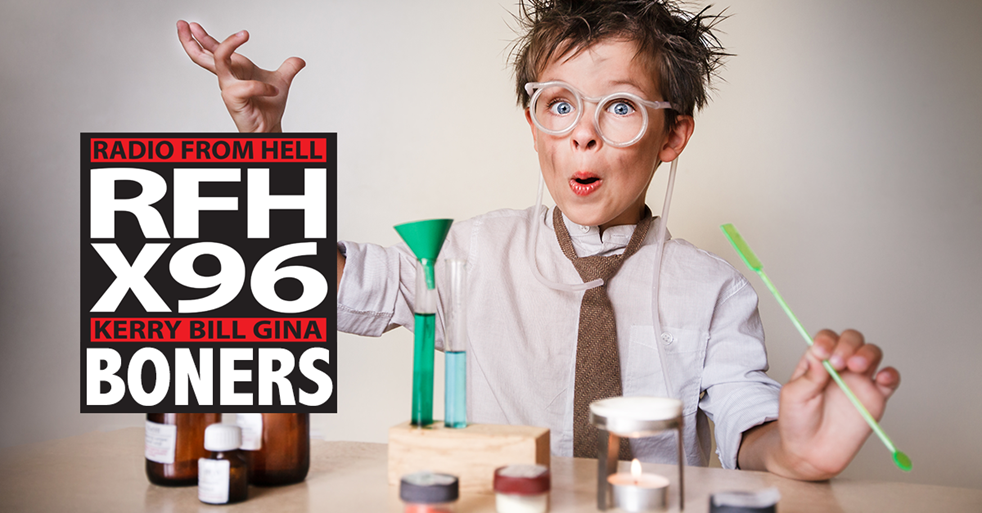 Round One
Boner Candidate #1: AND SHE'S MARRIED TO MITCH MCCONNEL
Transportation Secretary Elaine Chao reportedly still owns stock in a construction company that she previously promised to divest from upon taking office. The Wall Street Journal reported Tuesday that federal disclosure forms show Chao to be the owner of nearly $400,000 worth of stock in Vulcan Materials Co., a major supplier of materials for road pavement and other construction projects, more than a year after she promised to trade the shares for a cash payout. The cash payout has yet to occur, the Journal reported. A spokesman for the Department of Transportation (DOT) told the newspaper that the language of an ethics agreement signed in 2017 stating that the exchange would occur in April of 2018 "is being clarified to avoid confusion." A top ethics official at the agency has determined that the shares do not present a conflict of interest, the spokesman continued, because Chao has recused herself from all issues related to the company. Vulcan's spokesman added to the Journal that the shares currently held by Chao were paid to her as part of the company's standard policy for former board members. Chao served on Vulcan's board of directors for two years.
Boner Candidate #2: MR. WEATHERMAN, YOU HAVE NOTHING TO BE SORRY FOR.
An Ohio weatherman was mad as hell and not going to to take fans of The Bachelorette protesting his tornado warning anymore. A meteorologist slammed viewers who complained on social media about weather reports interrupting ABC's Monday night broadcast of the dating show. A succession of tornadoes were reported across eight states overnight that killed at least one person and injured at least 35 others. Dayton, Ohio's Fox 45 Jamie Simpson scolded Bachelorette fans during his telecast (see video above): "I'm checking social media. We have viewers complaining already, 'Just go back to the show.' No, we're not going back to the show! This is a dangerous situation, okay? Think if this was your neighborhood. I'm sick and tired of people complaining about this. Our job is to keep people safe and that is what we're going to do. Some people complain this is all about my ego: Stop. Okay, just stop right now. I'm done with you people. This is pathetic. This is a dangerous situation here." Simpson then took a breath and apologized: "All right. I'm sorry I did that. It just really bothers me there are people who don't care about other people's safety around here."
Boner Candidate #3: IS IT A HATE CRIME? SEEMS SO.
Pride flags are being stolen and vandalized across the Wasatch Front during the first days of Pride Week. Police can't say for certain if the crimes are connected because they're so spread out. Five pride flags were taken from a single block in Daybreak. "It's bold," Jim Thompson said. Thompson's flag was to show support for his gay family members as well as a neighbor's son in transition. Last fall, a teen died by suicide near Thompson's home after the teen's family failed to accept his homosexuality. "It is a visual cue that there is love for you. People will accept you," Johnson said. His security camera captured what looks like a teenage boy jumping over his fence, grabbing the flag and joining another boy carrying a neighbor's flag. "In a matter of seconds, they're gone," Johnson said. Cameras also caught a Pride flag theft in Herriman. The homeowner wished to remain anonymous but sent pictures of the flag vandalized with spray paint. Desi Wright's flag was taken from her Saratoga Springs home. "I went out on Monday to take a picture, and it was gone," she said. "For me, that flag stands as love and equality an acceptance. It's a positive sign for anyone that might see it." The stolen flags were a fundraiser for Project Rainbow, which donates money to LGBT causes.
Round Two
Boner Candidate #1: LET'S GIVE THEM 44 MILLION DOLLARS.
In other states, the year-end tests were marked by glitches and cyberattacks and hourlong delays. One school district threw out its results because the software was so unreliable. In another, all of the students had to start over when the programming shut down and didn't save their responses. Sensitive student data was stolen in New York and Mississippi. More than 1,400 students took the wrong test in Tennessee. But even after those issues arose — and despite clearly knowing about them — Utah signed a $44 million contract with that same testing company last spring to develop the state's standardized exams, now called RISE. And the rollout hasn't gone well. As students here have tried to submit their tests, their computer screens have frozen and some haven't been able to recover their work. "This is clearly problematic," said Darin Nielsen, the state's assistant superintendent of student learning. "It hasn't performed like we had hoped or expected. There are frustrations for many people across the state." The outages in Utah have delayed more than 18,000 public school students in completing their assessments this April and May. For one day, no one was able to take a science exam. On at least four others, testing was stopped entirely for some school districts. The state has had to expand the testing window into June. Now, it's questioning whether the scores it gets back will even be valid enough to use.
Boner Candidate #2: AND HE'S MARRIED TO ELAINE CHAO
Senate Majority Leader Mitch McConnell said Tuesday if a Supreme Court vacancy occurs during next year's presidential election, he would work to confirm a nominee appointed by President Donald Trump. That's a move that is in sharp contrast to his decision to block President Barack Obama's nominee to the high court following the death of Justice Antonin Scalia in February 2016. At the time, he cited the right of the voters in the presidential election to decide whether a Democrat or a Republican would fill that opening, a move that infuriated Democrats. Speaking at a Paducah Chamber of Commerce luncheon in Kentucky, McConnell was asked by an attendee, "Should a Supreme Court justice die next year, what will your position be on filling that spot?" The leader took a long sip of what appeared to be iced tea before announcing with a smile, "Oh, we'd fill it," triggering loud laughter from the audience.
Boner Candidate #3: FOX TELLS THE TRUTH ACCIDENTALLY
Whoopsy daisy. You can probably go ahead and file this one under "Fail." Just ahead of President Trump's meeting with North Korea's Kim Jong-Un, Fox News host Abby Huntsman, well, let's just say she put her foot in her mouth.
Download X96's App