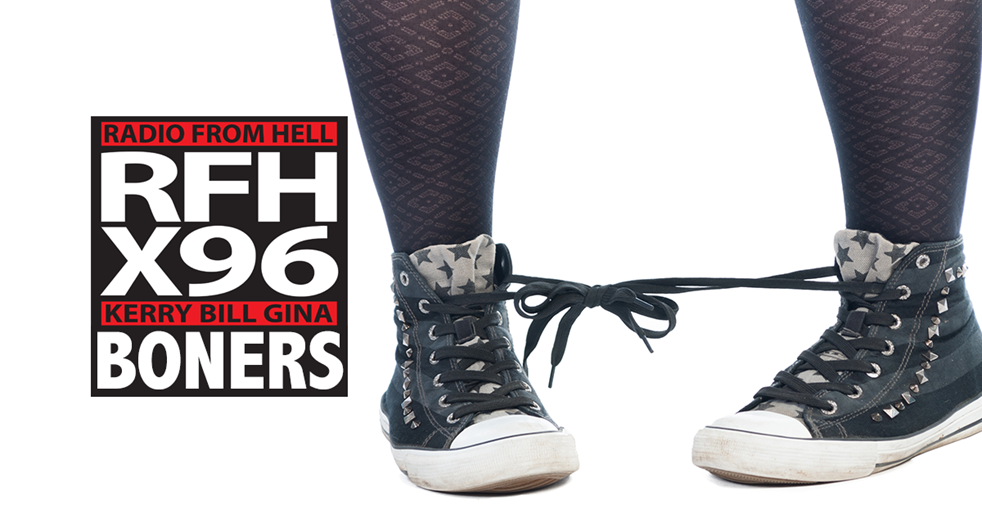 ROUND ONE
Boner Candidate #1: SOME RANCH DRESSING MAKES EVERYTHING BETTER
TOPEKA, Kan. — The Shawnee County Sheriff's Office said a 17-year boy was taken into custody early Saturday morning following an incident at the Petro Deli, which is north of Topeka, Kansas. The sheriff's office said when they responded to the scene around 3:30 a.m. Saturday, they found the teen naked and under the influence. The sheriff said the teen covered himself in ranch dressing and damaged property inside the deli. After that, the teen ran outside the deli and jumped into a running vehicle and crashed it into a pillar. The sheriff said deputies took the teen into custody and then to a local hospital where he was released to his parents. "We are happy to report that no one was injured during this incident," the sheriff said in a post on social media.
Boner Candidate #2: WHICH GUY ARE YOU IN THE YEAR BOOK?
NASHVILLE, Ind. — Officials with Brown County Schools are investigating an apparent racial incident where a Black student was referred to in a photo caption as "Black Guy" and not by his name. Apparent photos of the yearbook purporting to show the error that has been posted to social media indicate it was a photo of one of the school's basketball teams. Superintendent Dr. Laura Hammack and high school Principal Matthew Stark issued a letter dated Monday that called the incident "a truly reprehensible error." "We acknowledge that yearbook is the only class at this school where all assignments and homework are published for all to see," the statement reads. "We strive for perfection and hope any errors are minor and inconsequential. This is not an inconsequential error." The district has an ongoing investigation and consequences will be determined when the investigation is completed, according to the superintendent and principal's statement. "Our district has been working to advance equity and inclusion for all protected classes; however, an occasion like this evidences the need for expanded response," the statement reads. "We are committed to ensuring that Brown County Schools provide a welcoming, safe, inclusive, and equitable school community. We remain relentless in our pursuit of the same."
Boner Candidate #3: THE GREEKS BROKE STUFF AND SCARED THE ANIMALS.
On Saturday, Oct. 17, 2020, members of the University of Utah's chapter of Sigma Chi attended the Boo Lights event at the Hogle Zoo leaving behind broken bottles, smashed pumpkins and damaged wooden fencing.  The Hogle Zoo took to Facebook to report the damage caused by the fraternity in hopes people would come forward with photos of members and their dates. "If you were here on Saturday night and have any photos or videos of this fraternity and their dates vandalizing the zoo, scaring our animals or staff and guests, please forward those pics along on Messenger," said the Zoo's Facebook post that has since been deleted. Damages included numerous broken Halloween decorations, including carved reusable pumpkins that had their faces punched out and broken fencing throughout the park. There were also smashed beer cans and bottles strewn across the parking lot.
ROUND TWO
Boner Candidate #1: THIS CAN HAPPEN TO WOMEN TOO….WELL NOT QUITE.
Kingston, Jamaica — A Portland man accidentally shot himself in the penis after he tried to tuck his licensed firearm in his waistband on Tuesday. The man had to undergo emergency surgery at the Kingston Public Hospital. Superintendent Dwayne Wellington, commanding officer for Portland, told THE WEEKEND STAR the man is still in the hospital. "I only heard about it. I don't have anything specific on it. I am aware that it happened but it's a low hanging fruit. There's no criminal investigation," Wellington said. "You can't charge a man for shooting himself, unless you can prove that it's attempted suicide, as attempted suicide is an offence." In the meantime, a leading doctor in Jamaica has urged gun handlers to be careful in the handling of their weapons. Dr Elon Thompson said that he has seen a number of these cases throughout his practice. "I have done amputations and taken out testicles. These injuries do occur. It is not as if we are seeing an uptick in the number of cases. We need to advise firearm holders that they should be a little bit more cautious," said Thompson, a urologist. He said there are various factors to consider with these injuries.
Boner Candidate #2: IT TOOK US AWHILE TO FIGURE OUT WHY NO ONE WANTED TO RELOCATE TO OUR TOWN
The name change comes after years of debate in the Quebec town
The small Canadian town of Asbestos that decided it needed a rebrand has done away with the name derived from its mining heritage. The Quebec town, home to some 7,000 people, voted for "Val-des-Sources" as its new moniker. The town was once the location of the world's largest asbestos mine. It was given the English name for the mineral – rather than the French amiante – in the late 19th Century.
Boner Candidate #3: ZOOMIN TOOBIN
The New Yorker writer and CNN analyst Jeffrey Toobin didn't just expose himself during a Zoom work meeting — he was allegedly caught masturbating in the call with some of magazine's biggest names and has now been suspended from the publication. "I made an embarrassingly stupid mistake, believing I was off-camera,'' the 60-year-old married Harvard Law School grad said in a stunning admission to Vice, which broke news of the cringe-worthy incident Monday. "I believed I was not visible on Zoom. I thought no one on the Zoom call could see me. I thought I had muted the Zoom video,'' he said. "I apologize to my wife, family, friends and co-workers.'' Two people on the video call told Vice the virtual gathering was part of an election simulation last week that included New Yorker notables such as Jane Mayer, Evan Osnos, Masha Gessen and Jelani Cobb, as well as producers from the magazine and WNYC public radio. The two sources said that at one point, it looked as if Toobin was taking another call and lowered his camera, and that's when they saw him getting to work — on himself. It was unclear what, if anything, others on the virtual call saw.
Download X96's App