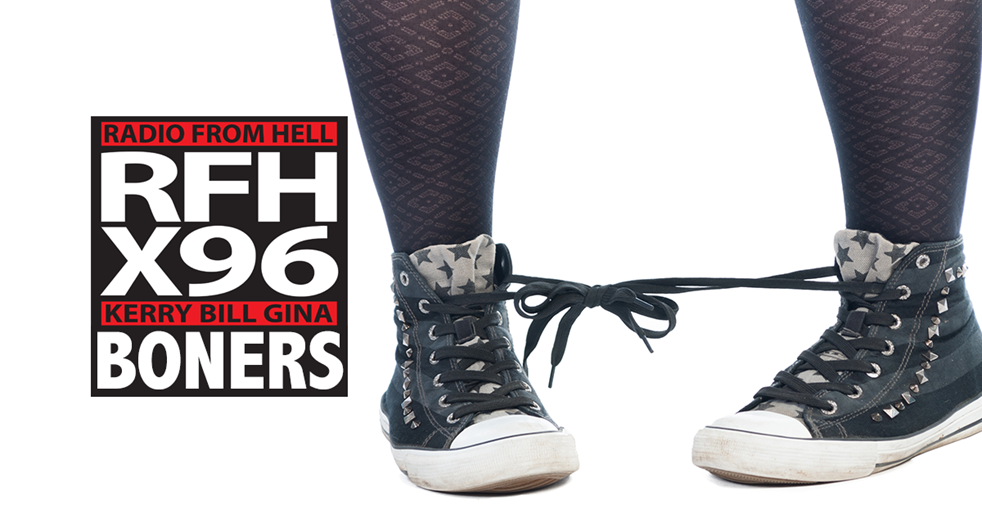 ROUND ONE
Boner Candidate #1: LITTLE BILLY FLUFFER
In a candid interview with Men's Health, Bush, 48, recalls being axed from the "Today" show after just two months on the job for his role in the infamous "Access Hollywood" outtake with Donald Trump from 11 years earlier. After the tape circulated, Bush was ready to apologize on-air and believed he had Lauer's support. Bush now says of his then-co-anchor, "That he didn't fight for me is so deeply hurtful because I've known him for absolutely ever." (Men's Health reports that Lauer didn't comment.) Bush instead learned he was canned when he tried to get a car to the airport before flying back to New York. The driver who was meant to take him said, "Sorry, Mr. Bush. They just canceled the car." Having recently separated from his wife, Bush holed up alone in an apartment drinking too much whiskey, the piece reports. Four months into the situation, he said he told his brother, "I'm paralyzed. I can't get off my couch. I can't stop crying. I can't stop thinking terrible thoughts of what I would want to do to myself if I didn't have children … Help."
Boner Candidate #2: THE TRUMP PEOPLE DON'T HAVE TO PLAY BY THE RULES
US Surgeon General Jerome Adams was reportedly slapped with a citation for violating coronavirus lockdown rules in Hawaii. Adams, who was helping out with a spike of cases on the island this summer, received the citation dated Aug 23, for congregating in a park that was closed to the public during the pandemic to prevent crowded gatherings, Axios first reported. "Observed ADAMS in Kualoa Regional Park with two other males standing, looking at the view taking pictures," wrote the officer who ticketed the federal official. The park, located on Oahu's northeastern coast, is known for its views of the unique, cone-shaped Mokolii island. Adams allegedly told the officer he didn't know the park was closed. "ADAMS stated he is visiting here to work with the governor for COVID," the officer wrote. "ADAMS stated he did not know the parks were closed and could not be there." He has a court date for the citation scheduled for Oct. 21.
Boner Candidate #3: I TAKE PICTURES OF YOU AND TASE YOU BECAUSE I CAN
RIVERTON, Utah — Riverton Police are searching for a woman accused of assaulting a 9-year-old boy with a stun gun in a parking lot. It happened Friday at 12900 South 2700 West in front of a Church of Jesus Christ of Latter-day Saints meetinghouse. "It's just scary. It's a scary thought that a grown woman is doing this," said Kelly Green. Around 1:30 Friday afternoon, her son Keaton Green was playing in the parking lot with his friend after school. Police said that's when a woman pulled up in an older, tan-colored sedan with a loud muffler and started taking pictures of the boys. "She started swearing at me and my friend," Keaton said. "I asked her why she was taking pictures of us and she said, 'Because I can.'" Next, Keaton said the woman got out of the car, grabbed his arm and put a stun gun to his chest. "It feels like you're getting stabbed, like, with a tons of needles in the same spot millions of times," Keaton said. Two marks on his chest show where the stun gun delivered high volts of electricity through his nervous system. "I fell straight to the ground," Keaton said.
ROUND TWO
Boner Candidate #1: MY DAD SAVED CHRISTIANITY
Eric Trump claimed that his father, Donald Trump, "literally saved Christianity" during a radio show interview in North Dakota last week. He made the comment while giving a list of the achievements he attributes to his father. "He literally saved Christianity, there's a war on faith in this country by the other side. I mean, the Democratic Party, the far left, has become the party of the quote-unquote atheist, they want to attack Christianity, they want to close churches, they want to – they're totally fine keeping liquor stores open, but they want to close churches all over the country," he said, before continuing his list of accomplishments. Even with Eric Trump's clarification, it was not immediately clear what he meant when he said his father "literally saved Christianity." While it was clear that Eric Trump's gripe seemed rooted in coronavirus-related church closures, the decision to re-open places of worship was largely in the hands of state and local officials, not the president. Eric Trump's reference to liquor stores is likely based on the conservative complaint that churches were forced to remain closed while businesses like grocery stores and liquor stores were allowed to re-open.
Boner Candidate #2: WHO KNEW THERE COULD BE TWO KIDS IN THE DISTRICT NAMED DANNY?
DAVIS COUNTY, Utah — The Davis County Health Department is apologizing for a "mix-up" in information which led them to ask the wrong group of students to quarantine after a student continued to attend class with a positive COVID-19 diagnosis. In a world of wipes, face masks, social distancing and hybrid learning, the school year has been off to an interesting start for students as COVID concerns linger for parents. "I knew it was a possibility," said Davis School District (DSD) parent Daniel Baum. For Baum, those concerns became a reality over the weekend when he received a call from the COVID coordinator at his son's school. "They mentioned that somebody in his class had tested positive for COVID and still attended school," Baum continued."To get that news, we were frustrated about the parents who sent [their COVID-positive student] to school." The COVID coordinator told Baum his 9-year-old son would have to begin a 2-week quarantine, along with the other 30-something students in his fourth grade class at Buffalo Point Elementary. But what was supposed to last two weeks only lasted a day. "The principal started looking into it more, and he said he discovered it wasn't even somebody at their school," said Baum. "The health department sent the message to the wrong school — they looked at the name without looking at any other information." "Essentially, it was kind of a false alarm," Baum added.
Boner Candidate #3: YOU LET SOMEONE PUT THAT ON YOU, YOU GET WHAT YOU DESERVE.
A significant security flaw with an internet-connected chastity device means it can be hacked to lock users in permanently, researchers have warned. Security firm Pen Test Partners discovered that the Qiui Cellmate is vulnerable to remote attacks, potentially leaving thousands of users locked in while simultaneously exposing their location and other personal data. Qiui advertises the Cellmate as "the world's first app-controlled chastity device", offering features that include "worldwide control via app". The $200 sex toy is designed to lock around the user's genitals while a trusted partner controls the keyless locking mechanism over Bluetooth through a mobile app. The app also displays the wearer's real-time location and status. Removing the device without the app requires a heavy-duty tool such as an angle grinder.
Download X96's App