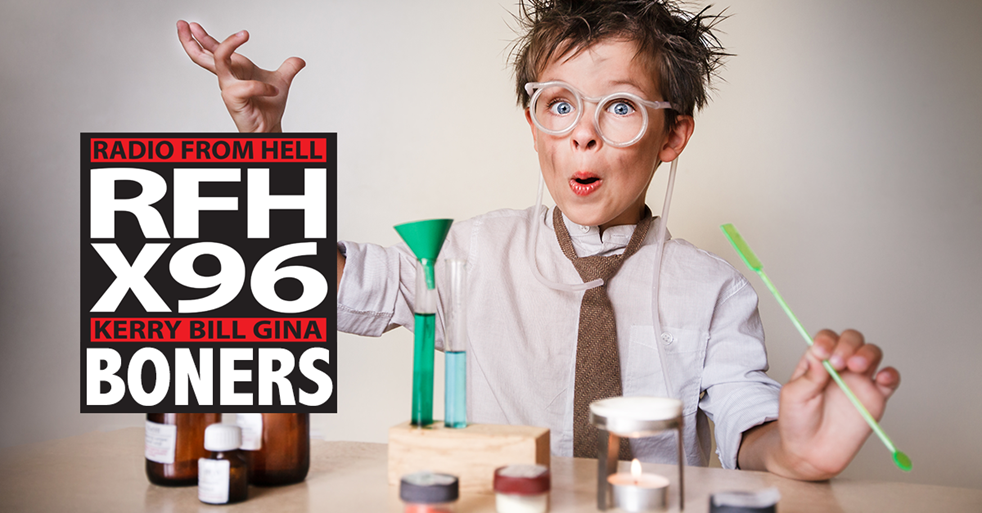 ROUND ONE
BONER CANDIDATE #1: JUST WASH YOUR HANDS
While health officials are monitoring any potential spread of the novel Coronavirus in Utah, investigators say Coronavirus scams are another thing people should worry about.  They say fraudsters are preying on people's fear of the virus. The Carbon County Sheriff's Office posted a message on Facebook, warning people about scammers creating fake sites to sell bogus Coronavirus products.  They also say people are sending fake texts, emails and social media posts to get personal information.
BONER CANDIDATE #2: HEATED CHEESEBALL DISPUTE
Police say they broke up a fight between two intoxicated men over a bar snack Friday evening. Around 8:50 p.m., Glen Rock police were dispatched to the Glen Rock Athletic Club after receiving a call from the social club's staff regarding "a dispute which was becoming violent," Chief Dean Ackermann said. Responding officers found a 54-year-old Glen Rock man and a 56-year-old Ridgewood man involved "in a heated dispute over cheeseballs," the chief said.
BONER CANDIDATE #3: MISUNDERSTOOD
The 20-year-old model — who is the son of Cindy Crawford and businessman Rande Gerber — defended his recent decision to get a face tattoo, responding to the backlash over his new body art in an Instagram Live video on Saturday. "You don't know how I feel. You're not in my head," he said in the clip captured by a Twitter user. When asked about the meaning of his tattoo, which features the word "MISUNDERSTOOD" in capital letters inked across his right cheekbone, the young star replied, "I don't feel very understood, I guess." In the same video, Presley also challenged his disparagers to voice their negative opinions of him in person.
ROUND TWO
BONER CANDIDATE #1: NOAH? WHAT?
A Lehi-based event center company has closed for good, leaving its employees without jobs and about 2,800 customers without venues for the celebrations they have planned. They're also out the money they spent on deposits. Employees and customers of the NOAH's Event Center in South Jordan are among those affected by the sudden closures, which happened shortly after a U.S. judge in Utah's bankruptcy court rejected a last-second proposal to restructure the company for a second time within 12 months. Another location in Lindon had a sign on its door stating that it closed last year. According to the company's website, there are locations in 19 other states. Those locations also closed abruptly.
BONER CANDIDATE #2: THEY CALL ME TIM
He was overdue for a little downtime. Clarence Stoll was caught red-handed last week after he allegedly popped open a Budweiser and logged onto a porn site in a Cleveland, Ohio-area library. The 40-year-old Sandusky, Ohio, resident was cited by cops around 7 p.m. Tuesday, according to WOIO news, which said Stoll was watching a smut flick on a public computer, where he was surrounded by beer cans. Some of those beers were empty and others were not. He was cited with a misdemeanor for being in possession of an empty alcohol container. Stoll initially gave police his brother Tim's name, then confessed his real identity after an arresting officer recognized him, ABC reported. He told cops he didn't want to see his own name in the paper under the circumstances.
BONER CANDIDATE #3: DO I HAVE TO BUY YOU A WATCH, JERRY?
FAIRLAWN, OH – Residents in Fairlawn, Ohio, were greeted to an unexpected site at their local Taco Bell. According to a sign posted at the restaurant, the dining room had been closed because too many workers were showing up late for their shifts. Paula Duhon Boss posted to her Facebook page a photo of the sign, which read, "Dining room is closed until this store's workers can show up to work on time! We will happily serve you through the drive-thru as quickly as possible. We're very sorry for the inconvenience." In smaller print, the sign ended with, "Please bare [sic] with us until we find the right team to best serve our community." In a statement obtained by Fox News, a spokesperson for Taco Bell said, "The posting of this sign should not have happened, and the team was immediately re-trained on proper protocol. We can confirm that the dining room reopened within an hour, and we apologize to our customers for any inconvenience."
Download X96's App