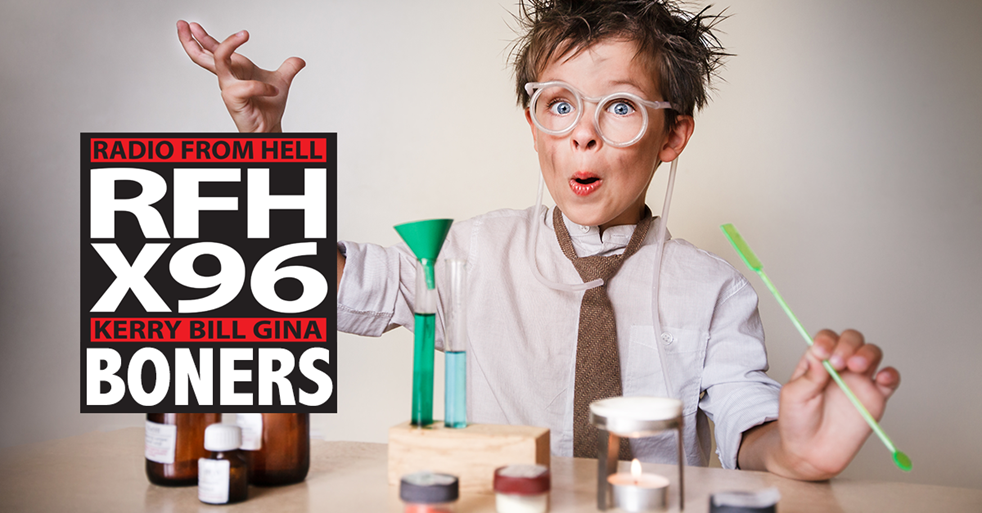 ROUND ONE
BONER CANDIDATE #1: I'M HAVING CHOCOLATE MILK…IT'S THE REBEL IN ME
There are two beverages senators are allowed to bring onto the Senate floor — water and milk.  Utah Sen. Mitt Romney was busted by a colleague for bringing his own bottle of chocolate milk.  Bottles are not allowed.  That chocolate milk comes from Brigham Young University's Creamery, which is famous for its ice cream and milk products.  BYU is Romney's alma mater.  Romney left to the Republican cloakroom and returned with the chocolate milk in a glass, the Wall Street Journal reported.   Read More
BONER CANDIDATE #2: BUT THERE'S A BOMB IN MY BAG
A woman allegedly said there was a bomb in her checked luggage after she arrived at the gate too late to catch her flight.  The passenger, identified by police as 53-year-old Hope L. Webber, was attempting to board an American Airlines flight from Phoenix, Arizona to Salt Lake City, Utah.  She allegedly mentioned an explosive device when staff refused to let her through, resulting in the bomb squad being called and part of one concourse being evacuated.  Ms Webber made claims "related to an explosive device", Sgt. Mercedes Fortune, a police spokeswoman, told AP.  However, no device was found, and Ms Webber was arrested on suspicion of false emergency reporting and making a false terrorism report.   Read More
BONER CANDIDATE #3: SATANIC PREGNANCIES
Critics continued to erupt Sunday following a video post of Donald Trump's controversial spiritual adviser Paula White preaching for all "Satanic pregnancies to miscarry right now."  "In the name of Jesus, we command all Satanic pregnancies to miscarry right now," White, a Florida televangelist, said in a video of the Jan. 5 sermon posted Friday on Twitter by Right Wing Watch.  She declared that "strange winds … sent to hurt the church … sent against our president, sent against myself … we break it by the superior blood of Jesus right now."  After an uproar ensued, White insisted Sunday in a tweet she was speaking metaphorically, and praying for evil — or satanic — plans to be destroyed, not for actual miscarriages.  But for those who understand English, White's apparent call for miscarriage was a startling kind of "spell" from someone who purports to be anti-abortion.  Since November, White has served as special adviser to the White House Faith and Opportunity Initiative.   Read More
ROUND TWO
BONER CANDIDATE #1: I PUMPED THE WRONG HOLE
Firefighters in Florida said a hazmat team responded to a gas station where a man filling up his boat confused a fishing pole holder for the gas tank.  Orange County Fire Rescue said the customer at 7-Eleven in Orlando was attempting to fill up his 18-foot boat about 11:35 a.m. Monday when he accidentally pumped 30 gallons of gas directly into the cockpit.  Fire Rescue said the man pumped about $60 worth of fuel into the cockpit and then put another $40 of gas into the actual gas tank.   Read More
BONER CANDIDATE #2: OUT OF DIAPERS
A Florida day care has fired one of its employees after a mother says she was furious to find "Mom I'm out of diapers pls read my report" written in large letters across her toddler son's stomach.  The executive director of the Children's Education Center of the Islands, Cindy Carter DeCosta, said in a statement that they are "aware of the incident at the school and we are terribly sorry for the distress it has caused the family involved as well as all of our families."  Heather Chisum, 23, posted on Facebook after finding the message scrawled with a marker across her son Milo's torso Monday.  "Everyday when I pick Fin and Milo up from daycare they put a daily report paper in Milos lunch box.  It says what mood he was in for the day, what times they changed his diapers, and if he needs diapers or wipes," Chisum wrote.  She wrote that she may have missed a note about Milo's diaper supply in a recent report, but said the staff at the Sanibel school said nothing about diapers when she picked Milo up.  "I'm a single mom with a full time job and two very young children.  SUE ME FOR NOT READING THE REPORT EVERY SINGLE DAY," she wrote.  "'Hey Heather, your son needs diapers maybe you missed the report' would have done the trick."  Chisum said she scrubbed the ink multiple times but couldn't get it all off, forcing her to cancel beach plans because her son "has writing all over him."   Read More
BONER CANDIDATE #3: WHO PERFORMED YOUR GENDER REASSIGNMENT SURGERY, DR. MENGELE?
A South Dakota state lawmaker said Tuesday that he regrets recently comparing doctors who assist in the gender reassignment process for transgender youth in the state to Nazi doctor experiments that occurred during the Holocaust.  Republican state Rep. Fred Deutsch first made the comments during an interview last week with the Family Research Council, a conservative Christian group that lobbies on a number of issues both cultural and political from "a biblical worldview."  In the interview, the lawmaker discussed a bill he's sponsoring that would make it a misdemeanor for physicians or any other medical professionals to perform gender reassignment surgeries on minors or to provide patients 16 and younger with hormones, even if the minor is emancipated.  "Well, you know, if you care about kids I think you have to prioritize them.  And, you know, in South Dakota we don't allow mutilation of our children — I don't care if it's doctors, I don't care if it's parents. … These kids on the internet, they share these pictures of themselves that just blow you away — of all these surgical scars and it's terrible.  That should not ever be allowed," Deutsch said.  He continued: "To me, that's a crime against humanity, when these procedures are done by these so-called doctors, you know, that dance on the edge of medicine.  I just don't think it should be done.  I think — you know, I'm the son of a Holocaust survivor.  I've had family members killed in Auschwitz.  And I've seen the pictures of the bizarre medical experiments.  I don't want that to happen to our kids.  And that's what's going on right now."  Deutsch said in a statement to CNN on Tuesday that he regrets making the comparison.  "Comments I made based on my history of being the son of a Holocaust survivor are regrettable," he wrote.   Read More
---
Subscribe to X96's News!
Get the latest music news, contests and flyaways, and more straight to your inbox with our weekly emails.